Postmates - Food Delivery
By Postmates Inc.
This app is only available on the App Store for iOS devices.
Description
Postmates makes local delivery fast and easy! Order from any restaurant or store and a member of our fleet will pick it up and bring it straight to you!

Order Anything: We deliver from virtually any store or restaurant in your city. Order late night meals, last-minutes birthday gifts, cleaning supplies—anything!

Delivery Anywhere: We'll deliver to your home, dorm, office, a park for a meeting, a fancy dinner party —wherever you're at!

Postmates Unlimited: Subscribe to our new Postmates Unlimited program for $9.99/ month and you'll get free delivery on all orders over $20!

Real-Time Tracking: Keep tabs on your delivery progress on a live map!

Speed: Our system takes into account time and distance to ensure your order is assigned to the best possible Postmate, for the fastest possible delivery

We're Always Open: Postmates is a 365 days a year, 24/7 service.

Customer Service: Need help? Our world-class customer service team is available 24/7.

Postmates is active in most US cities, including:
Atlanta
Austin
Baltimore
Bellevue
Boston
Brooklyn
Charlotte
Chicago
Columbus
Dallas
Denver
East Bay
Evanston
Fort Lauderdale
Honolulu
Houston
Indianapolis
Jersey City
Kansas City
Las Vegas
Long Beach
Los Angeles
Louisville
Miami
Milwaukee
Minneapolis
Nashville
New Orleans
New York City
Oklahoma City
Orange County
Orlando
Palm Springs
Philadelphia
Phoenix
Pittsburgh
Portland
Raleigh
Sacramento
San Antonio
San Bernadino
San Diego
San Francisco
Seattle
SF Peninsula
St. Louis
Tampa
Tuscon
Virginia Beach
Washington DC

International:
Mexico City

At Postmates, we aim to transform the way goods move around cities by providing a delivery service on-demand. We thrive to empower communities to shop local.
What's New in Version 4.0.1
Have you seen Thor's new hair in Ragnarok?

It's a really awesome update to his look, I think.

I too, have a new hairstyle! It's. Amazing. And now, everyone can see it. I mean it this time. And by mean it, I mean everyone is invited to see it. Even Mexico City. Yeah!

I also made a bunch of AWESOME improvements. Well, just a few.

Like, if you tried to re-order a previous custom order, but wanted to edit it, I would make it really hard for you to do that. So, I decided to make it easy. Woo! Also, if you used a bad card at check out, I would accept and cancel your order. Now I just tell you it's bad and leave you on the checkout screen to change your payment. Consider yourself really lucky I'm the go-the-extra-mile-type. You're welcome.

Special announcement: Just in time for the holidays, we've extended the Unlimited trial for customers using Apple Pay. Sign up before Nov 23rd and your subscription will be free for all of 2017. That means all orders over $20 have no delivery fee.

Here it is, your moment of zen, 1 code good for 1 free delivery for the first 100 new customers: RAGNAROK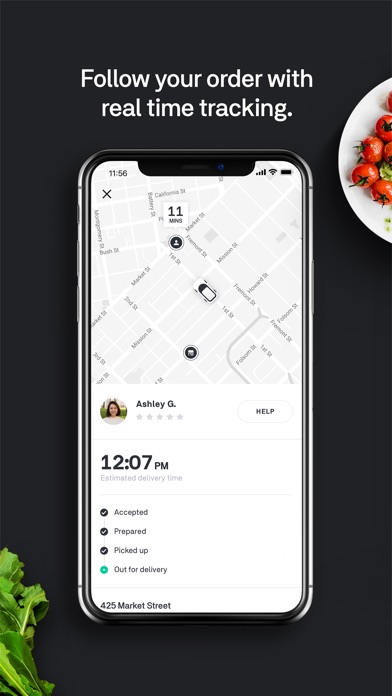 Customer Reviews
THIEVES... A BUNCH OF THIEVES!!!!
I've only been able to receive an order once out of the 4 times I've used this service. The first went well and perfect.... then I tried to ordered a second time and I waited a good 2 hours and got a message that my food was "damaged" so I had to wait for my money back. I tried a second time and was declined because I didn't update my info on my card.... but here's the kicker.... THEY TOOK THE MONEY FOR THE ORDER ANYWAY. No receipt was issued or anything yet... they still took my money. So I try again after fixing my info and get declined A SECOND TIME!! I can't stand this service, and to think, silly old me was going to try a third time lol, I just went with another service instead. And I'm still waiting to hear back to see if I'll get my money back but charging for something that's not even going to get to me is absolutely ridiculous!! I've never been charged for something if my card info was wrong. This is ridiculous! I ended up ordering through door dash but I'm still waiting for my money back Postmates.
Scam!!!
This is a horrible business! I have used it twice both times were charged over $100 just to order coffee. Once you send your ONLINE complaint, because apparently they aren't professional enough to put a number on the site to help you have some peace of mind that your issues are being handled, they send an email stating that this is to make sure you have enough funds. Honestly taking over $100 out of my account for a transaction that is less than $30 is absolutely ridiculous, and completely unacceptable! No where was it stated clearly that this would happen. I am in the customer service business and I have never been more angry with a business. This app will never be used my me or as far as I am concerned used by anyone close to me or in my! Now I guess I get to sit and wait and see if they address my issue in a timely manner, which
from the looks of it does not seem likely. I am sure whoever reads this will just pass it off like it's no big deal.
Never Using Postmates ever again
To all the users, be careful when you cancel an order. I had cancelled an order because the restaurant was cancelling some of my drinks when they were preparing the order so I cancelled the order completely. Then reordered the same drinks again 20 minutes later and Postmates charged me twice for it. I had complained to their customer service about it and they had refused to fixed it. I basically paid double the amount of what the order is. Worst experience ever and never ordering through Postmates ever again.
View in iTunes
Offers Apple Watch App for iPhone
Free

Category:

Food & Drink

Updated:

Nov 15, 2017

Version:

4.0.1

Size:

103 MB

Apple Watch:

Yes

Languages:

English, Spanish

Seller:

Postmates Inc
Compatibility: Requires iOS 9.0 or later. Compatible with iPhone, iPad, and iPod touch.