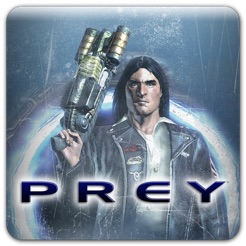 Description
We are next.

Tommy is a Cherokee garage mechanic, refuting his heritage and undecided about his next step in life. His world comes to a halt when an extraterrestrial crisis forces him to awaken spiritual powers from his long-forgotten birthright. Abducted with his people to a menacing mothership orbiting Earth, he sets out to save himself, his girlfriend, and eventually, the entire planet.

Features:

Gravity Flipping – Manipulate gravity by shooting special targets located throughout the sphere. There are also zones in the world where gravity is automatically flipped in various directions.
Wall Walking – Wall walk surfaces allow Tommy to traverse the sphere's walls and explore otherwise unreachable areas.
Death Walking – Death isn't the end. After losing all of his health, Tommy enters the Death Realm. He must battle the wraiths of fallen spirits to regain both health and spirit energy before returning to his living body.
Spirit Mode – Tommy can use the power of his ancient ancestors to leave his body and enter a spirit form. Spirit mode allows Tommy to sneak up on enemies, as well as overcome the sphere's many obstacles.

*** Please Check System Requirements Prior to Purchasing. ***

-iTunes© Support – If you have iTunes, simply name a playlist "Prey" and that music will be available on jukeboxes in the game.

Prey for Mac App is LAN only multiplayer

In order to run the game with satisfactory performance, your Mac must meet these minimum system requirements: 1.8 GHz CPU Speed | 512 MB RAM | 3.0 GB free disk space | (ATI): Radeon X1600; (NVidia): GeForce 7300 | 128 MB VRam

Recommended System Requirements:
CPU Speed: 2.4 GHz | Memory: 2 GB or higher | Video RAM: 256 MB

NOTICE: This game is not supported on volumes formatted as Mac OS Extended (Case Sensitive)

NOTICE: This game is rated M for Mature by the ESRB.
_____________________________________________________________________________
BE THE FIRST TO KNOW!
Get the latest Aspyr news, get insider information, deals and more…
SURF US: http://aspyr.com
LIKE US: http://facebook.com/aspyrmedia
FOLLOW US: http://twitter.com/aspyrmedia

Thank you for playing Prey from Aspyr!

© 2017 Take-Two Interactive Software and its subsidiaries. All rights reserved. 2K Games, the 2K logo, and Take-Two Interactive Software are all trademarks and/or registered trademarks of Take-Two Interactive Software, Inc. © 2013 3D Realms Entertainment. All rights reserved. The Prey name and logo, 3D Realms Entertainment and the 3D Realms logo are trademarks of Apogee Software, Ltd. Developed by Human Head Studios, Inc. Human Head Studios and the Human Head Studios logo are trademarks of Human Head Studios, Inc. All other marks and trademarks are property of their respective owners.
Ratings and Reviews
Still great even after all these years
It's definitely an older game (I feel old even saying that), but it definitely still shines. It had portals *before* Portal came out, and has all sorts of wacky gravity and trippy experiences. Great atmosphere and gameplay elements, too (the post-death spirit hunting is both great and also a good hand-holder for people who might be new enough to the genre to die alot).

It also doesn't hurt that Aspyr added some updates to this newer App Store release, namely the Casino mode (to play the minigames) and the ability to plug in your iTunes library into the jukeboxes (though it'd be great if album art also showed up).

Definitely worth your money.
Classic Story-Driven FPS
If you're looking for a GREAT first-person shooter/adventure for your Mac, PREY and BIOSHOCK are the games to get (and Modern Warfare, if you want a military shooter). You may be tempted to go for Doom 3. Don't. Good for its time, it just doesn't compare to this generation's console games. Acessible to new gamers and challenging for those of us who've probably spent more time than we should blasting through campaigns like this, Prey combines epic storytelling with great game mechanics. The hunted becomes the hunter. The control scheme is very simple, so you don't find yourself wishing for a console gamepad, -- though I recommend getting a gaming mouse. Have fun.
One of the few great OSX games around
As others have noted, Prey is a sight-and-sound pleaser to be sure. Graphics are smooth and fast on my 2.8Ghz MBP and the funky way this game plays with gravity shifting will keep you guessing on how best to get through levels.

I can't get over the few humorous moments put into the game, such as the scene where aliens are rocking out to the jukebox playing Judas Priest, "You've got another thing coming" right before you fight them. Hilarious. And poignant. Who said serious shooters couldn't be a little funny?

Visually this is almost as stunning as TRON 2.0 was when it was released but the levels and gameplay are more defined with a better storyline.

It's too bad the majority of OSX games are puny, childish cartoon-ish nonsense; deeply developed and visual stunners like this could easily be ported to Mac (Portal, for example) and why more aren't is strange, but Prey is definitely worth the money regardless how old it is.
Information
Seller

Aspyr Media (iDP)

Size

1.7 GB

Category

Compatibility

OS X 10.6.6 or later

Languages

English, French, German

Age Rating

You must be at least 17 years old to download this app.

Frequent/Intense Horror/Fear Themes

Frequent/Intense Mature/Suggestive Themes

Frequent/Intense Alcohol, Tobacco, or Drug Use or References

Frequent/Intense Profanity or Crude Humor

Frequent/Intense Realistic Violence

Copyright

© 2017 Take-Two Interactive Software and its subsidiaries.

Price

$9.99
Supports
Family Sharing

With Family Sharing set up, up to six family members can use this app.