Prince of Persia Classic HD
By Ubisoft
This app is only available on the App Store for iOS devices.
Description
"Faithful recreation of one of the most famous games in the history of the medium, with revised graphics and touchscreen controls that make it feel like a new experience" - Pocketgamer

#1 app in over 20 countries !

"The game looks and sounds absolutely gorgeous " - Toucharcade

"App of the Day: Prince of Persia HD" - Eurogamer

"The Original Prince of Persia Gets a Gorgeous HD iOS Makeover" – Kotaku


"Challenging and methodical, Prince of Persia's gameplay feels well-suited to the restrictions of the iPhone" - Slide To Play

___________________

The Age Old Epic Saga is back in High Definition. Relive the classic or play it for the first time, either way it's always been your destiny.

Features

Old tale, New skin

The Path to rescue is thrilling. Replay the adventure of the original Prince of Persia in a complete new skin as you battle your way through the game to rescue the Princess. Perform death defying stunts as you proceed from the dark and grim dungeons to the beautiful Palace tower.

Amazing Levels

The path to rescue is never simple. The levels are filled with traps which won't be all that easy to navigate across and merciless prison guards! Unveil the dark secret and set in stone the legacy that will follow.

Multiple Game Modes

-Normal Mode: Understand the game, learn different tricks and find the quickest way without having to worry about time or death penalty.
-Time Attack: Race against the sands of time as you navigate the levels, fighting the guards and find the exit on your quest to rescue the Princess. Make haste… you have only 60 minutes.
-Survival: The most compelling and challenging way of rescuing the Princess is the one in which the Prince remained unbeaten. Complete the game, in 60 minutes, without dying.

Facebook and Game Center

What is a rescue without any rewards, apart from the Princess of course!
-Unlock Game Center ACHIEVEMENTS and earn a place on the LEADERBOARDS to challenge your friends to perform better than you.
-Every hero deserves recognition. Share your achievements and score with your friends via FACEBOOK and MAIL.

If you have any feedback, please email us at apple.support@ubisoft.com
What's New in Version 2.0.1
Bug fixes
iPad Screenshots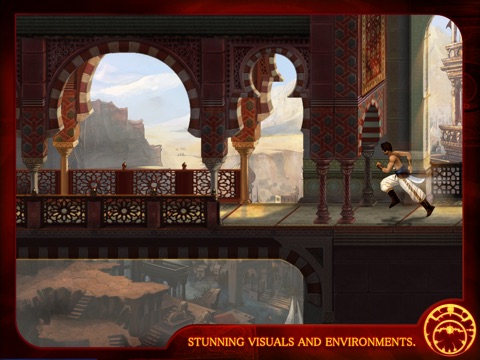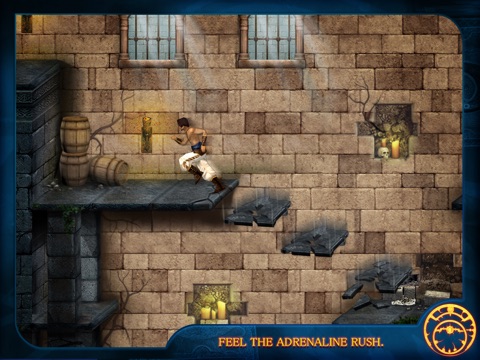 Customer Reviews
Bring back old POP
I found this weak. New graphics are pretty but don't really add anything to the experience, in fact the characters are just the characters from sands of time, which seems lazy. They went to all the trouble of updating a game that didn't really need an update, but couldn't be troubled to design new characters for it. Game is almost exactly the same as the prince of Persia classic app that this replaced, just with newer graphics. Also, the movement pad is HORRIBLY designed and awkward to use; old direction arrows were much easier to use. I mostly wanted this because I used to play old POP back in 1992 and wanted it on my iPad for the sake of nostalgia, I am very sad to see that this is the only version of this game still available. This is a completely unnecessary attempt to update a game that was fine to begin with. Ubisoft should not have messed with perfection. If they people like this game then fine, but they should still make the classic POP app available. Again, too, the s---tiness of the directional movement pad really interfered with my enjoyment of this game; whatever else they do they need to rethink some design aspects.
This Game is Awesome!!!!
I normally don't write reviews but this game deserved my input.

First of all, for all the haters out there who think the controls are horrible, please settle down. If you had played the original game in the early 90's on a 386 PC, (486 if you were lucky), then you would be well aware of how easy it was to fall off ledges and walk too far from just pressing a keyboard key a hair too long. What I feel most people are missing in their comments about the controls, is just how true the developers of this game were in building the game to that old PC version I fell in love with. Honestly, after 10 minutes or so, the controls felt like second nature and often I could grab on a ledge while falling and not plummet to my death. I don't recall being able to do that on my PC.

I really enjoyed going through all the levels with the updated graphics. The quality of this game is top notch. I would encourage anyone on the fence to go ahead and dive into this game. Fortunately I picked the game up on sale for .99 cents but I would have been happy to pay up to $5 to relive that youthful experience now that I'm in my forties.

Buy the game! Have fun with it. I certainly did!!!!!!!
Keep the classic games coming to iPad!
Thanks for a really enjoyable gaming experience! It never ceases to amaze me how great these old games are in this format - iOS is the perfect medium to revive true classics! POP has to be one of the greatest PC classics ever, which is why I think a couple suggestions would be much appreciated by the gaming community:
1. As great as the new skin looks, I for one would love to be able to play this gem with the old-school graphics I grew up with, I love the new skin, but I'd like to see an option to play "retro" graphics as well!
2. Get POP 2 - the Shadow & the Flame to us a quickly as possible!!!

Fantastic Job :)
View in iTunes
$1.99

Category:

Games

Updated:

Jun 28, 2012

Version:

2.0.1

Size:

204 MB

Languages:

English, French, German, Italian, Japanese, Spanish

Seller:

Ubisoft
Compatibility: Requires iOS 4.3 or later. Compatible with iPad.
Top In-App Purchases
pack of 4 lives$0.99
pack of 22 lives$4.99
pack of 48 lives$9.99
The Sands of Time - Art Book$1.99
pack of 104 lives$19.99
Warrior Within - Art Book$1.99
The Forgotten Sands - Art Book$2.99
The Two Thrones - Art Book$1.99
Prince of Persia 2008 - Art Book$2.99
pack of 600 lives$99.99