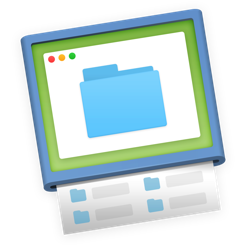 Description
Print Window 5 is the best tool for printing file listings in Mac OS X!

Print Window allows you to create beautiful, professional-looking file listings right from the Mac OS X Finder. No more taking screenshots of windows or settling for text-only printouts of only filenames. Print Window provides the works: icons, file information, sorting and so much more!

LISTINGS WITH STYLE - Print Window allows you flexibility to choose how file information is displayed in your file listings. You can include as much or as little information as you want. Want a listing that displays everything you can about a file? You can do that! What a listing that displays only icons and names? Done. Want a contact sheet showing thumbnails of pictures and videos? No problem.

EASY TO USE - Print Window is very easy to use. It even allows you to save presets so that you don't have to mess with common settings over and over again. Set it once and go!

INTEGRATION - Print Window works with the Mac OS X Finder. Create a file listing directly from the Finder using drag-and-drop and the dock menu.

VARIETY OF FORMATS - With Print Window you can generate file listings that meet your specific needs. You can create file listings formatted for printing on standard sheets of paper, formatted for use as the cover of a CD jewel case or DVD case or even save file listings as a text file or a file that can be used with Microsoft Excel.
•Fixed an issue that could cause columns to begin above the header when using the Names Only style and including headers.
•Fixed a crash that could occur when clicking "Cancel" when saving a file listing as a file.
•Other minor bug fixes and improvements.
Customer Reviews
Why is this not part of the OS?
Seriously Apple, this should be native.
Great Little App
I have to be honest and say I really haven't used this version much yet but if it performs as well as my original version (I've had it since BEFORE the App Store even opened when you purchased Apple apps where you could find them!) I would give it 10 stars (if I could) without reservation. I used the plain jane app and it provided me with everything I needed to know about my files in a neat text listing (with a few options as to appearance, what you want to see, etc.)

I'm excited to use the new version because I will be able to have icons of photos instead of just names and what appears to be a great deal more! It says to keep review short so I'll quit here but based on previous experience with the OLD app - I highly recommend this version. Support is great so even if there are glitches I trust the creator(s) will fix them! Thanks for a very useful app.
Did Exactly What I Wanted It To
I wanted a print-out of a large list of files in a complicated folder structure. I purchased this app after reading several good reviews on the web. I spent 120 seconds setting up my preferences, and then I ran the app - and it worked like a dream: a nice looking print-out of the folders and files. When an app does exactly what I want, effortlessly, it gets five stars, and I do not regret the money spent on the app, which goes to support the developer.
Information
Seller

Scott Crick

Size

19.6 MB

Category

Languages

English, Bengali, Dutch, French, German, Italian

Age Rating

Rated 4+

Copyright

© 2001-2017 Searchware Solutions

Price

$19.99
Supports
Family Sharing

With Family Sharing set up, up to six family members can use this app.