Pro Metronome - Tempo,Beat,Subdivision,Polyrhythm
By Xiao Yixiang
This app is only available on the App Store for iOS devices.
Description
Pro Metronome - The best metronome app. Period.
Featured in Apple's WWDC 2014 showcase "Apps We Can't Live Without."
------------

Pro Metronome is a powerful tool that helps you master both daily practice and stage performance. It has redefined how more than 4 million people sync to a beat. At the heart of the app lies our extremely precise, studio-quality metronome which we've refined even further with 3.13.

The free version is packed with features. We feature 13 different metronome tones including even a voice option. Running our newest RTP (Real-Time Playback) technology, our metronome clocks an accuracy of ±20μs.

Pro Metronome is all about customization. Change beat tones, accents, and even the dynamics of your rhythm ("f", "mf", "p" and "mute"). The Pro Version unlocks even more features including subdivisions and polyrhythm settings. Create complex patterns with triplets, dotted notes and non-standard time signatures.

The app supports several ways to experience beats. The free version of the app includes sound, but upgrading to Pro enables Visual, Flash, Vibrate and Airplay Modes. Visual and Vibrate Modes are great when you're playing loud instruments or when you need to FEEL the beat. Flash Mode uses the device's camera flash to sync up the entire band easily. You can even use Airplay Mode to beam the metronome to a projector or Apple TV!

Pro Metronome doesn't just help you keep time, it also helps you train. Pro Metronome built the Rhythm Trainer which mutes a selected bar in the beat, allowing your brain to fill in the gap and thus train your innate sense of timing. It's a simple, heavily requested idea not found in any other app to date.

Pro Metronome also supports a host of secondary features: background play mode, in-app volume adjust and even the ability to save song/tempo playlists to share with friends. It's a powerful, elegant and intuitive app - a must for the modern musician.

----------------------

Pro Metronome Basic Features:

* Intuitive, ad-free interface even in the free version
* Dynamic time signature settings
* 13 different time-keeping styles, including a counting voice
* Dynamic accent settings, including f, mf, p, and mute indicators
* Tap in your own BPM
* Color Mode – see the beats graphically displayed on screen
* Pendulum Mode, for visual feedback
* Power-Saving/Background Modes – works in lock screen, home, or in another app
* In-app volume adjustment
* Extreme precision (±20μs) using RTP (Real Time Playback) technology
* Timer to help you keep track of your session
* Tone generators
* Landscape Mode for increased resolution
* Universal app – supported on iPhone, iPod and iPad
* Audiobus support
* Apple Watch support


Pro Features include:
* Sensory aids: LED/Screen Flash Mode (iPhone 4 and above) and vibration (only available for iPhones)
* Subdivisions including triplets, dotted notes, and many more
* Polyrhythms – stack two rhythm tracks on top of each other
* Programmable playlists – save and load your favorite settings
* Dual Screen Mode using AirPlay (requires iPhone 4s/iPad2 and above)
* Wirelessly playlists sharing
* Rhythm Trainer – helps to develop your steady beats
* Stage Mode – the indispensable companion for performing musicians.
* Practice Mode – allows you to programme automatic tempo change to suit your practice regime.

===About EUMLab===
EUMLab helps unleash your musical talent! With pioneering technology, EUMLab create sleek, beautiful products for both the professional and novice musician alike.

Find out more about us: EUMLab.com
Follow us on Twitter/Facebook: @EUMLab
Questions? Write us: feedback@eumlab.com
Watch our videos: eum.io/eumvideo
What's New in Version 3.13.2
Hey guys, the Pro Metronome app is becoming more powerful!
1. Programmable playlist is now available
2. Now you can choose the timing to switch songs in playlist, on touch or on next downbeat
3. Optimized the appearance of playlist interface
4. Settings can be configured manually with clearer interface
5. Added tone generator feature
6. Optimized the experience in Stage Mode
7. Volume control is easier now
8. Fixed bug for the watch app
9. Now you can purchase separate in-App-Purchase features as you like
10. Supported traditional Chinese language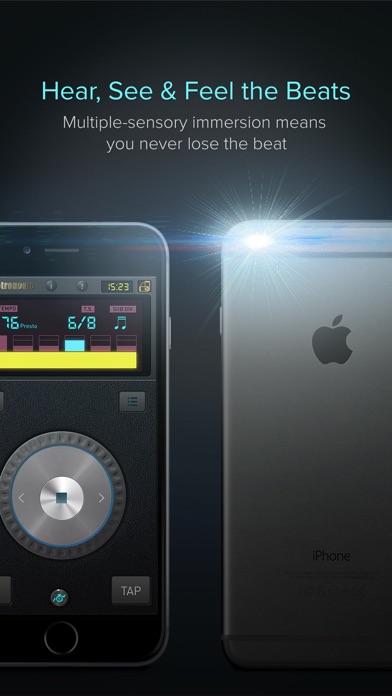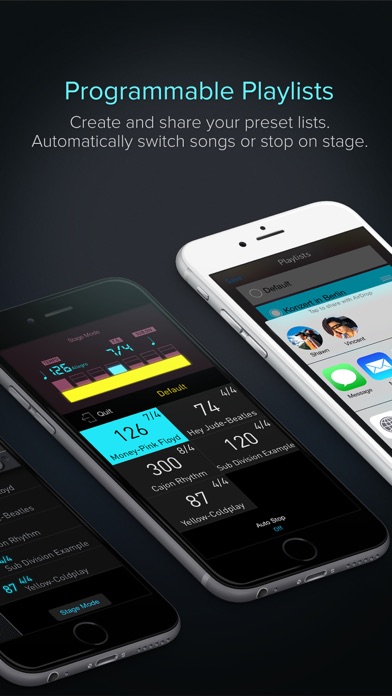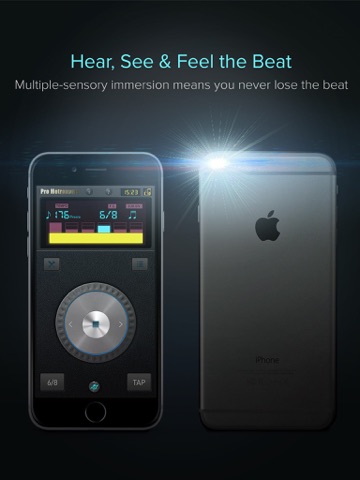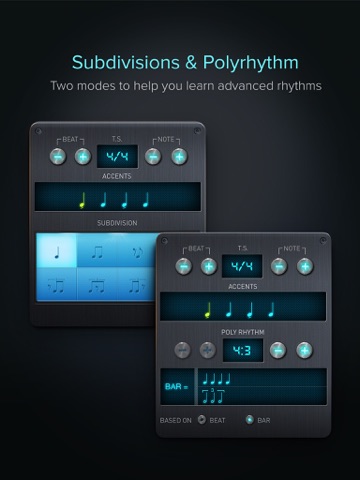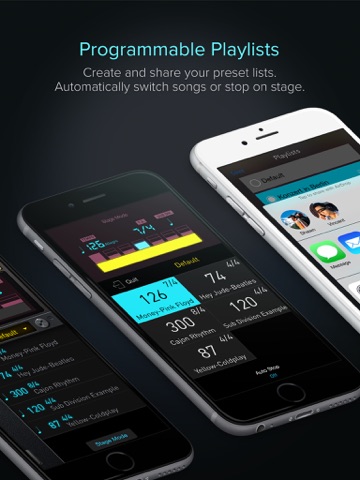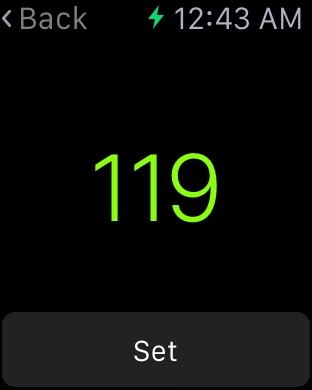 Customer Reviews
Great! (Kind of...)
TLDR; Set a click. Useable set list feature. Easy to preset. Awful click tones.
I'm a working drummer and needed to set up a click track in a set list. It does just that. It works, it's easy enough to program, you can download the set as a playlist. Boom. Having an app like this on the market is ridiculously important and useful. The flipping back and forth between screens could be streamlined a little better instead of the weird page flip/attention to graphics. The reason I only gave 3 stars is because the click tones are wretched. Only one of them are unusable in a live setting, and even the woodblock tone is relatively bothersome. There's either too much going on in the click itself (cowbell, jingles, kick drum) or it's a tingy digital thing that is useless. If there was a way to set the click tone I'd give it a million stars.
buy pro
i'm a member of my schools marching band & i play bass 4 in battery and we just got our warm ups . i remembered i ran out of space on my phone so i deleted a bunch of apps along with my metronome & i downloaded this and i've actually had it before that's probably why i deleted this but it sucked so bad . don't waste your time on this . i think it just has to do with it's not the pro (the one that costs money) . try to get money and download the pro on any metronome app because it'll work way better . on this app and other basic metronome apps it only gave me quarter notes i needed like 16's and triplets & every beat of a measure like ( 1 e and a 2 e and a 3 e and a 4 e and a ) but it only gave me quarter notes along wth the other apps . but i looked at the pictures for ones with money and i bought a good one for 2.99 . it gives me all of that good stuff not just quarter notes . just type in MetroTimer & buy it . i promise it'll be worth it .
Almost perfect but not quite.
Why pay $16 on other metronome apps? Here's why.

As a new drummer, I need all the help I can get with my timing and rhythm. This app is wicked neat and helps me with just that. My absolute favorite part of the app is the mute option. You can mute for a specified number of measures or random. Don't like random mutes, when using the voice counting and the count talking is the 'and'. Easier to tell it how many measures to be quiet.

One more thing, the app hasn't been updated in a year. So here's my 2 cents. Having large numbers on the faceplate counting for You would be awesome. Like seeing a huge 2 or a 4 or a "2 and", flash on the screen, yeah that would be neat. The blinky bars at the top work but numbers would be light years better. I'm a pro user so I'd pay extra for Large number flashes.

Please move the timer on the home screen away from landscape option They are too close together and I'm always hitting landscape when I want to access the timer. This gets annoying.

Oh I'd pay a boatload to be able to put in my own grooves to practice too. But not $16. $8.00 you bet!!!!!

OK. That's enough. Like I said time for an update and some new options to make an already good app, perfect. Make them in app purchases. I will buy them all.
View in iTunes
This app is designed for both iPhone and iPad
Offers Apple Watch App for iPhone
Free

Category:

Music

Updated:

Jun 30, 2015

Version:

3.13.2

Size:

89.5 MB

Apple Watch:

Yes

Languages:

English, German, Simplified Chinese, Traditional Chinese

Seller:

Xiao Yixiang
Compatibility: Requires iOS 7.0 or later. Compatible with iPhone, iPad, and iPod touch.
Apple TV:
Yes
Top In-App Purchases
Pro Version$2.99
Subdivisions$0.99
Playlists$1.99
Practice mode$0.99
Rhythm Trainer$0.99
Polyrhythm$0.99
Vibrate, Flash and AirPlay$0.99
Customizable tone generator$0.99