ProCam 2 - Camera and Photo / Video Editor
By Samer Azzam
Open iTunes to buy and download apps.
Description
BLOW OUT SPRING SALE!
- ProCam 70% off - $0.99 from $2.99
- 4K video 40% off - $2.99 from $4.99
- The Master Collection 50% - $0.99 from $1.99


------------------------------------------------------

SHOOTING MODES

- Single Shot with Intelligent HDR feature
- Night Mode with timer option
- Anti-Shake with adjustable sensitivity (High / Medium / Low)
- Burst Mode with adjustable image quality (Full / VGA) and shot counter
- Self-Timer
- Interval
- Sound Snap
- Face Detection with auto shooting option
- Big Button (Screen Shutter)
- Level Mode - iPhone 4S and later only
- Video with zoom, pause, ability to take stills, and audio meter
- 4K Ultra HD video - 3264x1836 upscaled to 3840x2160 - in-app purchase - iPhone 5S and later only
- Level Video - iPhone 4S and later only
- Slow motion video with 4 playback speed options - iPhone 5 and later only
- Time Lapse with the ability to add an audio track from iTunes music library

CAMERA

- Manual focus, exposure compensation, shutter speed, ISO, and white balance controls - iOS 8 and later only
- Full focus and exposure control (touch focus / touch exposure)
- Focus, exposure and white balance (WB) lock
- 17 live lenses: Vignette / White Vignette / Fisheye / Tilt Shift / Macro / Tiny Planet / Wormhole / Split / Kaleidoscope I, II, III, IV, V / Ripple / Striped / Hatched / Halftone - iPhone 4S and later only
- 60 expertly crafted live filters - iPhone 4S and later only
- Adjustable image resolution (Full / High / Medium / Low)
- Adjustable aspect ratio (4:3 / 3:2 / 16:9 / 1:1)
- Adjustable JPEG compression quality (100% / 90% / 80%)
- Lossless TIFF format - iPhone 4S and later only
- Manual shutter speed/exposure time control (1/8 sec / 1/4 sec / 1/2 sec / 1 sec)
- Video pause/resume functionality
- Adjustable video resolution (Full HD: 1080p / HD:720p / VGA: 640x480 / Low:480x360)
- Adjustable video frame rate (30 fps / 24 fps / 15 fps / 5 fps)
- User defined video frame rate (1-30 fps)
- Still photo capture during video recording
- Realtime video stabilization (can be turned ON/OFF)
- Video disk space counter
- Time lapse video resolution (Full HD: 1080p / HD:720p / VGA: 640x480 / Low:480x360)
- True slow motion video mode with 4 playback speeds (Max fps / 30 fps / 24 fps / 15 fps)
- 6x digital zoom
- Realtime 6x digital video zoom
- Video audio meter (Avg. / Peak signal levels)
- Geo location tagging
- Alignment grids (Thirds / Trisec / Golden / Horizon)
- Front / Back camera support
- Photo date stamp
- Photo time stamp
- Photo location stamp
- Photo Copyright stamp
- Video / time lapse date stamp
- Video / time lapse location stamp
- Video / time lapse Copyright stamp
- Time lapse audio track from iTunes music library
- Flash settings (Auto / On / Off / Torch)
- Front camera flash
- Quick launch notification
- snappgrip support

PHOTO / VIDEO EDITOR & PHOTO EDITING EXTENSION

- Nondestructive editing - all edits, including cropping, are completely amendable / reversible
- 60 expertly crafted filters
- 17 lenses: Vignette / White Vignette / Fisheye / Tilt Shift / Macro / Tiny Planet / Wormhole / Split / Kaleidoscope I, II, III, IV, V / Ripple / Striped / Hatched / Halftone
- 19 comprehensive adjustment tools
- Trimming, cropping, rotating, mirroring, straightening, and perspective correction
- Extremely accurate timeline with the ability to review videos frame by frame
- Ability to add background music
- Volume control for both original recording and background music
- Ability to extract still frames out of videos
- High resolution video support up to 4K (3840x2160)
- iPhone 4S and later only

FEEDBACK

Contact us at support@procamapp.com or visit our website procamapp.com.
What's New in Version 5.2
◉ Persistent manual controls:
- When this option is turned on, the previous manual settings will be applied every time manual controls are initiated.
- Accessed under the PHOTO tab in the SET menu.

◉ The Master Collection
Unlocks all current and future premuim filter presets. As more premium filter packs are added, the price of The Master Collection will increase accordingly.

Note: Users who've previously purchased The Urban Collection are automatically upgraded to The Master Collection.

◉ The Elemental Collection
Includes 10 filters designed to emphasize the primary essence of natural settings. From desaturated and faded to vivid yet subtle, this collection is ideal for atmospheric compositions.

◉ Added the ability to edit the Favorites filter category. Long press to edit. Drag to rearrange. Press the delete button to remove.

◉ Bug fixes and performance enhancements:
- The shooting modes menu is now automatically dismissed after a mode is selected.
- When front camera flash is on, brightness is automatically increased to 100% when flash is triggered and then reset back to default.
- A number of bug fixes.

P.S. If you're enjoying ProCam 2, please take a minute to leave a positive review on the App Store. If you've previously left a review, we'd appreciate it if you would repost it as reviews are reset with every update. Thanks for your support!

Experiencing issues? Have comments or suggestions for future updates? Please contact us at support@procamapp.com or visit our website procamapp.com.
iPhone Screenshot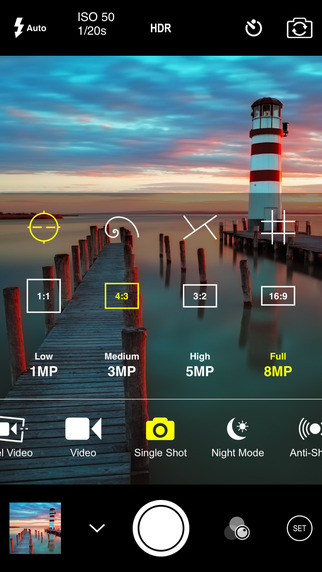 Customer Reviews
Deceptively hidden
This app cannot be found in appstore search.
There are two versions submitted as different apps but work almost exactly the same. Appstore has not registered this in appstore search engine. On my iPad Air the focus is all blurry and nowhere near as good as the native camera app. it used to be great app, but i use it ever less. Especially considering the fact that the rotation lock on the iPad does not work for this app, and i take a lot of pictures and film ficing downwards at the floor, resulting in the shoot button flying from to to left to right sides of the screen and my thumb goes crazy trying to find it as it dances all over the screen from top to bottom left to right. After emailing the devleopers about some issues, they repsonded very impolitely and aggressively showing a very arrogant attiturde indeed and expressing that they dont care anything about Apple's rules because they are in the middle east and are untouchable by any american laws and more or less i should get stuffed. I recommend to not support this app or developer because they are very arrogant, unfriendly and do not care about their customers.
OVERHEAT AND VIDEO LOSS. Not pro at all.
I'm on an iPhone 4S. If you hope to record videos longer than 4 minutes you can look forward to serious overheating problems immediately followed by loss of previously mentioned 4+ minute video. I have lost all videos longer than 4 minutes. Every. Last. One of them. Extremely upsetting. I was able to recover ONE file out of the dozens lost via iTunes but unfortunately can't play it at all. For the robust feature set this app carries you would think they include some sort of error recovery. Nope.
What good are these features if the content can't be saved?
I guess it's time I upgrade my idevice as developers are beginning to forget about us older gen models.

I finally wrote a review because earlier this afternoon I shot an 11 minute video of amazing footage that simply could never repeat itself in a thousand years, to have the high temperature alert go off as I place my device in front of a blowing AC vent.

This is what it's come to. Putting your device in front of a cool blowing AC with your fingers crossed in hopes your video is saved. I guess that's kind of exciting. You never know what video you're going to get.
Great app, worth getting, one annoying flaw
I like this app much better than the native 6+ camera app.

But it does have one very annoying flaw, which costs it a 5-star rating. When trying to view images in my 6+ Photos app, any pics TAKEN with this camera app in Portrait (vertical) mode cannot be VIEWED in Portrait mode; they will automatically rotate so they cannot be viewed "upright", that is, vertically. I don't have this issue with any other app, and Landscape (horizontal) images don't suffer from this auto-rotate issue.

Otherwise, a first-rate camera app. Worth getting, even with this issue.
View In iTunes
$0.99

Category:

Photo & Video

Updated:

Mar 18, 2015

Version:

5.2

Size:

40.2 MB

Languages:

English, Arabic, French, German, Italian, Japanese, Korean, Portuguese, Russian, Simplified Chinese, Spanish, Traditional Chinese, Turkish

Seller:

Samer Azzam
Compatibility: Requires iOS 7.0 or later. Compatible with iPhone, iPad, and iPod touch. This app is optimized for iPhone 5, iPhone 6, and iPhone 6 Plus.
Top In-App Purchases
The Master Collection$0.99
4K Ultra HD Video$2.99
The Urban Collection$0.99
The Elemental Collection$0.99