Productive habits & daily goals tracker
By Jaidev Soin
Open iTunes to buy and download apps.
Description
Build good habits. Organize your life. Download to get all the tools you need to build a routine of positive, life changing habits. You get:

● A way to plan your day - Schedule habits for morning, afternoon, evening, or any time of the day. You can also schedule habits for more than once a day, or only for weekdays, or just for the start of the month, or just on Mondays, or many other convenient choices.

● Motivating streaks - Build motivating chains of done habits and perfect days. The longer your chain of done habits, the more likely you will stick at the habit.

● A way to focus - You're only shown what's due for the current time of day. This helps you better manage your time, and prevents stress about what is still left to do.

● Powerful reminders - Know what's due for each time period, plus you can set reminders for each habit, or get a big push from Boost Mode.

● Lots more awesome stuff - Like calendars of your progress, detailed stats, notes, a passcode lock, and the beautiful Floodlight theme.



Credits
-------
This app makes use of MagicalRecord: https://github.com/magicalpanda/MagicalRecord
Tooth icon made by http://www.flaticon.com/authors/scott-de-jonge from www.flaticon.com, licensed under CC-BY https://creativecommons.org/licenses/by/3.0/
What's New in Version 1.3.4
Hey all! Version 1.3 brings these improvements:

- New alert tones. You can now choose from 5 alert sounds
- The help section is now available to all users
- An nicer animation when you mark something 'done' or 'skipped'
- 'Morning start' now defaults to 12am again


It turns out that iOS 9 brought with it a few bugs! The following have all been fixed:

- For some users the app has been crashing on open. This should now be fixed. Please let me know if you still have this problem
- Fixed an issue where users could have cells disappear from the habit detail and life log screens.
- Fixed an issue where users with their phones set to asian languages can get a crash on the 'More stats' screen.
- Fixed an issue where users were seeing badge numbers for times of the day they had no habits

Version 1.3.1:
- Added a "Write your own" button to each of the habit categories

Version 1.3.2
- Removed 'Pull down to add' animation on first app use

Version 1.3.3
- Fixed a bug where some users were shown the wrong day when attempting to back date habits.

Version 1.3.4
- Ensuring the app is compatible with iOS 10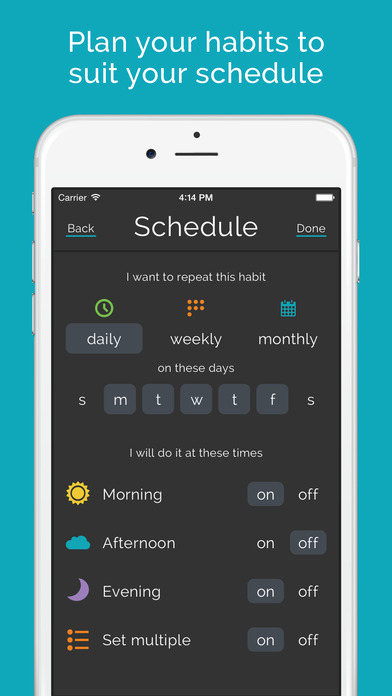 Customer Reviews
Almost perfect but needs more features
4.99 is kinda steep for the full version. Especially since there's not a way to include dates for deadlines. If there was I would be 100% satisfied.
I'd like it to remind me of whatever thing I have to do until the deadline and let me know when it's closing in and whatnot. There's plenty of good habits in real life with deadlines. Like, get a birthday present, or pack your books for a move, or get an oil change, and those kinds of things. I like the way this app works and everything not being in one spot isn't conducive with brain fog.
Anyway, this app keeps me on track, even with said brain fog. It's easy to let stuff slip though the cracks these days, even without nerve & pain disorders. And I need to do a better job of taking care of myself.
I love that it doesn't show you everything at once so it doesn't get too daunting and I just shut down. Plus there are things I can look forward to, like hanging out with a friend or going out for a walk. Finding time for them can be hard but If I can do everything I can be happier and more functional. If I got working medication too, lord save us because I would CRUSH IT with this app.
The icons are great, I love that the app is dark (I'm photosensitive and bright colors hurt my eyes), the sounds are cute, love the customization, and pretty much everything. Add those deadlines and I will change my review to five stars.
Gettin things DONE!!!
It's an easy-to-do, interactive, and fun application! How it works is you choose a certain goal you want to accomplish. i.e. health, fitness, home, hobbies, social, efficiency, or write your own. The app then gives you options on what specific goal you'd like to accomplish. For example, if I were to choose health, it asks me if I want to eat some fruit, a good meal, brush my teeth, take a break, or take vitamins, etc. If I were to choose fitness, it would ask me different goals such as a running time, certain personal record for a lift, or a sport I'd want to play, and other things of that nature. It then asks me what days I want the goal to reoccur. Daily, weekly, etc. If I don't accomplish a goal, it will give me constant reminders that I need to do it. It's interactive and fun for me. I was wanting to set a goal to go to the gym and I did! All because the app would remind me, according to my schedule. I enjoyed using it for the week, and I definitely keep it for the future. It was more than just a planner, it was almost a game for me. I knew I needed to get stuff done, so all I did was put it into the app and it helped me to accomplish tasks, goals, and my entire schedule. I really did enjoy this app.
Exactly what I have been looking for!
I have spent the past year downloading (and often buying) habit/daily chore apps before then uninstalling them in disappointment. I really liked the idea of a gamified habit app, but after trying several, they just didn't have the deeper features I wanted which caused me to quit using them after some time. This app, is so much nicer. Its beautiful, so customizable, and a real joy to use. And it has features, such as streaks and graphs to help you visualize your success so that you will want to keep it up. Really cool. The only thing I wish it had was a separate section where I could make one-time lists, such as a grocery list. Aside from working on habits, I usually have several separate lists going on, depending on if I need groceries, what bills are coming due, etc. I like to keep that separate from my habits. For now I either use notes or another list app, but it would be really cool to see that feature added in this app. Aside from that, I am very impressed. I bought the full version because it is so worth it. Keep up the good work!
View in iTunes
Offers Apple Watch App for iPhone
Free

Category:

Productivity

Updated:

Sep 06, 2016

Version:

1.3.4

Size:

9.3 MB

Apple Watch:

Yes

Language:

English

Seller:

Jaidev Soin
Compatibility: Requires iOS 7.1 or later. Compatible with iPhone, iPad, and iPod touch.
Top In-App Purchases
Upgrade Productive$3.99
More iPhone Apps by Jaidev Soin