Project Duplicator for Xcode 4
By InSili.co
Open the Mac App Store to buy and download apps.
Description
★ Want a quick working copy of an existing Xcode project, easily and efficiently?

Project Duplicator for Xcode is here, for you!

✔ Works in Lion and up to Xcode 4.2

★ Want to create a similar project to one you've already created, but are too tired to go through the one-by-one copying process, changing names, types, variables, filenames, etc?

★ Want to use your existing Xcode projects as templates, or as a basis for other projects?

★ Do you want to vastly speed up your development with Xcode 4?

★ Do you simply want to complete rename an existing project, without having to discover and correct all the hidden little bits?

Project Duplicator for Xcode is here, for you, with an ultra-intuitive interface.

Just choose your original project, fill in the New Project Title and where you want to save it and you're done. Project Duplicator does all the boring stuff for you in a matter of seconds.

✔ Copies and respectively renames ALL files.
✔ Edits all files so that they much your New Title settings, without corrupting the final project
✔ Produces a top-quality FULLY FUNCTIONAL copy of any Xcode 4 project

WARNING : In order for Project Duplicator to work, a valid Xcode 4 project must be used, with the naming conventions used by Xcode 4 untouched (e.g. My_ProjectAppDelegate, etc)
What's New in Version 1.3
- Minor optimizations
Screenshots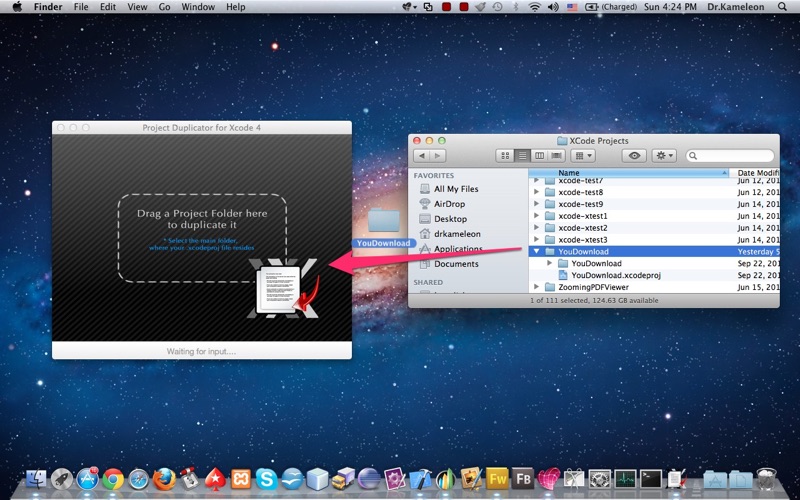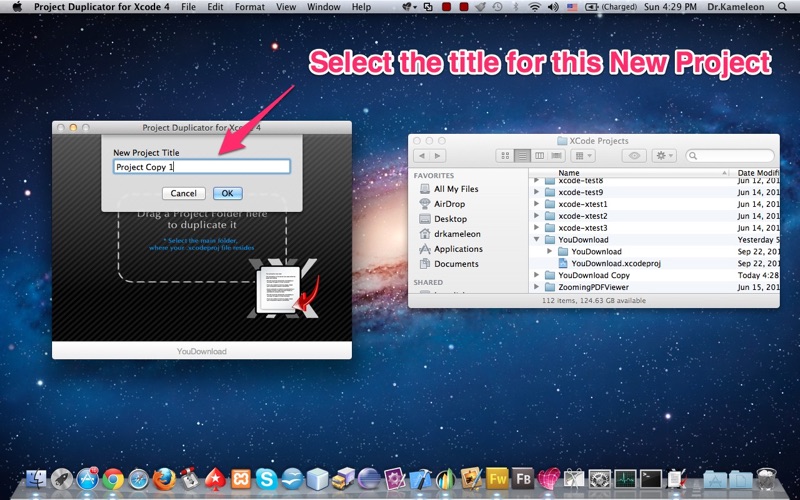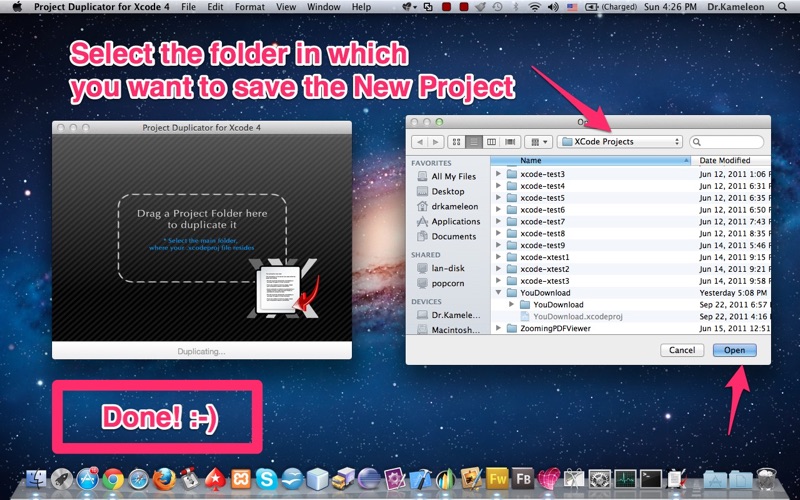 Customer Reviews
Worked for me when Xcode 4
I have only tried this once, but it worked beautifully. Don't think only of duplication but also as "project rename" functionality.

XCode has a Duplicate menu command for creating a copy of a project. I wasted hours on the copy it produced! It did not fully rename all the important internal settings, resources, targets, etc. It partially worked, so I spent hours trying to fix the parts that did not work until I finally gave up. The failure was not immediate, it was insidious and subtle and just the energy vampire I don't need.

This tool worked on my first test. Granted it was not a complicated project, but neither was the one XCode failed on above.

After using this tool, go into the project and do some refactoring of method names, global replace of variable names and prefixes, and you have a brand new project bearing as little or as much resemblance to the original as you like.

It seems to get updates fairly frequently, and the price is reasonable.

Also to "name with spaces" failed reviewer, I would stick to the recommended naming conventions, e.g. "NameWithSpaces".
Works for Xcode 4.6 for me
I hesitated when I read some of the more negative reviews about this application. I wanted to duplicate a project or two I've authored in Xcode 4.6 - and I didn't want to fork them. I wanted to really make separate copies for other uses.

I figured I'd give this application a shot and within about 3 seconds I had a duplicated project just waiting for me to work on.

The original wasn't source-controlled. I have NO idea how badly things could get with this app and if your project is in source control. I probably wouldn't try it. But for free-and-clear projects, this was a winner for me.
No thought needed
In Xcode 3 it was fairly easy to copy and rename a project. But with version 4 it became much more difficult. This program has made that process easy again, and actually easier than xcode 3.

I've used this program for simple command-line applications to complex, multi-class and multi-xib projects with ease and accuracy. I highly recomend it for anyone who is using Xcode.
View in Mac App Store
$3.99

Category:

Developer Tools

Updated:

Jan 20, 2012

Version:

1.3

Size:

0.5 MB

Language:

English

Seller:

Ioannis Zafeiropoulos
Compatibility: OS X 10.6 or later, 64-bit processor