Puppet War:FPS
By Twindigo
This app is only available on the App Store for iOS devices.
Description
★ THE PUPPETS HAVE DECLARED WAR ON HUMANITY!!! ★ Battle the evil puppets with awesome weapons in this totally crazy, action packed, 3d FPS shooter game! Blow their heads off,chop them up or burn them with the flame thrower to SAVE HUMAN KIND FROM PUPPET WORLD DOMINATION!

★★★ PUPPET WAR HD for the iPad is now on SALE FOR A LIMITED TIME! ★★★

★ Puppet War is one of the most challanging and hilarious FPS game experience on the iPhone! ★

***Game featured by Apple on the noteworthy FPS games category***

★ Now with: EPISODE 2 - CONQUER THE STUDIO for FREE! (unlocks on level 35) ★

Episode 2 features loads of new content: 10 new WEAPONS like the FLAME THROWER & SNIPER RIFLE! New PUPPETS like the VAMPIRE and SOLDIER Puppets! New BIGGER MAPS! BOSS fights! Special perks, UPGRADEABLE Weapons and more!

THE EPIC WAR OF MAN VS PUPPETS CONTINUES!


-----------------------
Press Reviews:
-----------------------

Touch Arcade - "...you'll not only be laughing out loud frequently but you'll really be testing your FPS skills as well....There's actually a really great game under this graphical coating."

"If you want a solid FPS that adds a unique idea to the genre and has some killer artwork, look no further than Puppet War:FPS!" – APPMODO.

*** Check out the review section on our site for more detailed reviews.

-----------------------
About the game:
-----------------------

Puppet War is a 3d FPS (First 'Puppet' Shooter) in which you play a janitor stuck in a colorful TV kids-show studio with hordes of evil cuddly puppets trying to kill you!
Luckily for you, there are lots of extremely awesome weapons at your disposal to defend yourself.
Can you survive waves of crazy puppets trying to eat you up like a delicious cookie??
To stay alive you will have to earn money to buy stronger weapons and reach harder levels to unlock even more powerful ones.

-----------------------
Game features:
-----------------------

★ OVER 25 REALISTIC AND UNIQUE WEAPONS to unlock and UPGRADE like:

Machine-guns, Lightning sword, The Funny Plunger Crossbow, all powerful Minigun, Nose pincers, Grenades, Chainsaw and more.

*Now in EP.2: 10 new weapons! including the Flame Thrower, Sniper Rifle with scope ability, Laser Gun, AK47, Boxing Gloves, Double Uzis and more.

★ 10 VARIOUS STUDIO MAPS!

Including The colorful TV kids show set and PuppetTown each with their own creepy Night maps + Bonus XMAS set map.

*Now in EP.2: Battle the puppets in the realistic studio's Lobby, Corridors and scary Parking Garage.

★ OVER 10 PUPPET ENEMIES WITH DIFFERENT ABILITIES!

Like the ZOMBIE & NINJA puppets! New VAMPIRE & SOLDIER puppets, Chicken Throwers, Exploding Karting puppet, Time-Bomb puppet, Disappearing Magician and more.

★ New BOSS FIGHTS! Fight Smiley the insane evil clown and Fluffy the huge hairy puppet.

★ New cool SPECIAL PERKS to aid you in battle like the Invisible Cape, Atomic nose blower & Dynamite Cake.

★ SURVIVAL MODE + SCARY SURVIVAL ZOMBIE MODE.

★ IMPRESSIVE 3D GRAPHICS, HIGHLY DETAILED WEAPONS AND FREE ROAMING LEVELS.

★ FUNNY GAMEPLAY WITH RICH ANIMATIONS AND SOUNDS.

★ 3 GAME DIFFICULTY CHOICES FOR PLAYERS OF ALL LEVELS. Challenging for hard core fps players and easy for new comers.

★ GAME CENTER LEADERBOARDS AND ACHIEVEMENTS.

★ SLICK AND EASY TO USE CONTROLS.

★ ENDLESS LEVELS WITH RISING DIFFICULTY provide hours of gameplay fun!

-----------------------

For support and game discussion please visit our forum or contact us by mail.
Follow us on FACEBOOK for more news and updates.

Video trailer, forum and more screenshots at:

★ WWW.PUPPETWAR.COM ★

(link below)
What's New in Version 2.0.2
* ★★★ EPISODE 2 IS NOW FREE ★★★ Episode 2 which doubles the content of the game is now free and unlocks at Episode 1 : Level 35 ! or can be unlocked with game coins.

* Added "Get Free Coins" button at the shop.

iPhone Screenshots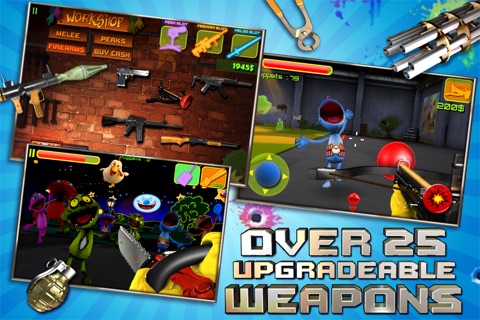 Customer Reviews
Fun/weird
The game is fun but hard to operate. I feel that the controls are in a good spot but they are just not easy to use. I wish that you could change the sensitivity too. The game is a good idea but would be better as a DOS game on the PC. If you really like classic FPS games like Doom this game is for you unless you don't like the touch screen interface like me. Kinda wish I could get a refund. Also I have an iPod Touch 5th gen and I wish they would update the app so that it doesn't have black bars on each side. Reminds me of a funny FPS game called H.U.R.L. that was a DOS game in the 90s that was released on the PC. Some of the monsters look kinda odd too. If it was easier to operate like Minecraft I would give the game four stars. Hope this review helps you.
Highly Enjoyable
I've been playing this game for a bit and am really enjoying it so far. The graphics are fun, the story is hillarious, the weapons are entertaining, and the game itself is challenging enough to keep it interesting. There's a few suggestions I have, however, for the next version or game. First off, while I like the concept of fighting puppets on a studio set, I'd like a few more complex maps, perhaps a bit of the old "find the key to get through the locked door" thrown in with the puppet-slaughtering mayhem. Along with that, an option for jumping and ducking. Other than that, great game.
One of the best first person games on the iPhone I've played
This game plays very similar to the iPhone game series Battle Bears, but I would say that it uses the idea of "playful and innocent gone wrong" better. The faces of the puppets on the title screen make me crack up every time, and the weapons are well thought up but poorly created. I was disappointed to find that they were only 2-D animations. Otherwise, the weapons are well balanced.
View in iTunes
$0.99

Category:

Games

Updated:

May 24, 2012

Version:

2.0.2

Size:

108 MB

Language:

English

Seller:

OREN BEN TOV
Compatibility: Requires iOS 3.0 or later. Compatible with iPhone, iPad, and iPod touch.
Top In-App Purchases
Puppet War:FPS Episode 2$0.99
Puppet War:FPS $25,000 Cash Pack$0.99
Puppet War:FPS $75,000 Cash Pack$1.99
Puppet War:FPS $1,000,000 Cash Pack$9.99
Puppet War:FPS $250,000 Cash Pack$4.99
More iPhone Apps by Twindigo