Putki
By janne piekkola
This app is only available on the App Store for iOS devices.
Description
★★★★WARNING HIGHLY ADDICTIVE!★★★★

★★★Played over 40 Million times★★★

How long can you last?
Are your reflexes fast enought?
Can you beat the highscores?
Play PUTKI and find out!

How long can you last?
Are your reflexes fast enought?
Can you beat the highscores?
Play PUTKI and find out!

"Putki provides a fair amount of entertainment for the cost. Those who enjoy seeing just how far they can make it down a never-ending tunnel will find an exorbitant amount of replay value here. If you fit into this category, then this game should be on your iPhone."
-theportablegamer.com

"Putki is a fun little reaction based tunnel game. In a nutshell, all you do is fly through a never ending tunnel and dodge the oncoming obstacles. This is strictly an accelerometer based game so you wont be needing all your fingers for those pesky virtual buttons. As you fly down the tunnel the game treats you to a bit of a psychedelic overload all while blasting out a thumping techno beat."

"Fun, fun, fun!!! Insanely addictive is not a joke, it's a warning!" -Player review

MORE REVIEWS:
"Superb gameplay. Addictive and nice graphics. Got me playing endlessly for hours." -Player review

"I love love love this game ! It may be a simple type of game but it's so so so addicting. . Once I start to play I just have to keep trying to beat my own best score. I highly recommend this to everyone !" -Player review

"One of the best apps I've seen" -Player review

more player comments :
"Very addictive and fun"
"Literally the most addiciting game I've ever played! I love it. One of my favorite games."
"Awesome. Really good graphics"
"They aren't kidding when they say it's addictive!!"
"Was kind of difficult in the beginning but with enough practice finally mastered the 1st course. Awesome game and great background music. Keep up the great work!"
"Totally addictive! Love this app"
"This game is so addicting! I can't stop playing it. Definitely a five star app."
"Truly addictive and fun!!!!"
"This game is sooo awesome....i wish there was more games like this one"
"This game is amazing."
"Most insane game I have played on my phone yet. Reminds me of StarFox on the SNES. Awesome graphics to boot. I just wish it started out a bit easier so newcomers had an easier time learning the ropes."

Putki is one of the most addictive games ever!

CONTROLS : Tilt iPhone/iPod to dodge the oncoming obstacles.
Note that you can adjust the control sensitivity from the ingame pause menu.(pause icon in the top left corner of the screen)

Features :
*simple controls
*online highscores
*Game Center support
*trophies
*5 unique levels
*unlimited gameplay

★★★★ FEATURED BY APPLE IN THE 'NEW & NOTEWORTHY','STAFF FAVOURITES' AND 'WHAT'S HOT' SECTIONS ★★★★
★★★★ IF YOU LIKE PUTKI, CHECK OUT SUPERSONIC ™ (iPod/iPhone) or SUPERSONIC HD ™ (iPad) ★★★★
What's New in Version 1.5.2
* Bug fixes
iPhone Screenshots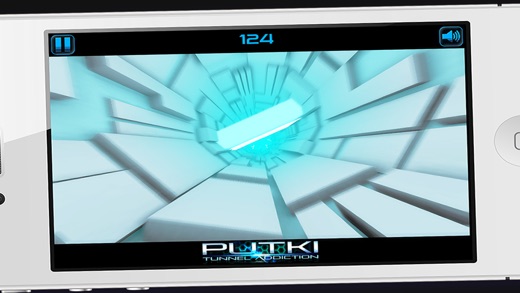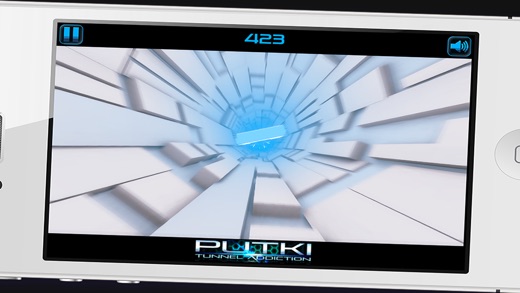 Customer Reviews
Great but needs some fixing
For one I like this game it's a great idea backed by some great graphics. The down side to this is you made the user play it in one settled direction which is great for left handed players but not for right handed players. Problems with this: your reaction time is greatly destroyed since you have now forced the user to use there left hand to react with. Thus making the players believe that things are much more sensitive then they really are. So if you could add the ability to flip the games playing directions (meaning your not playing with a headphone jack on your right hand where you are killing users reaction times your letting them decide weather they want it on there left hand or right which is what I mean by the screen flipping. So yah if that could be put in I feel this would solve a lot of problems with ppl saying the games to sensitive.
Wicked! 😃
It's so awesome, it's wicked! I'm so glad it was free for a day so I could get it. I totally recommend it. I got it a couple weeks ago and every day after school I play it. I can barely stop playing it!!! (That's a good thing!) Oh, and just a note, pretty much all the 1-4 star reviews are mostly about when they update the app and they try to play, it won't open. So you might not want to update it unless you think you are lucky. I haven't updated it yet, and I probably never will. (Unless I think I'm lucky, of course!) Anyway, beware, because once you buy it you might not be able to stop playing it! (Once again, a good thing!) See ya in the game!
Love it!!!
This is a really addicting game!!! Fun only if its your type of game, it is also really good at wasting time when waiting for things :)
View in iTunes
$1.99

Category:

Games

Updated:

Dec 08, 2012

Version:

1.5.2

Size:

9.2 MB

Language:

English

Seller:

janne piekkola
Compatibility: Requires iOS 4.3 or later. Compatible with iPhone, iPad, and iPod touch.
More iPhone Apps by janne piekkola