Quake 4 ™
By Aspyr Media, Inc.
Open the Mac App Store to buy and download apps.
Description
In a Desperate War for Earth's Survival, The Only Way to Defeat the Strogg is to Become One of Them

Earth is under siege by the Strogg, a barbaric alien race moving through the universe consuming, recycling and annihilating any civilization in their path. In a desperate attempt to survive, an armada of Earth's finest warriors is sent to take the battle to the Strogg home planet.

In addition to a compelling single player journey, Quake 4 features some of the best multiplayer action found in any FPS. Compete online in fast action, cross platform play in several flavors including Deathmatch, Team Deathmatch, Tourney, Capture the Flag, Arena CTF and and DeadZone.

*** Please Check System Requirements Prior to Purchasing. If you are unsure about your system specs, head over to GameAgent.com and let the MacMatch feature do it for you!***

***SYSTEM REQUIREMENTS***
If you encounter problems playing the game, please visit support.aspyr.com. This helps us learn about issues and make better products, and our kind folks are happy to help.

In order to run the game with satisfactory performance, your Mac must meet these minimum system requirements: 2.4 GHz CPU Speed | 2 GB RAM | 3.5 GB free disk space | (ATI): Radeon HD 2600; (NVidia): GeForce 8600 | 256 MB VRam

Supported Video cards:
NVIDIA GeForce 8600, 8800, 9400, 9600, GT 120, 320M,330M
ATI Radeon HD 2600, HD 3870, HD 4670, HD 4850, HD 5670, HD 5750, HD 5770, HD 5870, HD 6750M, HD 6630M, HD 6770M, HD 6970M
Intel HD Graphics 3000

Recommended System Requirements:
CPU Speed: 2.6 GHz | Memory: 4 GB or higher | Video RAM: 512 MB

Notice: Integrated video chipsets are not supported (GMA 950 Mac Mini(2006,2007), iMac(2006), Macbook(2006,2007), GMA X3100 Macbook(2007,2008), MacBook Air(2008)) ATI X1000 series

NOTICE: Apple Intel Chipsets only.

NOTICE: This game is not supported on volumes formatted as Mac OS Extended (CaseSensitive)

Notice: PunkBuster is no longer supported by EvenBalance for Quake 4

Notice: This game is rated M for Mature by the ESRB.
______________________________________________________________________________
BE THE FIRST TO KNOW!
Get the latest Aspyr news, get insider information, deals and more…
SURF US: http://aspyr.com
LIKE US: http://facebook.com/aspyrmedia
FOLLOW US: http://twitter.com/aspyrmedia

Thank you for playing Quake 4 from Aspyr!
Screenshots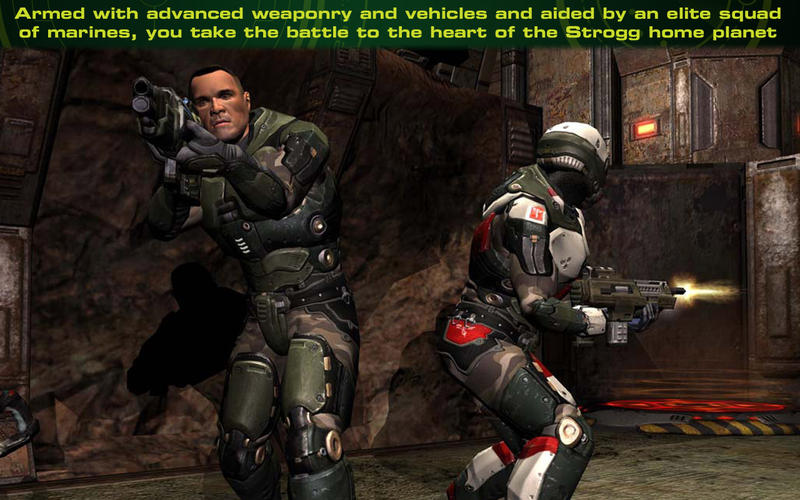 Customer Reviews
Not that Great.. Actually, Not that Great at All...
I have a MacBookPro that I bought last year, 2.3 Ghz i5 processor, 4GB Ram, Intel HDGraphics 3000. The game plays smoothly at the highest settings. When I bought the game I didn't really know what to expect other than that it's a first person shooter game. I saw all the 5-star ratings and I was like, ok, I gotta try this, because I've played many other types of first-person games like this (like Halo, COD, even Elder Scrolls, etc.). With that said, my expectations may have been too high. First, the graphics are unimpressive. It feels very 1999-ish… very DOOM-ish. This was disappointing, but awesome multiplayer gameplay would have made up the difference… but it didn't. Hardly anyone is online playing multiplayer at any given time! I wouldn't really have felt the need to leave a 2-star rating were it not the fact that there are so many 5-star ratings that skew reality. I'm just throwing my two-cents in here to put some balance (and reality) into the picture.
Get Your Wallet Out… Now
Great game. The lighting is AMAZING and the graphics are not as great but are still top notch. The audio is really good as well; bravo to the voice actor(s) of The Makron. his voice(s) make me wanna go hide in the corner and cry. The single player has a nice story and gameplay but i cant seem to get the multiplayer to even work. (which i am disappointed in because i really really liked the multiplayer in Quake II). not to mention it took like 3 hours to download, but the game itself is great. And for those of you who critic games on their performance, The game runs great on maximum graphical settings and i have an OLD laptop from like 2004 or something. Great game overall but i wish the multiplayer would work for me; definitely worth the 20 bucks
First person shooter that works just great
Running on my macbook pro 2010 with video card and it works just fine in full screen mode. All commands and movements are just like Doom 3. Of course Doom 3 and Quake use the same engine. I haven't figured out how to turn captions on, if you can, so I can play with the sound off. For the price, if you like first person shooting games, it is great. Not sure about the bad review about not having BOTS. Plenty of different monsters to come after you. The gore is a bit much, for sure not for the under about 12 years old I think. I have only played the first landing area, but having other people cover my six is a great idea. I even save a few guys and they stick around and help me.
View in Mac App Store
$19.99

Category:

Games

Released:

Apr 19, 2012

Version:

1.4.3

Size:

2.90 GB

Languages:

English, French

Seller:

Aspyr Media (iDP)
Compatibility: OS X 10.6.8 or later