Quran Urdu Tafseer Lite
By Phoenix Tronix Inc
This app is only available on the App Store for iOS devices.
Description
*** THIS IS FREE VERSION OF 'QURAN URDU TAFSEER' ***

*** This is a Book full of Blessings that we have revealed unto you so people ponder upon its verses and men of intellect may reflect. (Quran 38:29) ***

This application presents urdu translation of Ibn Kathir's famous commentary on the Quran named Tafsir al-Quran al-'Adhim which linked certain Hadith, or sayings of Muhammad, and sayings of the sahaba to verses of the Quran. Tafsir Ibn Kathir is famous all over the Muslim world and among Muslims in the Western world, is one of the most widely used explanations of the Quran today.

Importance:
**********
Quran is last of the heavenly books revealed by Allah Almighty. This book has had a remarkable influence in shaping world's religious, political and geographical structure. And it also forms basis of the religion of Islam and is its foremost source of knowledge. It contains infinite wisdom in it. In order to really benefit from it, one is expected to ponder and reflect upon its verses. The need for understanding the Quran cannot be overemphasized. Thus, reading of the Quran must be followed by one's desire to understand it in depth and using it as a guide in one's practical life. If understood and followed correctly, the Quran becomes a living guide for those who act upon it; this is Almighty's way to show us the Right Path.

The Author:
**********
Ismail ibn Kathir (1301–1373 ) was a renowned Muhaddith, Faqih, Historian and Mufassir. He was widely acclaimed and unanimously attested for his sublime degree of learning, particularly in the fields of the exegesis of the Glorious Quran, Hadith and history. He learned from great scholars like Ibn Taymiyya, Abu al-Hajjaj Al-Mizzi, Ibn Al Firkah, 'Isa bin Al-Mutim, Ahmed bin Abi-Talib, Ibn Al-Hajjar, Baha Ad-Din Al-Qasim bin Muzaffar bin 'Asakir, Ibn Ash-Shirazi, Ishaq bin Yahya Al-Ammuddi, the Zahriyyah Shaykh and Muhammad bin Zarrad. He was renowned for his great memory regarding the sayings of Muhammad and the entire Quran.

Quran text by tanzil.info. Terms of use at support site.
Quran Text Urdu Translation: Fateh Muhammad Jalindhary
Tafseer Urdu Translation: Maulana Abdul Rasheed Naumani
iPhone Screenshots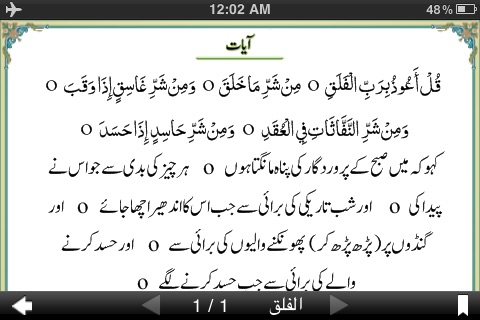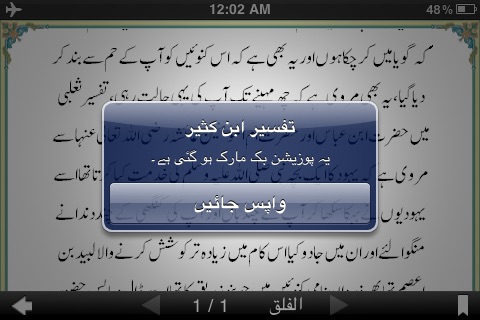 Customer Reviews
Black screen
This app seems a scam. Crashes every time I load. Don't see any help either
Black screen
It crashes every time I load it
View in iTunes
Free

Category:

Reference

Released:

Dec 23, 2010

Version:

1.0

Size:

78.0 MB

Language:

English

Seller:

Phoenix Tronix Inc
Compatibility: Requires iOS 3.0 or later. Compatible with iPhone, iPad, and iPod touch.