RadarScope
De Base Velocity, LLC
Esta app solo está disponible en App Store para dispositivos iOS.
Descripción
RadarScope is a specialized display utility for weather enthusiasts and meteorologists that allows you view NEXRAD Level 3 and Super-Resolution radar data along with Tornado, Severe Thunderstorm, Flash Flood and Special Marine Warnings, and predicted storm tracks issued by the US National Weather Service. It can display the latest reflectivity, velocity, dual-polarization, and other products from any NEXRAD or TDWR radar site in the United States, Guam and Puerto Rico, as well as reflectivity and velocity data from Environment Canada radars. These aren't smoothed PNG or GIF images, this is native radar data rendered in its original radial format for a high level of detail.

Whether you are scanning reflectivity for a mesocyclone's tell-tale hook echo, trying to pinpoint the landfall of a hurricane's eye wall, or looking for small features like velocity couplets in the storm relative radial velocity product, RadarScope gives you the power to view true radial NEXRAD weather radar on your iOS device and Apple Watch.

When there are any Tornado Warnings (outlined in RED), Severe Thunderstorm Warnings (YELLOW polygons), Flash Flood Warnings (GREEN polygons), or Special Marine Warnings (ORANGE polygons) in effect throughout the US, tap the warning button in the top right corner to browse the list of current warnings, view the details, and even zoom to the selected warning on the map.

Pinch or stretch to zoom in and out. Drag your finger around the map to scroll. Tap the radar sweep button in the toolbar to switch radars. Select one of the 156 different NEXRAD radar sites and 45 Terminal Doppler radars in the US, 30 other radar sites in Canada, and 2 in the Republic of Korea. Plot your current location by tapping the location button and optionally report it to the Spotter Network. Tap the play button to download and animate over recent images. Display the names of over 25,000 cities and towns on the map as you zoom and scroll. Tap and hold the color legend to see the data values.

Meanwhile, RadarScope will retrieve and display updated data automatically and intelligently (approximately every 2 to 10 minutes, depending on the radar scan strategy).

You can display data from NOAA's public access web site, our optional WDT feed (the default), or your AllisonHouse subscriber account. Spotter Network members can report their location and view the locations of other spotters.

The RadarScope Pro subscription is an optional auto-renewing subscription with two different tiers to choose from. Super-res products are still available to all RadarScope users without purchasing a subscription.

RadarScope Pro Tier 1 provides access to real-time lightning data that animates along with the radar loop and up to 20 frames of radar data, including *extended loops* of Super-Res Level 2 data. Tier 1 subscribers can also access a data interrogation tool to quickly determine data values for specific radar pixels and an optional dual-pane mode for viewing two radar products side-by-side.

RadarScope Pro Tier 2 combines all the features in Tier 1 with more advanced features, including a 30-day archive of all radar products, estimated hail size contours, rotation (azimuthal shear) contours, and the ability to use subscription features across multiple platforms.

If you choose to buy the RadarScope Pro subscription, it will charged to your iTunes account. The subscription will be auto-renewed within 24 hours prior to the end of the current period at the same price you originally paid. Subscriptions may be managed and auto-renewal disabled via your iTunes Account Settings after the purchase. Once purchased, the subscription cannot be cancelled during the active subscription period.

WDT is committed to safeguarding your privacy online. Our privacy policy is available for review at:

http://wdtinc.com/product-service/privacy-statement/

Please visit our web site for more information.
Novedades de la versión 3.5.1
• Dynamic color scale for velocity products to support extended range during extremely high wind events
• Precipitation products honor the Use Metric Units setting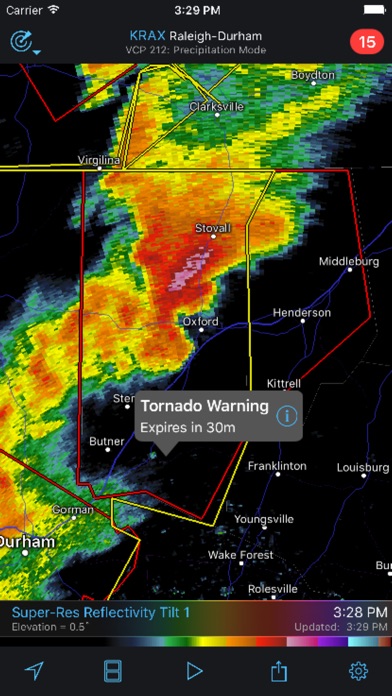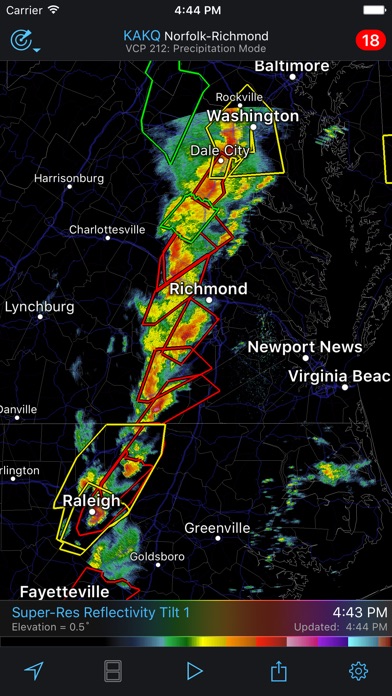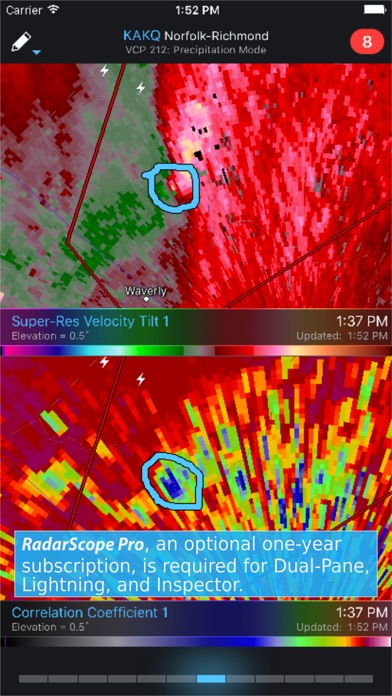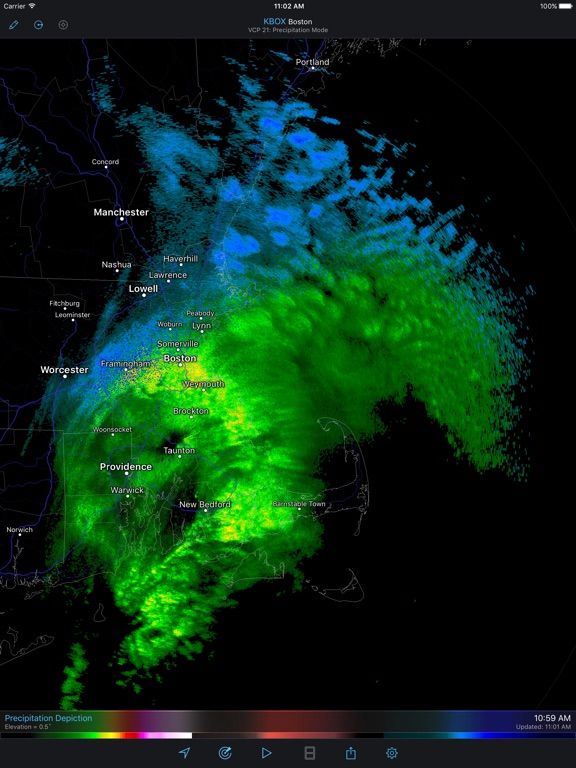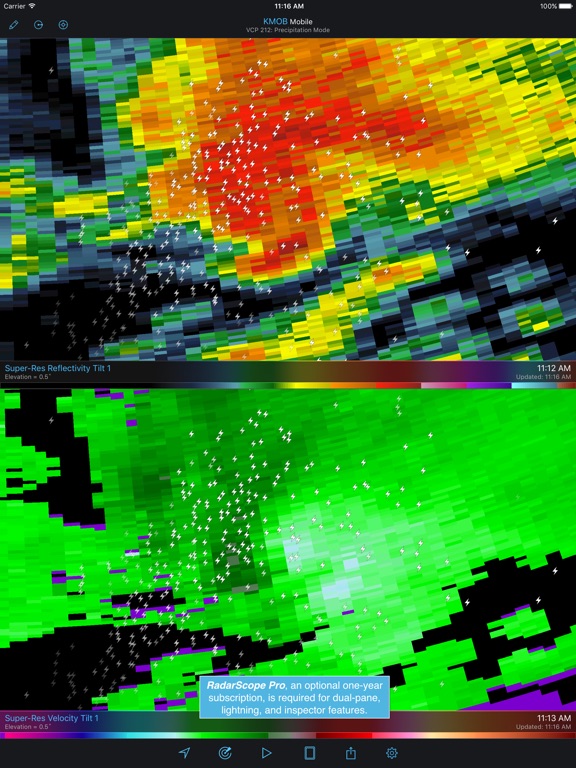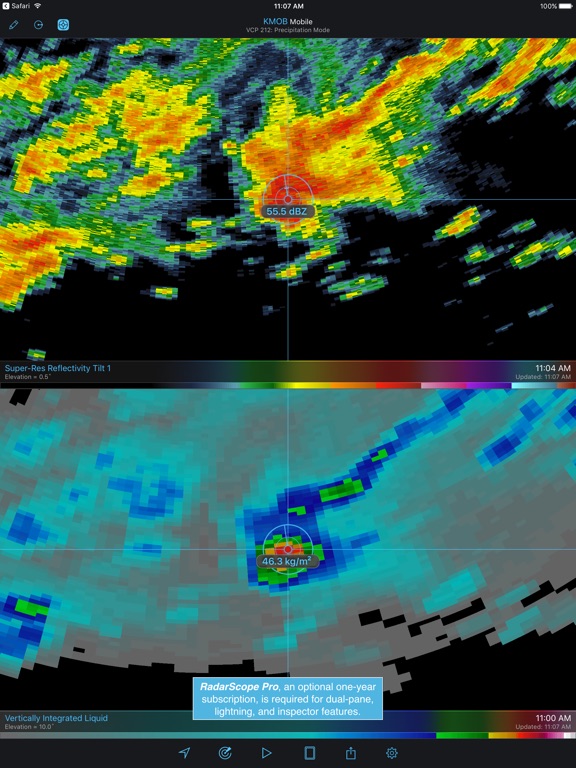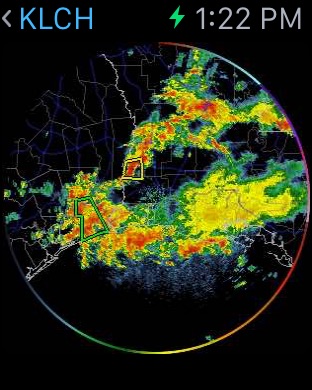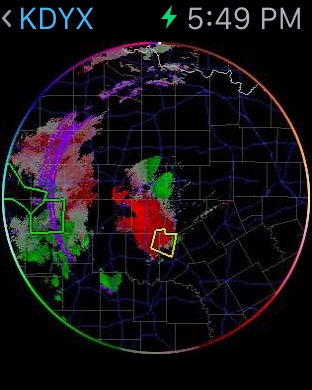 Reseñas de usuarios
Best Radar App Ever
Edit: Nobody that I've seen who rates this app poorly seems to understand how to use it. It's not because the app is designed poorly, it's that they don't understand how to use advanced radar data, which is what this app gives you. If you want a national mosaic that dumbs it down for you, go elsewhere.

—

Original review:

Seriously. This is as good as it gets folks. This app isn't for viewing mosaics of a region. And they don't "pretty up" the data. This is what the radar outputs. It lets you dig in and see the storm in unprecedented detail. I recommend purchasing the Pro package. It lets you see everything in very fine detail. It's Level II radar data straight from the NWS. I've used this app several times to get a five minute lead time on developing tornadoes—that's before the sirens go off. And that was also before I had access to high resolution data. But you have to know what to look for in the data.

My only complaints are that I believe the Level II data comes with more tilt angles, so including those would be helpful. Furthermore, a 3D visualization of the storm would make the Pro package even more worthwhile. The lightning data doesn't seem very useful to me. I'd also like to get more data about the storm, like max estimated hail size and the echo top when I tap on the storm track.
Junk
Do you like a national map that allows you to be able to locate local and long range storms? Do you like having high definition map overlays that allow you to locate exactly where the action is happening and heading? Do you want to have a weather app that is easy to navigate? Unfortunately this app fails on everything. What it does do well is charge 10 dollars to download the basic functions. If your disappointed by the basic application and interested and or already invested in the initial 10 dollars the next 10 dollars to get tier 1 access seems like an appropriate next step. Once you get yourself into the 20 dollar range of access you realize that it still is terrible and the next option to get the holy grail of weather apps is the PRO tier 2. It's only 100 dollars in addition to the 10 dollar app download fee. Also anytime you download the application regardless of level... your also agreeing to a contract that automatically deducts money from your account on a yearly basis. This weather application is the best...for it's investors.
Disappointed
I just purchased this app for $9.99 and I must say I'm VERY disappointed. First of all it allows you to pick a radar site in a state and when you do it's just for that area that the radar reaches out to. I bought it wanting to see Hurricane Irma in its whole size since it was a huge hurricane and I was only able to see a part of the hurricane! It doesn't allow for a full screen of the actual hurricane. You also can't zoom all the way out thinking if you do you'll get to see the size of the hurricane. It ONLY shows what's in that specific radar zone and that's it! I will use my other radar app NOOAA Hi-Def radar Pro to see the whole size of the next hurricane and zoom out or in to see the whole hurricane and not just be limited to an area like this app. DO NO WASTE YOUR MONEY ON THIS APP!
Ver en iTunes
Esta App esta diseñada para el iPhone y el iPad
Ofrece la app para Apple Watch para iPhone
$9.99

Categoría:

Clima

Actualizado :

13/10/2017

Versión:

3.5.1

Tamaño:

175 MB

Apple Watch:

Sí

Idioma:

Inglés

Vendedor:

Base Velocity, LLC
Compatibilidad: Requiere iOS 9.1 o posterior. Compatible con iPhone, iPad y iPod touch.
Top compras dentro de la app
RadarScope Pro Subscription$9.99
Pro Tier 1$9.99
Pro Tier 2$14.99
Pro Tier 2$99.99
Más apps de Base Velocity, LLC