Raptor: Call of the Shadows
By Blitwise Productions, LLC
Open iTunes to buy and download apps.
Description
Top rated vertical shoot'em-up from the 90's, Raptor: Call of the Shadows has been given the deluxe treatment for modern day gaming on the go.

Prepare to experience one of the most popular PC shareware games, now available on iPhone devices!

Full Version Includes:

Three complete episodes with huge boss battles:
-Bravo Sector: Original shareware game (lite)
-Tango Sector: Greater challenge awaits
-Outer Limits: To the moon, and beyond!
(27 missions + 4 difficulty levels each)

Five extra powerful weapons only available in the full version:
-Plasmaray: Nicknamed the 'Deathray'
-Laser Turret: Auto-targeting laser strike
-Power Disrupter: Overloads enemy equipment
-The Bomb: Destroys ground units on a budget
-Twin Laser: The ultimate weapon
(17 power-ups available)

Perfect conversion to the iPhone. Relive the memories, or learn firsthand why fans love Raptor.


Features:

- Fly through deserts, jungles, cities, and space as a hired gun for money and adventure, but mostly money
- Buy weapons and catch power-ups to upgrade your firepower and abilities
- Seamlessly updated to run on modern handheld devices
- Excellent new touch controls bring you into the action
- Great game play that stands the test of time
- "Watch out for the Battle Cow!"

Are you good enough to survive the onslaught of enemies that are coming to shoot you down? If you are looking for old-school shoot'em-up action, then try Raptor today!


The Story So Far:

Your engine's turbines roar as you scream out of the sky. Startled troops look up just in time to see your wing cannons blaze. You feel the plane buck slightly as your missiles streak toward their targets. A flash in the distance tells you that they have done their job and so have you. The Mega-Corps pay well, for those good enough to survive. They call you into the shadows with dreams of wealth, and you answer, the only way you know how.

Welcome to the world of Raptor. You and your plane are the best there is, and you're ready to face your ultimate challenge. Earn cash from each successful mission to buy upgrades for your plane and outfit it with the best that money can buy. Keep those shields charged with Energy Modules and stock-up on high tech gadgets, because you are going to need it!


-------------------------------------

Ported to iPhone devices by Blitwise:

Blitwise, best known for creating Pocket Tanks (also in the App Store), has taken on the challenge of porting one of the best 2D shoot'em-ups to the latest in mobile technology. It is our honor and privilege to squeeze Mountain King Studios, Inc. classic game into a handheld device with fantastic touch screen controls.

Michael P. Welch says, "Raptor: Call of the Shadows was one of the first PC games I ever played, and its fluid graphics and game play just blew me away. How could I resist?"

Learn more about us at:
www.blitwise.com
What's New in Version 1.1
- iOS 8 compatibility improvements
- letterbox graphics option for widescreen devices
- bug fixes
iPhone Screenshots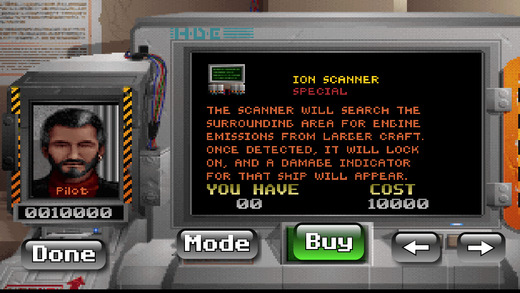 Customer Reviews
Can't believe Raptor is back
When I searched the app store for "raptor," the DOS game I used to play in the 90s, I never actually thought that anything would come up. However, it's here, and with the latest updates, it's not only a playable game, it's very fun and a surprisingly faithful recreation of the original.

In fact, it's exactly that: a top-to-bottom recreation of a DOS classic. That can hardly be done without some problems. The biggest and most relevant one here is that it feels like you as the player get far less lead time when enemies are coming onto the screen than you did in the days when monitors were big boxy things. Even veteran raptor players will find themselves playing on the easiest or second easiest difficulty setting. I'm not really sure what the developers could do to mitigate this while still keeping the game a faithful recreation. It's just something to keep in mind.

Don't get me wrong: even those of you who have never heard of Raptor should enjoy this if the game type appeals to you. You'll be blasting enemies out of the sky, collecting cash as a reward, and using that money on upgrades for your jet fighter. Graphically, it's a little basic even for a smart phone, but don't let that put you off.

The bottom line is that this game is a love letter to those of us who grew up with the word "shareware" in our lexicon, but it was so good in the 1990s that it deserves another look -- and another life -- today.
True Nostalgia
I remember playing this when I was around 10 years old on Windows 95 from a 3.5" disc (kids, look that up). This is a true classic arcade style top scroller and a real joy for me to play. I am now almost 30 and still remember the levels and how they play out almost exactly. I noticed some tweaks but nothing bad. If you want a fun and challenging air shooter just buy this. Raptor: Call of the Shadows brings endless hours of enjoyment and replay-ability. So jump in the pilot's seat, your mission awaits.
Classic
Ever played an old dos demo game? Then you've probably played raptor: call of the shadows. It's a great all time 2-d plane shooter. If you haven't played it, try the lite version which is as the demo. Runs better in my wife's iPhone 6 plus than my iPhone 6; both are wonderful though. They don't make games like they used to, it's worth reliving the classics...
View in iTunes
$1.99

Category:

Games

Updated:

Oct 03, 2014

Version:

1.1

Size:

19.1 MB

Language:

English

Seller:

Blitwise Productions, LLC
Compatibility: Requires iOS 5.0 or later. Compatible with iPhone, iPad, and iPod touch.
More iPhone Apps by Blitwise Productions, LLC