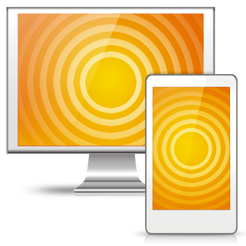 Description
Desktop application for popular RDM+ Remote Desktop for Mobiles mobile application.

RDM+ enables remote connection to your Mac OS X computer from your mobile device and offers the ability to wirelessly perform tasks you usually do on your computer.

What makes RDM+ the best choice?

• RDM+ is extremely easy to setup and doesn't require any additional remote computer configuration
• RDM+ Mobile application is available for all major mobile platforms, including iPhone, iPad and can even be accessed from any web browser
• Bonjour-based automatic remote computer discovery within local network
• Internet connection is not required to control computers located in local network
• Unique data compression algorithms decreasing data traffic while keeping fast application performance on 3G / Edge / GPRS connection
• Direct text input for easy text editing
• Standard Mac hotkeys support and option to create custom hotkeys combinations for various operations with your computer
• Quick access to shutdown and reboot commands
• You may control as many computers as you want at no additional cost

Download free RDM+ Lite app or buy ad-free version for iPhone or iPad in App Store.
Find RDM+ for other mobile platforms and web browsers at www.rdmplus.com

After installing the app on your mobile device, simply install RDM+ Desktop Lite on the computer you want to access remotely and then connect to it using RDM+ mobile app.

Controlling your desktop has never been easier!

COMPATIBLE OS
Intel-based Mac OS X 10.5 or higher
Retina display (HiDPI mode) is not yet supported.

ADDITIONAL BENEFITS
• Free 24/7 technical support
• Free updates, bugfixes and new features

Follow RDM+ (@rdmplus) on Twitter to get latest app news!

About SHAPE Services
SHAPE Services is a leading mobile apps development company, maker of several bestsellers for iPhone and other smartphones. SHAPE is the only company with apps reached the top rankings in four App Store categories: Social Networking, Business, Utilities and Productivity.
Visit www.shapeservices.com for more details
Bug fixes and performance optimization
Ratings and Reviews
No support, no updates
I had high hopes that this app would be a great fit, and it was, until they stopped updating it a couple years ago. I've lost all my connections twice because they do not update the product to be fully supported on new iOS versions. Furthermore, nothing, I mean NOTHING has been done to update or fix this app. In short, I would say this app is no longer supported and likely rarely receives any attention except to collect money from unsuspecting new users who don't realize the app is old, outdated and not supported. This app should be removed from the app store until it is shown to be compatible and supportive of new iOS versions.
Stop collecting personal information
I'm frustrated with apps that require me to create an account on their servers to use them. All I want is a decent client for VNC for an internal network. I don't need an account with another company. The paragraph above starting with "After installing the app…" doesn't say anything about creating an account.

In today's world of identity theft, we need better control over our personal information, not less.
Rabble rabble rabble
Mac OS X Mountain Lion > iPhone 4s, works really well for me. It does everything I want it to, and i have not had a problem with it. It works greater than i had expected. Thank you. I am not sure why the one in the app store says Lite.
Information
Seller

SHAPE GmbH

Size

1.6 MB

Category

Languages

English, French, German, Italian, Japanese, Spanish

Age Rating

Rated 4+

Copyright

© 2011 SHAPE Services

Price

Free
Supports
Family Sharing

With Family Sharing set up, up to six family members can use this app.