Real Guns & Games - Master Collection
By Thinkberry
This app is only available on the App Store for iOS devices.
Description
Recommend by Rewind 2010 : Rewind iPhone Apps in the Appstore!*
50% HOT SALE - In app purchase.
Original high quality real mechanism gun app + Special virtual reality games.


Real Guns series are sold single product until recently.
Now, real guns reborn with more guns and exciting games.
The name of "REAL GUNS - MASTER COLLECTION -".

Especially, This MASTER COLLECTION has virtual reality 4 games that you never seen.
It uses compass, tilting sensor and sound managing capabilities.

Thrilling hand !!
Real Guns are similar to the actual size.
Enjoy the amazing survival game with your friends.


★ FREE UNLOCK:
- Glock 22 and Beretta 92FS are unlocked in this app.
- Zombie hunt game is unlocked in this app.
- You have already 3000 bonus point.

Get point from gun shot and games. So save your bucks.


★ You can collect these:

- Glock (17, 22, 26)
- Beretta 92FS (Basic / Wood)
- Desert Eagle (Silver / Gold)
- COLT 45 M1911 (A1 / Old)
- Tazer gun
- Chain saw
- UZI
- Grenade (Type1 / Type2)
- Shotgun Mossberg M500 (Basic / Mariner)
- Browing M1900
---------------------------------------------
Total: 17 guns + Coming soon new guns

- Zombie hunt
- Western duel
- Car shoot
- Call of war
---------------------------------------------
Total: 4 games


★ Single gun has these features:
- Safety lever
- Slide catch laver
- Trigger
- Reversible magazine release button
- Real size release magazine
- Recoil
- Smoke
- Gunshot sound
- Vibration (iPhone only)

★ Virtual reality game use these features:
- Tilting sensor
- Sound managing
- Leader board (local / global ranking)
- Compass sensor (3GS higher only)
- Bluetooth match


---------------------------------------------
If you already have rgGun series.
Download REAL GUNS MASTER COLLECTION and click "unlock for master collection button" in your previous downloaded rgGun.
It'll be used to unlock gun in master collection.

If you're using iPod Touch 1st generation, please change the global sound setting.
Home > Settings > General > Sounds > Sound Effects > Both
---------------------------------------------

This is NOT just a sound generator, but an interactive realistic gun simulator & games.

★ Feel stressed?
If you want to actual size guns?
If you want to virtual reality games?
Download "Real Guns - Master Collection -" and shoot'em up!!



---------------------------------------------
★ Zombie hunt

Support device:
iPhone 3GS higher. (Must have compass sensor)

Scenario:
Unknown island, There was incident in the spread of the T virus from special virus research institute.
They all became zombies except me.
You barely escaped into the armory. There is no lights.
Just listen their sounds and Kill zombies!!
The only way to exit is never die.
Good luck.

How to play:
1. Hold your position.
2. Look around you.
3. Zombie comes towards you.
5. If you listen to zombie sound, stop and shoot a gun.
6. Completely zombie dead. Quickly find another zombies.
7. Be careful, Sometimes comes a big zombie that is very strong and violent.


---------------------------------------------
★ Western duel

How to play:
1. Hands down with the gun.
2. Listen to "SHOT" sound, after then count down.
3. Shoot gun quickly. And never die next duel.


---------------------------------------------
★ Car shoot

How to play:
1. Listen to car sound.
2. Shoot the guns at the biggest sound volume of car. (Just one shot!)
3. Wait for next car.
What's New in Version 1.1.2


- 50% HOT SALE (in app purchase)
- Minor bug fixed


<1.1.1 Patch>
- Non-automatic Glock 17 (fixed)
- Glock22 10 rounds mag (changed)

<1.1 Patch>
★★ Duel with your friends (bluetooth) ★★
- Added "Western duel bluetooth match"
- Added "Western duel bluetooth betting match"

- Added new game "Call of war"

- More easier to earn point
Standard shot : 3pt -> 9pt
Zombie hunt : 2pt -> 6pt
Western duel : 3pt -> 6pt
Car shooting : 3pt -> 6pt

iPhone Screenshots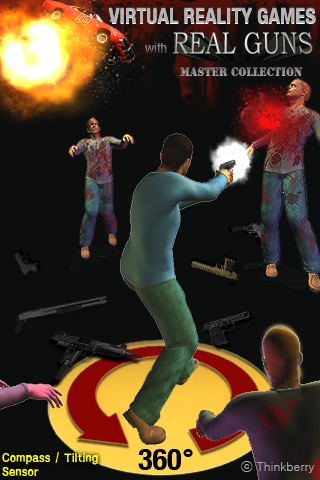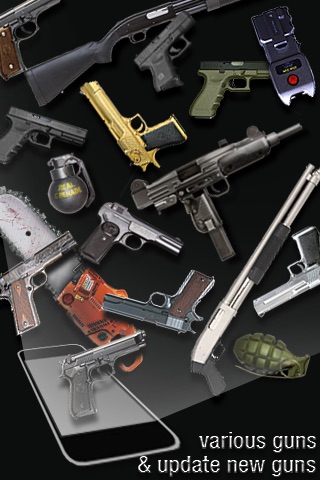 Customer Reviews
Freaking Amazing!
This game is awesome! Guns are realistic (I know cause I own a few of them). All it needs now are more guns! Preferably assault rifles and more SMGs. To buy points it's also pretty cheap so this app is awesome I don't know why it doesn't have the full five stars. This is awesome!
Bat crap
First off, the guns are not real size. Am I supposed to believe a shotgun's receiver is the size of my iPhone? Next off, the games don't even work on my iPhone 4. On top of that, you need to buy the guns with REAL money. C'mon, who would 20 dollars for a couple of phony looking guns? Just get Gunclub 2, it's free and has way more guns. Lastly, look at the grammar in the description. I think the devs need to go back to second grade English class. Boring hand!!
Good
Five stars if you make the music for quick draw less loud so I could hear the count down, also make lefty so I could improve my other hands dexterity
View in iTunes
$0.99

Category:

Lifestyle

Updated:

Mar 02, 2010

Version:

1.1.2

Size:

70.6 MB

Language:

English

Seller:

Think Berry
Compatibility: Requires iOS 3.0 or later. Compatible with iPhone, iPad, and iPod touch.
Top In-App Purchases
10000pt$0.99
20000pt + Bonus 1000pt$1.99
Unlimited Pack (Unlock all guns & Free unlock all updates)$9.99
50000pt + Bonus 4000pt$4.99
30000pt + Bonus 2000pt$2.99