realMyst: Masterpiece Edition
By Cyan Worlds
Open the Mac App Store to buy and download apps.
Description
Newly updated realMyst:Masterpiece Edition v2.0 - polished, tuned, and better than ever!

realMyst: Masterpiece Edition is a beautifully updated version of realMYST for today's Mac computers - celebrating the 20th anniversary of Myst! The models and textures have been reconstructed to provide an amazing graphical experience. The environments have been enhanced to provide dynamic water, weather, lighting, foliage, focus, and more. The interface has been redesigned to provide an enjoyable way to explore for both novices and gamers.

realMyst: Masterpiece Edition - this is not your father's Myst! It's been 20 years since Myst became your world, and there's never been a better time to revisit the Ages. This newly refreshed and rebuilt version of realMyst is all-things Myst, but amazingly more real. You can explore anywhere, unfettered, and in realtime! Pick your own path through the forest on Myst Island. Listen to the crickets as the sun sets in the Channelwood Age. Relax in the falling leaves in the Selenitic Age. Spin around for a full panoramic tour of Sirrus' throne room. Seek shelter from the thunderstorm in Stoneship Age.

And If you've ever been overwhelmed by realtime 3D - too many controls or too much motion - realMyst has something for you! You have the option to play the game just like the original Myst - with a simple point and click! Point where you want to go - click the mouse and you move through the world seamlessly to the new location. As a tribute to Myst's 20th anniversary we've also added the original Myst images when you play in this Classic mode. Hold down the shift key and the original Myst image pops up, so you can see the difference and fondly remember that early Myst experience.

We've added plenty of new features to enhance and assist you on your journey. So whether you're visiting Myst for the first time or you want to remember the first time - there's never been a better reason to lose yourself and let the surrealistic Ages of realMyst become your world.

Features...

- All the original Myst Ages plus bonus Rime Age
- Full Myst gameplay and interaction
- Dynamic environments - rippling water, falling rain, waving trees & grass
- Advanced graphic effects like bloom, blur, depth of field, etc.
- Day and night - watch sunsets and sunrises, or explore at night
- Flashlight - for exploring dark nights or dark corners
- Haunting Myst music score and dynamic 3D sounds
- Classic Point & Click navigation option - just like original Myst
- Free roam interface option - standard navigation controls
- Zip Mode in classic navigation - hold down to keep walking
- Auto quality option - checks your frame rate and auto-adjust your quality
- Interactive Guides - illustrates how to interact with objects
- Bring up original Myst images to compare and reminisce
- Bookmark feature to save & restore progress
- Auto-save to insure you pick up where you left off
- realMyst Hint Guide - get past that one puzzle that's got you stumped

Minimum System Specs...
- MacOS - 10.6 (Snow Leopard)
- Intel Core 2 Duo 2.4 GHz
- 4 Gig RAM - 3 Gig Disk Space
- 512 MB SM 3.0 compliant video card

Recommended System Specs...
- MacOS - 10.9 (Mavericks)
- Intel Core i7, 2.66 GHz
- 8 Gig RAM - 3 Gig Disk Space
- 1 GB SM 4.0 compliant video card
What's New in Version 2.0.0
realMyst: Masterpiece Edition v2.0 is now available! We've been busy polishing, shining, cleaning, fixing, tuning, and just generally improving the realMyst experience. This new version is better than ever - here's a list of some of the things we worked on...

- Improved performance quite a bit
- Improved the look of just about everything
- Improved lighting in many areas
- Squished tons of nasty bugs
- Updated to the latest version of Unity engine (much faster, fewer bugs)
- Replaced the sky system (much faster, fewer bugs)
- Enhanced the realism of day/night cycles in several Ages
- Brightened the nighttime lighting just a bit in a couple Ages
- Cleaned up the initial resolution settings a bit
- Added lights in a few places for nighttime enhancement
- Changed "Auto Graphics Quality" option to "off" by default
- Removed something called the "frame rate limiter"
- Improved Free Roam - left and right arrow keys changed to rotate (not strafe)
- Improved Free Roam - single right click toggles in and out of "look mode"
- Improved Free Roam - invert look option added
- Re-ordered the graphic options in the advanced list by resource cost
- Fixed the jerky book falling intro movie
- Changed to allow relaxing on chairs and beds (sit on Achenar's bed at your own risk)
- Adjusted the aspect ratio of all the linking book panels
- Updated the Help Guide
Screenshots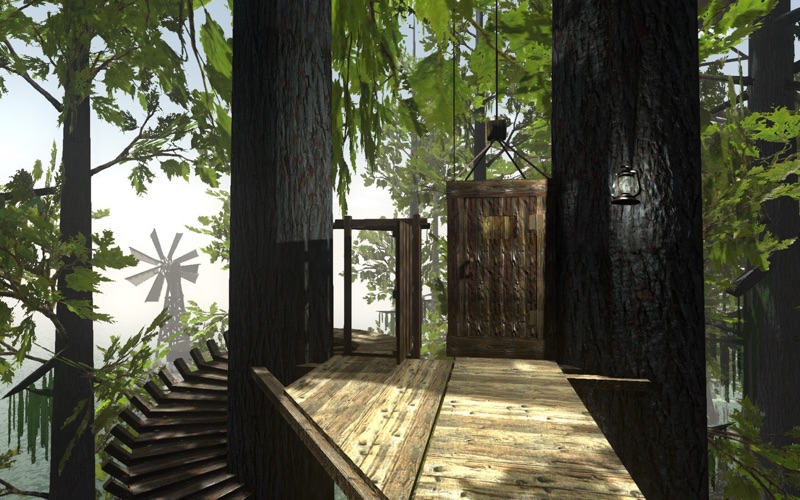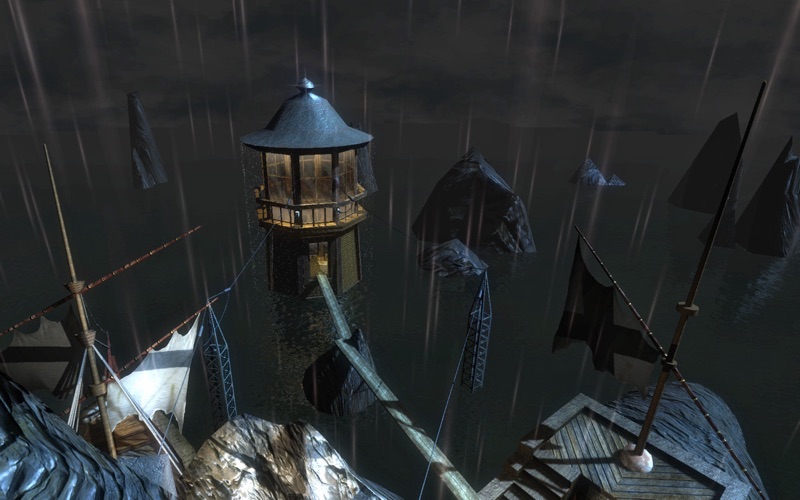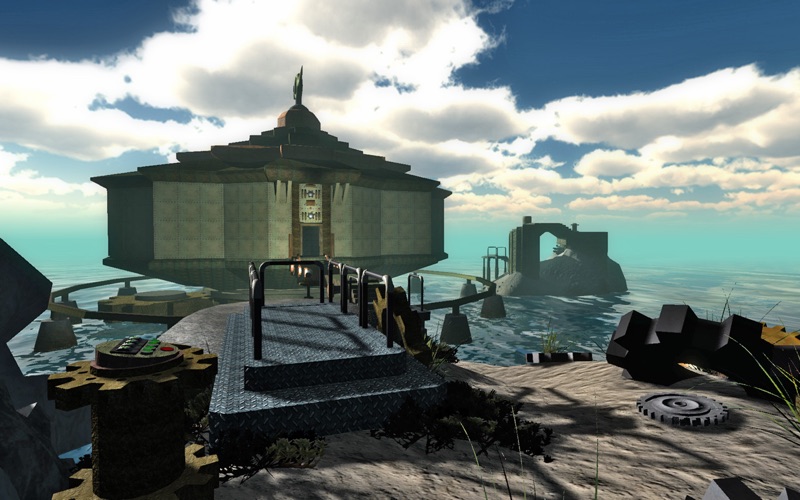 Customer Reviews
Works like crazy
I'll start off by saying that yeah, I can see this game getting choppy if you have the display settings set to maximum and your hardware isn't set up to handle it. But by adjusting the settings to be in tune with your hardware, well, it works great. Case in point - I installed this on a 13" 2013 Macbook Air, set it up in classic mode, kept the graphics quality and such at midrange…and it's working very well.

The game itself, well, if you haven't played it when it was first released 20 years ago then you won't get what a leap this version represents. Instead of a series of static scenes, the game is rendered real time and there's animation…for instance, water moves and such. Video quality is also much improved. I like the ability to free roam but honestly…I just stick with classic mode since that's the way the game plays best (in my opinion).

Enough about looks - the game has that surreal quality about it. At first you aren't sure what you're supposed to do, so you just explore. You do have some guidance a ittle ways into the game, but what you think is the goal ends up not necessarily being the goal later on. In other words, it isn't just puzzle solving. There is exploration of, well, ethics and such too. And that's aside from the sometimes devious nature of the puzzles, where part of the puzzle is trying to figure out what the puzzle actually is.

It's a very good game, with an imaginative storyline that has held up over the years. It's great.
General Notes and Technical Issues
First, a technical issue: While I was using Yosemite OS, the application stopped running and wouldn't even open up. I resolved the issue by upgrading to el Capitan OS, deleting the existing application and then downloading a new copy. So far it seems to be working.

General Notes: This is a wonderful update to the original Myst, with all the old puzzles intact and a few new animations added along with the bonus age of Rime. It can be a little choppy, but that is less important to me than the wonderful feeling of once again stepping into Atrus' Library, the eerie sounds while traversing the Selenetic Age, or the chill of looking through Sirrus' telescope in the Mechanical Age. Long-time fans will appreciate most of the new graphics and the freedom of movement as they revisit familiar Ages, while new players can finally experience this revolutionary game on modern computers.

It's good to be back on Myst. Some advice to new players: Tread carefully in these Ages, and examine EVERTHING! Take care.
I disagree with the bad reviews!
Myst is a beautiful game with breath-taking areas that make you wish you were there for real. For most of those that had negative comments, I encourage you to remember the type of game that this is, it is built on the click and move concept. For those not used to this, it can get somewhat annoying, but it is every bit as good as it used to be to me who played it years ago. Now as far as younger players, my 9 year old daughter loved it as we worked throught the puzzles together. It is worth the money that I spent and my family enjoyed it! My twin 10 year old boys are dying to have their turn playing next.
View in Mac App Store
$17.99

Category:

Games

Updated:

Feb 18, 2015

Version:

2.0.0

Size:

1.75 GB

Language:

English

Seller:

Cyan Worlds, Inc
Compatibility: OS X 10.6.6 or later