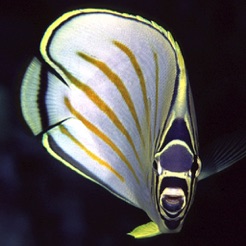 Description
This snorkelers guide to the most common shallow-water reef fish in Hawaii includes 200 gorgeous underwater photos together with brief notes for each. Turtles, whales, dolphins and seals likely to be seen by snorkelers are included as well. All content is by experts in the field: leading marine life author and photographer, John Hoover, and well-known snorkeling guidebook authors, Judy and Mel Malinowski. As a bonus, links to underwater videos by Keller Laros, Rob Whitton, and others are provided.



This app provides a beautiful and convenient way to look up fish you have seen, or would like to see. It is fast and easy to use. Because of the large number of high quality pictures the size is 24 MB, thus you must download it via WiFi or better (not cellular).



Users can view an indexed list of 40 fish families plus 3 animal families with a thumbnail of a typical fish from that family. Tap on a family to see the fish from that family, with a thumbnail picture, the common name, as well as the Hawaiian name. Tap on that fish to see a detail view, with large picture, Hawaiian name, and notes about the fish.



Tap on the fish picture to enlarge it to full screen. Tap again to return. Tap on an add button to add to personal Favorites list.



Tap on Fish List to display a complete indexed alphabetical list of 200 fish and other animals, with thumbnail pictures, common name and Hawaiian name. Tap on one row to see details for that fish.



Tap on Slideshow to see a full screen slideshow of sharp, colorful pictures in random order. Tap again to see the name of the fish. Swipe to go to the detail view with notes. Tap to return to the slideshow, or tap twice to exit.



Tap on Favorites to view a list of personal 'Favorites', which can be added to, edited, or deleted.



Tap on Books to view other resources available from the authors, including detailed fish identification books and snorkeling site guidebooks.



An 'i' button on the top right of the front page leads to complete instructions for the app. The app is so intuitive, however, that this is unlikely to be needed.



A user (jokingly, we presume) posted that he took his iPhone snorkeling and bricked it, and said we should warn you that the iPhone is not salt water-proof. Don't take our app snorkeling (unless in a waterproof case). You've been warned :-)
Many more fish and animals--now has 200

Underwater HD videos show fish in motion

Slideshow will pause and show fish name, and more
Ratings and Reviews
Videos don't play :(
I downloaded this app in preparation for doing REEF surveys in Hawaii and wanted to study my fish (but didn't want to take the books with me - too bulky and heavy). Couple of suggestions:
1. Videos need to play. I have a iPhone 4S which SHOULD work, but does not. I do get audio on the whale video. But just a black screen.
2. When you click on the Add to Favorites button, nothing happens. It doesn't turn a different color or anything, so you have no idea or feedback if it actually got added to your favorites list.
3. Include the ability to run through all your 'favorites' by swiping to advance to the next picture. This is really helpful when wanting to study, for instance, a specified list of fish. I don't want to read the info with each one - as I am quizzing myself. As in the slideshow, it's great to have the ability to tap once to see the name.
4. This would also work great within each family - allow the user to swipe to advance to the next fish, rather than having to go out to the menu and click on the next one on the list.
As a response to the guy who wanted you to include Unicornfish - they're listed (correctly) under Surgeonfish. And last I checked, invertebrates weren't fish, so that's why they're not included in a FISH ID app. :)
Beautifully designed. A joy to explore.
The interface is very well done and intuitive, extremely fun to explore. The photos and video are of amazing quality. Everything I could want in a guide for a (hopefully very soon) trip to Hawaii. I wish all developers put as much thought into their applications as these surely did.
Videos do not play on iPhone 5s
The image quality is high. The groupings of fish families is intuitive and easy. The species descriptions could be expanded to provide more detail since this is a paid app. Videos will not play for me on iPhone 5 or 5s. I do not see any other reviews noting this, so the app is only a "3" for me. An update to enable me to play the videos on my devices would make this a "4"; expand species details and it's a "5" for me. Please get to work on an update! Thx
Information
Seller

Indigo Publications

Size

24.7 MB

Category

Compatibility

Requires iOS 2.2.1 or later. Compatible with iPhone, iPad, iPod touch (2nd generation), iPod touch (3rd generation), iPod touch (4th generation), iPod touch (5th generation), and iPod touch (6th generation).

Age Rating

Rated 4+

Copyright

© 2010 Indigo Publications

Price

$4.99
Supports
Family Sharing

With Family Sharing set up, up to six family members can use this app.