Relax Melodies Oriental Meditation: White noise & sleep zen sounds for relaxation, yoga and health
By iLBSoft
Open iTunes to buy and download apps.
Description
•• MOST-EFFECTIVE sleep aid brand ••
•• GENEROUS bank of 36 sounds ••
•• SLEEP like you haven't in a LONG time! ••

Give yourself a break and get back the sleep you deserve through relaxing sessions with the Oriental themed version of the popular and original Relax Melodies App! By falling into a peaceful state, it will help you achieve a deep sleep and feel much better when you awake. No more lacking of sleep or insomnia for you!

Just like its big brother app, Relax Melodies Oriental is a unique and innovative concept that will make you sleep. Its simpleness allows you to create personalized mixes by combining high quality white noise sounds and music that connect with you.

Mix, Play & Sleep. As simple as it sound, it works! Join other million of users and let us know how it worked for you.

Enjoy now the exclusivity of this Oriental themed version of Relax Melodies, the leader in sleep assistance.

== FEATURES ==

• 36 high quality ambient sounds, including 3 binaural beats frequencies for brainwave entrainment.
• iTunes songs integration. Create unique playlists with your favorite songs and combine them with our relaxing melodies.
• Mix your favorite sounds together with different volume to create your own personal melodies and get infinite possibilities!
• Beautiful high-res image associated to every sound for easy mental visualization
• Image slideshow of selected sounds for a complete integration with your mix
• High quality Retina graphics
• Avant-garde and easy to use individual sound volume adjustments
• Include 5 off the shelf favorites for easy startup
• Create, Save, Name, Sort and Replay your favorites easily
• Clock display with brightness adjustment available in 2 different themes
• Multiple Alarms & Timers system. Use your own favorite mix as an alarm to wake up slowly and refreshed.
• Connect with Airplay devices!

== TESTIMONIES ==

I love that you can combine the different sound together. All of the sounds are beautiful. I love this app. It helps me sleep at night.

Love falling to sleep with this playing, very relaxing & peaceful.

I use it 4 or 5 times a week to help me sleep.. Or power nap (uh, I mean meditate, yeah that's it). My 7 year old uses it to get to sleep sometimes too.

I love the versatility and ease of creating your own melodies. The sleep alarm and clock are nice accessories.

This is my very first review . I had to take the time to do this because this is the best app ever. I have insomnia n I didn't want to use meds. This app is the best alternative ever. I'm asleep within 10 mins. LOVE!!! Great work

== JOIN THE COMMUNITY OF QUALITY SLEEP ==

A quality sleep will not only make you feel better but has also a lot of benefits on your health, temper and productivity. With Relax Melodies Oriental, you can now help your mind and body to take advantage of these benefits. Join now the relaxed community of millions of users where your hours of sleep will turn into bliss!
What's New in Version 4.1
We listened to your feedback, and we fine tuned our new design!

- Adjusted sound volume
- Improved interface. Find sounds, melodies, brainwaves, guided meditations and courses all in one place.
- Fixed background audio issue
- iPhone 6 Plus bugfixes
- Many bug fixes and usability improvements
iPhone Screenshots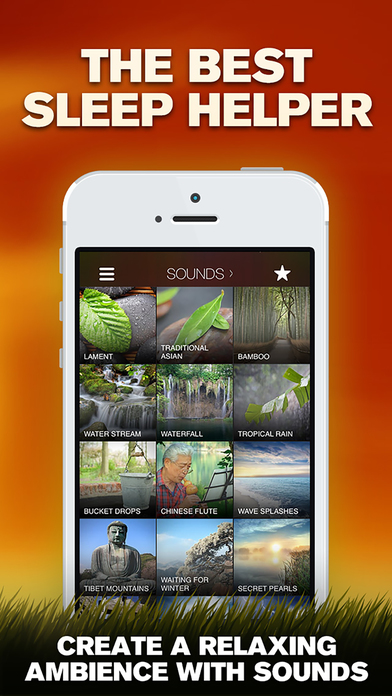 Customer Reviews
Free version is adequate
The free version contains enough of a selection of sounds such as waterfall, ocean waves, chirping birds, croaking frogs, tinkling bowls, wind chimes, etc. the best feature is the ability to combine multiple sounds and play them simultaneously. I especially am transfixed by the whale song especially when added to one of the music selections. The app gives you the ability to set the volume for each sound allowing the listener to emphasize any of the sounds in your combination. You can have music while whatever sounds selected in the background or waves with music in the background. I wish it had a timer. The worst feature are the come ons at the bottom promising additional sounds for free if you check out the developers other apps. It turns out that these are noisy games and gambling, the polar opposite of peaceful sleep inducing sounds. They offer sounds to stimulate various brain waves, ridiculous! Grey noise, blue noise,
Green noise, you get the picture. For the most part the music is relaxing if a bit repetitive, but it definitely is helpful. Get the free version.
Was great at first
Purchased the full version on my iPad because I liked it so much. It won't transfer to my iPhone, so I have to purchase again! Probably won't. There are also bugs, the save favorites feature doesn't work (after you close the app, your saves are gone) and, as stated, if you purchase on one device, it will not transfer to your other even though it is the same iTunes account. Sad.

Update to more bugs: the iTunes library music feature doesn't work! I messaged support and was asked to make sure I was playing purchased music. OF COURSE I AM. I pay $9.99/mo to download tons of music and only one album plays in this worthless app. It never gets updated and when you email the support team, their English is so poor, you aren't sure if they even understand the issue. They always ask me to uninstall the app and restart my phone. So, guess what I do every time it crashes before I email ipnos tech support?!

Disappointed. I'm not even sure people read these reviews or update their previous review of this app since the avg rating is still close to 5.
Best Sleep aid I've used.
I've suffered from insomnia for years. This app is amazing. I love the soothing sounds and how you can mix your own personal ones. It's also fun to mix and send them in. I like how they let you listen to commercials for free to get new sounds. I do that time to time. I ended up buckling and buying all of them though. If you have insomnia or trouble relaxing then I recommend it because you can do what suits your needs. Won't lie that I don't live the woman's voice the does the voice overs. I think it's because I've done the other sleep apps from the English (or) Australian guy. This app is a perfect break from the hypnotherapy crap. Melatonin doesn't work alone for me but 4 melatonin then listening with this makes me pass out hard.
View in iTunes
Free

Category:

Health & Fitness

Updated:

Dec 05, 2014

Version:

4.1

Size:

106 MB

Languages:

English, French, German, Italian, Japanese, Russian, Simplified Chinese, Spanish

Seller:

iLBsoft
Compatibility: Requires iOS 6.0 or later. Compatible with iPhone, iPad, and iPod touch.
Top In-App Purchases
Introduction to MeditationFree
Special Offer - Lifetime Access$9.99
All Ambient Sounds$4.99
All Brainwaves$1.99
1 Month Access$4.99
Radio - Your Own Music$0.99
Self Esteem$2.99
3 Month Access$6.99
Spiritual High$2.99
Stop Procrastinating$2.99