Relax Melodies Seasons Premium: Mix Rain, Thunderstorm, Ocean Waves and Nature Ambient Sounds for Sleep, Relaxation & Meditation
By iLBSoft
This app is only available on the App Store for iOS devices.
Description
The ultimate relaxing app for a stressless year no matter the season.
Forget the stress, overcome your body tension and free up your mind by falling into a peaceful relaxation that you surely deserve!

Relax Melodies Seasons helps you to easily combine ambient sounds and relaxing melodies (from all four seasons) to create your own and personal relaxing session. Let your mind travel to any season of the year to enjoy back the feeling of a warm day at the beach, a calm spring morning, a peaceful october rain or even a cold winter day! Possibilities are endless as you start mixing!

An extra 12 Christmas melodies are also included to put you in the mood for the Holidays!

== Features ==

• 48 High quality ambient sounds. A dozen for each season of the year!
• 12 additional ambient sounds SPECIAL CHRISTMAS.
• 6 Binaural beats frequencies for brainwave entrainment
• Play your mix in the background while using your other apps!
• Enjoy almost infinite possibilities by mixing your favourite sounds together at customizable volumes.
• Include 5 off the shelf favourites for easy startup.
• Create, Name, Save, Sort and Replay your mixes by adding them to your Favorites list.
• Clock Display with brightness adjustment.
• Multiple Alarms & Timers system. Use your favorite mixes as an alarm to wake up in the mood you want!

== 48 Ambient Sounds ==

Blizzard, Hail, Small Bells, Church Bells, Winter Sanctuary, Traffic in Snow, XC Skiing, Heater, Train, Fireplace, Hockey Arena, Winter Wind
Aurora, Frogs, Mountain River, Spring Birds, Horse Wagon, Seashore, Farm, Melting River, The Grove, Flag, Mother Nature, Wind Fields
Camping Rain, Dreams, Sprinkler, Crickets, Family at the Beach, Tropical Island, Desk Fan, Jet Boat, Underwater, Downtown, Lawnmower, Whales
Autumn, Forest Night, Water Drip, Rain Fall, New Beginning, Wind in Leaves, Fine Rain, Thunderstorm, Wood Chimes, Steps on Leaves, Water Dock, Wipers

== 12 Christmas Ambient Sounds ==

Carol of the Bells, Jingle Bells, Christmas Day, Merry Christmas, Christmas Story, Music Box, Deck the Halls, O Christmas Tree, Green Sleeves, O Come All Ye Faithful, Silent Night, Hark! The Herald Angels Sing

== 6 Binaural Beats ==

Dreamless Sleep - 2.5Hz, Dreams - 4Hz, Deep Meditation - 5Hz, Concentration - 20Hz, Pre-Sleep - 8Hz, Relaxation - 10Hz

Download it now and get the most personalized relaxation experience ever. With only a few taps create the perfect relaxing ambience that will resonates perfectly with you.
Use ambient sounds and binaural beats to either simply relax or help your brain fall asleep. Enjoy the seasons of the year at anytime on any day!

Try it today and reclaim your sleep.

Ipnos - http://www.ipnos.com
Online - http://www.relaxmelodies.com
Facebook - https://www.facebook.com/relaxmelodies
Twitter - https://twitter.com/relaxmelodies
What's New in Version 3.0
- Isochronic Tones
- Improve UI
- Bug fixes

Hope you like this update! Contact us at support@ipnos.com for any issues.
iPhone Screenshots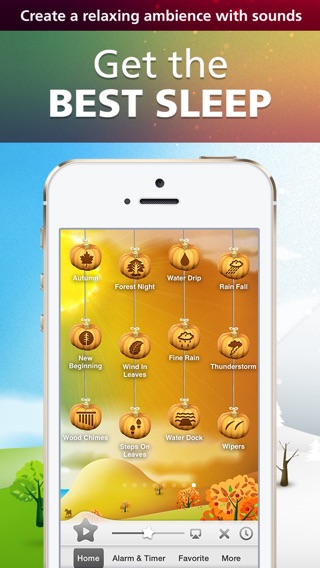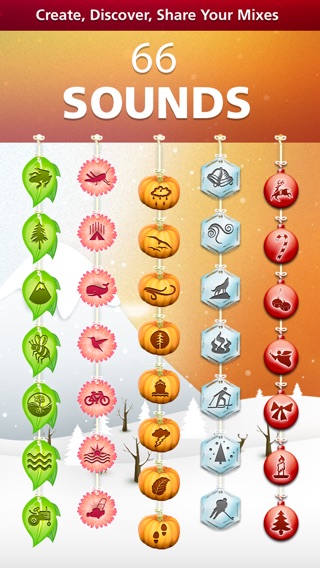 Customer Reviews
Awesome App for any age!
As a nursing student who just graduated, I wish I had found this app sooner. I f#%!ing love it. I'm studying for my board exam and it's helpful to drown out all of the background noise at Starschmucks, or at home if someone else has the tv on. It's also awesome for just leisurely reading when you can't afford noise-cancellation over-the-ear headphones. I honestly prefer pure silence, however this app is amazing if everyone around you prefers to be noisy, which seems to be a lot of people. It's good to fall asleep to (or nap), study, read, or anything for some light background noise. I bought the 4-app package, but this one is my favorite and have used it almost daily. I like that one can blend different seasonal sounds together, and adjust the volume of each individual sound, plus save it with a name. If you have to decide which of their app's to purchase, then I'd say this one. The other's are amazing too, but I really haven't used them. It's funny because my intention was to buy their guided meditation app, which I got with the package, but this is the app of theirs I use the most. It's appropriate for all ages so kids can study with some light sounds if it's too noisy and I think they'd dig the seasonal themes which can be intermixed as previously mentioned.
Love this app!!
I have downloaded a ton of apps to use as sleep aids, and this is hands down my favorite. I love the friendly and easy user interface of being able to combine different sounds and control the volume of each sound. I also love being able to save custom sound combos to different favorites lists. The only thing it's missing for me is the inclusion of white/brown/pink noise. I need that because it's constant, and the tiny lull and dip of the other noises is enough to let outside sound in and wake me. So I open another app to get the brown noise I need and then I open this, select from my favorites list, and I'm good to go. Another thing I like about it is that it plays well with the Sleep Cycle app. Some noise apps automatically close when I run Sleep Cycle, which is annoying. With this app I can have the best of all worlds. It really does help block out external sounds, and I like this better than wearing earplugs. I'm s happy camper!
Love it!!!!!
I've always had trouble turning my mind off and the older I get, the lighter I seem to sleep once I get there. I wake up at every little thing. But not with this app. After conditioning my body to it, I fall asleep more quickly and sleep more soundly with fewer interruptions. I love that I can play so many sounds cause I tend to find the pattern in a loop and my brain focuses on it and I can't sleep. With this, I turn on 7 or 8 of my favorite soothing sounds at once to create a jumble of white noise where my brain can't catch the loop and i sleep so much better! Plus it's free! Or at least it was when I got it. My favorite, most used app!!!!!
View in iTunes
$2.99

Category:

Health & Fitness

Updated:

Sep 11, 2014

Version:

3.0

Size:

103 MB

Language:

English

Seller:

iLBsoft
Compatibility: Requires iOS 6.0 or later. Compatible with iPhone, iPad, and iPod touch.