Relax Melodies: Sleep zen sounds & white noise for meditation, yoga and baby relaxation
By iLBSoft
Open iTunes to buy and download apps.
Description
Can't sleep? In 20 minutes you will, or less.

Introducing the most popular sleep aid app! Start sleeping now and enjoy full nights of sleep like you haven't in a long time! Here's how it works:

Select sounds and melodies that you like and combine them to create a mix. Adjust the volume of each sound individually for better results. Lay back, listen, and enjoy falling asleep. Is that simple and it works. Use timers and alarms if needed. Try different and new mixes every time!

Can also be used in many other situations. Perfect during some of your favorites activities such as relaxing at the spa, exercising in your yoga or relaxation classes, massaging sessions, or even when taking a nap! For parents, the ideal to help your baby fall asleep!

Just like our community of 20 millions users, say goodbye to insomnia, improve your health and feel better by getting back the sleep you deserve!

Special Mentions

Featured in Amazon's Top Best Apps, People Magazine, Health Magazine, Knowyourmobile, Mashable, Autism Pluggedin, Healthline.com & many others!

Main Features

• 52 outstanding high quality ambient sounds
• 4 brainwave beats including Binaural & Isochronic frequencies.
• Mix up to 12 sounds together!
• Individual volume adjustment for sounds and melodies.
• Thousands of ways to fall asleep by creating unique mixes.The possibilities are almost endless!
• Includes 8 off the shelf favorites for an easy startup.
• Create, Save, Name, Sort and Replay your favorites easily.
• Timer system to set a duration to your favorite mixes. Ideal when you're going to bed.
• Enjoy an unique and beautiful interface for an easy selection of sounds.
• Blog access to tips & articles from experts to help you understand and improve your health.
• Discovery Mode. Search & share your mixes with our community of users!

Testimonial

Relaxing, and keeps me in a good mood. I literally fell asleep with it on! - Emma Fashion85
I'm a night shift nurse and this app is great for helping me relax and sleep during a busy and loud day! - KmoJmo4
I love the relaxing sounds - so soothing during a stressful day at work. Great for meditation or yoga too. - nwesnoth
This app is just GREAT. It helps my baby to go to sleep. I love it. Recommended 100% - HebertRincon
I love this app!! Helps me calm at work, concentrate when reading, sleep at night and just relax! - YogaNewbie25

About

Relax Melodies is the app by excellence for the most personalized sleep experience that you can possibly have. Within a few taps, create the perfect mix with the right ambience for you. The ability to choose from white noises ambient sounds and binaural beats gives you total customization for an unique and personal experience.

Download now and let us now how it works for you!
What's New in Version 5.2
Relax Melodies for Apple Watch is here!
We are thrilled to announce your can now start your relaxing ambience right from your wrist!
The update also includes some stability and performance enhencements as well as some bug fixes.

Apple Watch Features
- Play your favorites
- Play a random mix
- Display your next alarm or timer
- Display your current selection
- Pause and resume your melodies
iPhone Screenshots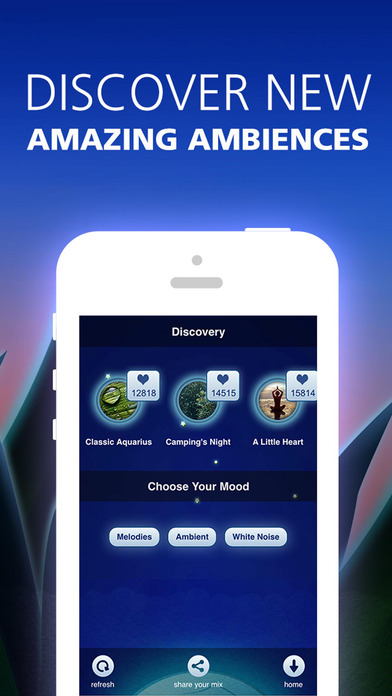 Apple Watch
Customer Reviews
Sleeping like a Baby
Guys... This app is amazing. I don't have the premium version, but nevertheless it has sooooo manyyyy different soundd!!! It's surprising, specially because it's freeeeeee!!! As a college student, I love free stuff. I love how you can make one louder than the other and make it into something personal. I love making my own relaxing/sleepy tune. Also it has a timer for the app to close. I hate leaving apps opened all night, but this one has a timer that you can set, which the app will close by itself. It also has an alarm, which is great. I need at least 4 alarms to wake me up. So it's convenient. I am constantly under stress that takes away my sleep, and this app puts me to sleep in 30 minutes or less. The best tune app, Ive ever downloaded (and Ive downloaded quite A LOT of them trying to find a way to sleep). The others didn't work because the sounds just weren't quite it... I felt like they were always missing something. Either too loud, or not real enough, or just made me think even more. But with this one... Like I said. You can basically make your own sounds/ mixture of sounds of nature or whatever you want, so it'll be whatever sounds good to YOU. Busy street? They got it. Crowd? They got it. 10 different types of rain??? They got it. Whatever you need they have it! And this is not even the premium one, it's the free one. I can't even imagine what the premium offers.
Business Model
I don't know who owns this app because truthfully I haven't looked the information up, but I will. And that's because this companies entire structure and business model is incredible. I've been passively using this application for the past few weeks and have been nothing less than amazed. The sounds are clear. The control panel is completely intuitive. It's a wonderful user experience over all and the amount of preference determination over the customization of sounds is truly breathtaking. I am wonderfully appalled. I will say one thing. The unintegrated ad placement does remove from the overall user experience as it distorts the controls a bit. I understand their purpose and I'm sure they drive a small conversion but I would suggest that the apps be made more integrated and seamless as if they're a part of the interface. Perhaps bring the main control panel of the clouds to the bottom and inserting them as a fourth row of options. Changing the ad style to one more suited to the color scheme of the interface. And not that the icons and images have a clunky feel to them but they definitely could be modernized a bit. Less multi sided shapes. Other than that. As a user, I am honored to have discovered you. Which means that the ranking model that Apple uses is incredible as well. Thank you Apple. Thank you
My favorite app for sleeping
I absolutely love this app. I am using the free version and it is great. There are so many great sounds you can choose from and you can add one on top of the other. For example I will sometimes use white noise and heavy rain. Although my go to is heavy rain, which I listen to all night and have not had any problems with sound loops. I recently lived in a shared apartment with college students, and if my roommates were having a party I could turn on this app pop in my headphones and not worry about the noise from outside. It helps to cover noises too, i lived near construction in the middle of the downtown area of my city, and one I turned on the app, I was none the wiser to the outside world. So nice. It will definitely help you get to sleep. It may take some getting used to, but if you use it regularly for a sleep aid, it will trigger you to feel more relaxed and help you drift off to sleep. I've been using this app for almost a year now, and I think their claim to have you asleep in 20 minutes with this app is accurate! Once I put on my app I'm usually out pretty quick! I definitely recommend purchasing this app, I usually download about 4 of the same kind and pick my favorite, this one is my personal favorite of the ones I tried.
View in iTunes
Offers Apple Watch App for iPhone
Free

Category:

Health & Fitness

Updated:

Jul 09, 2015

Version:

5.2

Size:

96.1 MB

Apple Watch:

Yes

Languages:

English, French, German, Italian, Japanese, Korean, Russian, Simplified Chinese, Spanish

Seller:

iLBsoft
Compatibility: Requires iOS 7.0 or later. Compatible with iPhone, iPad, and iPod touch.
Top In-App Purchases
Limited Time - Lifetime Access$9.99
1 Month Access$4.99
3 Months Access$12.99