Relax Melodies
By iLBSoft
Open the Mac App Store to buy and download apps.
Description
Relax Melodies is now available for your Mac with 4 new exclusive sounds!
★ BEST FREE SLEEP AID WITH 50 SOUNDS
★ Read the reviews! All user RATES → 5.0 stars

☆☆☆ Now over 6 MILLIONS users ☆☆☆

Featured in PEOPLE MAGAZINE, KNOWYOURMOBILE, MASHABLE & may other websites and magazines!

Relax Melodies is the leader in personalized relaxation and sleep assistance. No more insomnia for you! Tension is a thing of the past at any moment! Just custom mix your favorite high quality sounds from a selection of 50, then slip naturally into a relaxed state or a deep, rejuvenating sleep. Join 6,000,000 relaxed users for the ultimate and easiest relaxation experience!

────────────────────
☆ FEATURES ☆

✓ 50 High quality ambient sounds, including 2 binaural beats frequencies for brainwave entrainment.
✓ Mix your favorite sounds together with different volume to create your own personal melodies and get infinite possibilities!
✓ High quality Retina graphics
✓ Include 8 off the shelf favorites for easy startup
✓ Create, Save, Name, Sort and Replay your favorites easily
✓ Multiple Alarms & Timers system. Use your own favorite as alarm to wake up slowly.

────────────────────
☆ 48 AMBIENT SOUNDS ☆

♬ River ♬ Ocean ♬ Winds ♬ Flute ♬ Rain ♬ Birds ♬ Music Box ♬ Lounge ♬ Piano ♬ Orchestral ♬ Waterfall ♬ Thunder ♬ Zen ♬ Campfire ♬ Melody ♬ Night ♬ White Noise ♬ Urban Rain ♬ Cavern ♬ Wind Chimes ♬ Storm ♬ Butterfly ♬ Medieval ♬ Toskana ♬ Slow Waves ♬ Heavy Rain ♬ Rainy Day ♬ Afternoon ♬ Rainstorm ♬ Underwater ♬ Immersed ♬ Seaside ♬ Icy Snow ♬ Rain on Roof ♬ Duduk ♬ Humming ♬ Grandfather Clock ♬ Cat Purring ♬ Frogs ♬ Thunder Storm ♬ City Ambiance ♬ Vacuum ♬ MonkChant ♬ Oscillating Fan ♬ Jupiter ♬ Wind in Trees ♬ Peepers ♬ Crowd

────────────────────
☆ WEBSITE REVIEWS ☆

"you'll find it's easy to drift off to sleep with Relax working away in the background, emulating nature as you catch some Zs" — knowyourmobile.com

"When you want to transport yourself away from the hustle and bustle of daily life, even for a few minutes, would you prefer to hear the sound of ocean waves, or perhaps rain?" — mashable.com

────────────────────
Get the most personalized relaxation experience it's possible to have. With just a few taps, you can create the exact sound that resonates perfectly with you. With ambient and binaural selections, you can choose whether to simply relax or tell your brain that's time for sleep. It can even help your baby to fall asleep faster!

6,000,000 USERS WORLDWIDE & RANKED IN TOP 100 IN OVER 50 COUNTRIES IN THE WORLD

Download it now and become one of the relaxed users of Relax Melodies. You're going to love how it will help you relax, meditate and sleep.
What's New in Version 2.0
What's new in 2.0:

- 5 new sounds, including 4 exclusive
- Sound loop correction
- 9 new alarm sounds
- Improved graphics
- Translation in 5 new langages
- Bug fixes

Positives reviews and feedback help us keeping the updates for new features.

Don't hesitate to contact us in the web section for feedback, support or anything you need!
Screenshots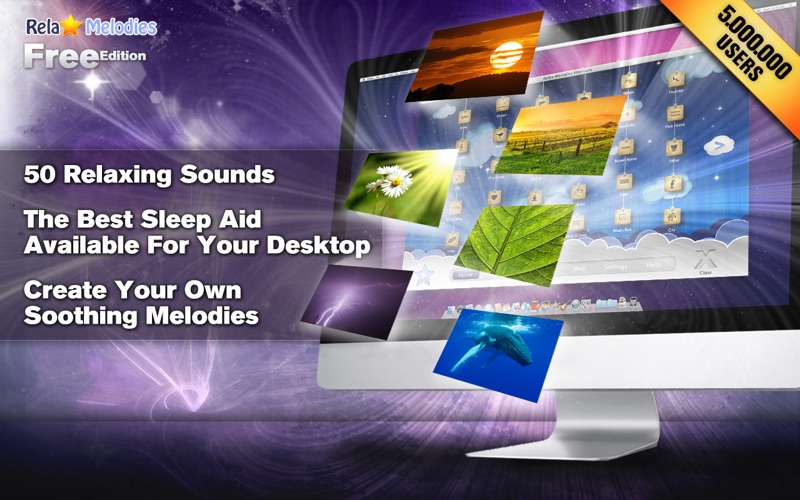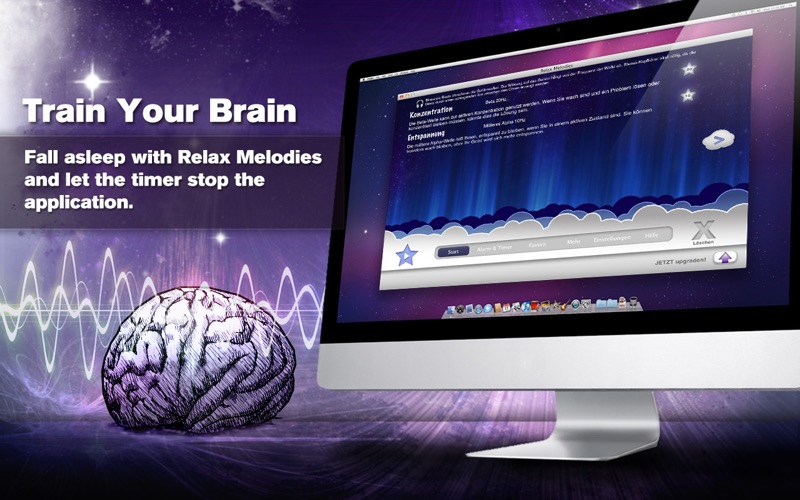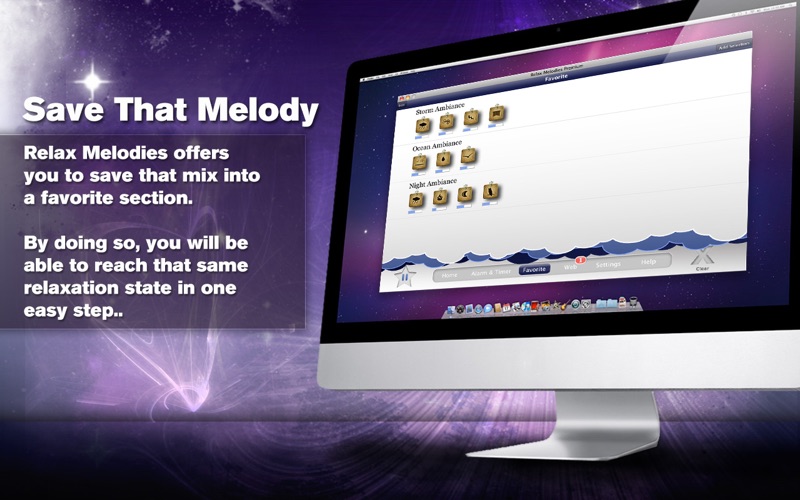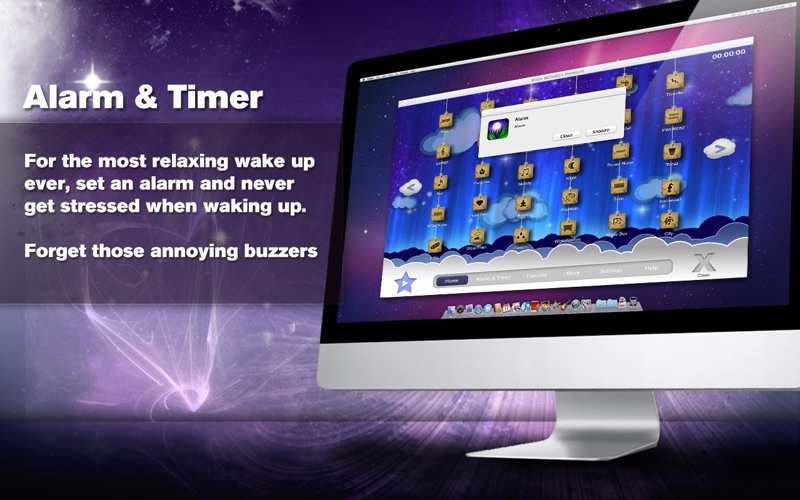 Customer Reviews
Mac version needs work
I first acquired this app on my iPhone, and there it is a magical, above-and-beyond masterpiece of a program. It's beautiful, it works flawlessly, and I crave what it does. On the Mac, I still get the sounds that help me do deep work at the office, and which calm me and relieve anxiety when at home - which is very good. But the interface is clunky and it has issues, like that it always seems to have a red dot alert on its icon, as though there's some message I need to read. But where is it? Heck if I know. It's ugly (looks like an older iPad app) and doesn't respond to swiping left or right with my track pad (I have to click the arrows). The fonts chosen, and the buttons are all dated. In the free version, the ads pop-up upside down. I hope the team behind this app can muster the resources to brush it up. I bought the pro version for my iPhone. I'm holding out for some signs of progress for this Mac version, however. But let me tell you, these sounds… they are wonderful and so helpful for setting a comforting mood. You can close the window and just let the sounds play, you can't do better.
fun, useful, not flawless
I use this app for meditating, as well as background when I'm doing gardening or chores. Layering the various choices, according to my day, is easy and so useful. I've also put together favorite combinations and saved them with no difficulty. My main challenge comes when I try using the timer to meditate with — the numbers for setting how many minutes I want timed are backwards and upside down when they come on the screen. I can cope with that little adventure, but once I set the timing for that session, the timer doesn't shut off the sounds, as it indicates it will. It just resets the timer back to its original length seamlessly, which means I never know how long I've been sitting. It worked the first time I used it and hasn't worked properly since then, but that's the only glitch I've come across. Really enjoy the variety of sounds, controlling their volume as I combine them, etc. Pleased about this app!
Helps Me Study
I have to give this app so many thumbs up it would be ridiculous. I have been studying for the bar exam (licensing exam for attorney's) the past few months. I have to have background noise when I study because come the day of the exam, dead silence is non existence. This gives me some background noise without being overly distracting. It is relaxing and calming and helps me get through my day. I love that there are a variety of sounds to pick from and you can mix and match them. I personally love the piano with the rain storm, but the possibilities are endless. Include the concentration and relaxation "brain waves" and you are golden. Love this app to the moon and back. I have it on my phone and my laptop!
View in Mac App Store
Free

Category:

Health & Fitness

Updated:

Oct 18, 2012

Version:

2.0

Size:

98.0 MB

Languages:

English, French, German, Japanese, Simplified Chinese, Spanish

Seller:

iLBsoft
Compatibility: OS X 10.5 or later