Relaxophilia | AmbiScience™ Relax Aid
By Tesla Audio Sciences
This app is only available on the App Store for iOS devices.
Description
*** The Best Selling Line of Brainwave Apps on the Store - Since 2008. ***

"...worthwhile set of apps for both Android and Apple" - NY Times

PRAISED BY APPLE, MACWORLD.com, TUAW.com, iPHONE LIFE, INFORMATION WEEK AND 148APPS.com OVER 600,000 USERS WORLDWIDE.
** Type 'Tesla Audio' in search today **

"I have a few of the Tesla apps and they just keep getting better." - Diana Rae


Let AmbiScience™ take you on a sonic journey with a combination of ambient electronica and a variety several effective programs that attune your brain to desired states of mind using the BEST entrainment frequencies. Tune your mind to help you relax.

HOW DOES IT WORK?
Once you choose a particular frequency, such as the 'sleep' frequency, this state is then more quickly achieved than normal. This is done by a mixing of tones sent to each ear - the difference between the two tones, that your brain creates, is called binaural entrainment. We also include isochronic entrainment, which is a different form, using a single pulsating tone in each ear - people who don't respond to binaurals, often respond to isochronics.

THE ONLY APP
AmbiScience is the only app, which includes binaurals and isochronics in ONE.

PROGRESSIVE ENTRAINMENT
This app also offers Progressive entrainment, which is a gradual inducement to your chosen entrainment, and this is done by starting at the waking state frequency and gradually moving the user down to his/her chosen frequency.


FEATURES:
Over a total of 40+ musical tracks, effects and sounds samples!
- 20 LONG Professional Ambient Tracks
HIGH QUALITY BEAUTIFUL TRACKS
• 13 Nature/Noise Sound Samples
• 12 Entrainment/Brainwave Tracks:
-- 6 Isochronic Entrainment Programs
-- 6 Binaural Entrainment Programs
• CREATE your own CUSTOM programs
• MULTITASKING background audio available!
• PERFECT Seamless Loops
• Full-Featured presets / Multi-Track Save
• Countdown timer with fader
• Countdown end chime
• Alarm with Snooze option
• Auto Quit/Exit feature
• Adjustable independent volumes
• The smallest available files
• Highest quality audio
• Easy to use interface

BRAINWAVE/ENTRAINMENT PROGRAMS:
(headphones or 2.1 speakers are RECOMMENDED - the iPhone/iPod speaker is not able to produce some of the frequencies below)
- 12 Entrainment/Brainwave Programs:
• (2) 12min. Progressive Relax program (binaural and isochronic)
• (2) 18min. Progressive Relax program (binaural and isochronic)
• (2) Theta Relax Loop (binaural and isochronic)
• (2) Schumann Resonance Relax Loop (binaural and isochronic)
• (2) Power Relax Loop (binaural and isochronic)

• Isochronic - headphones not required.
• Binaural - requires headphones.
-- Full instructions in app.

20 AMBIENT MUSIC TRACKS:
- 20 BEAUTIFUL Ambient Tracks:
• Through the Gate
• Dreaming in the Rain
• Approaching Zentropia
• Planetside
• Rainy Forest
• The Lake
• Underwater Ocean Tour
• Oceanview
• Rain and the City
• Lost Moments
• The Inner Temple
• Dancing Coils
• Misty Mountains
• Formosa 2064
• Daedalus Convolution
• Dreamcatcher
• Aquatic
• Pull
• Meditation Bells
• Beyond the Light

13 SOUND SAMPLES:
• Rain
• Waves
• Stream
• Birds
• Chimes
• Night
• Waterfall
• Thunder
• Wind
• White, Brown and Pink Noise
• OceanSurf 3D (amazing 3D sound!)

AUTO-LOCK must be set to 'Never' for alarm to function, and be sure to enable
AIRPLANE MODE to avoid interruptions.

NOTE: If you experience performance issues (missing tracks, no sound etc), you may have gotten an 'incomplete' download and should re-install the app.

NOTE: Locaton services may be needed to ensure the Alarm Feature works in your time zone.

Go to teslasoftware.com for a VIDEO tutorial.Type 'TESLA AUDIO' in search today. Follow us at http://twitter.com/TeslaSoft
What's New in Version 1.1
3 *New* tracks added!
Fixed labels for entrainment section
Added 'Sharing' feature
iPhone Screenshots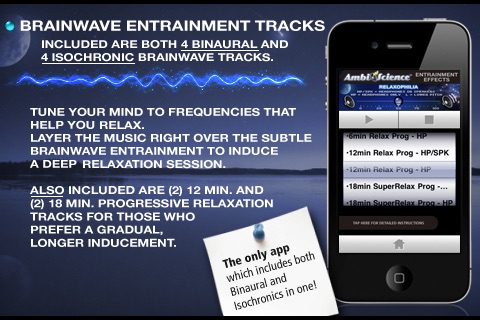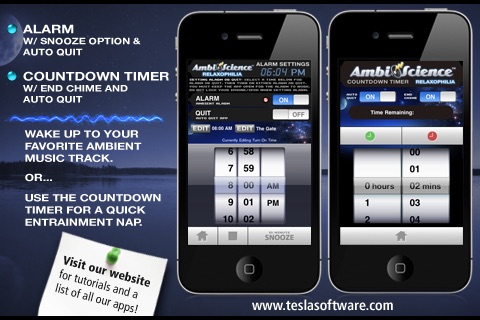 Customer Reviews
it really works.
I've always been a skeptic of things like this, but I saw these apps were reasonably priced so I thought I'd see what the fuss was about. the first time I tried it I was a passenger on a long road trip. I slept so soundly that four hours seemed like five minutes. I've begun using this daily after getting home from a long day of work. the rest I get from these beats gives me the energy and the attitude I need to enjoy my evening.

read about binaural beats on google. there's nothing new age or mystical about it-- it's pure science and they work. try the theta loops. theta waves are responsible for moments of pure emotional joy, and you will experience more if you use this product.
Nice loops and new music tracks
I have 8 Tesla apps and use them all. Other Tesla apps have relaxation effects but this one does them better by having timed progressive tracks and loops. The selected music tracks marry well with the effects and you can mix in nature effects to customize your listening even further. The Tesla apps turn my phone into a portable therapy machine that I can take with me and use while traveling. Another 5 star effort worth the easily attainable price.
Great for Hypnosis and guided Imagery!
This is an excellent program, I mix sessions with my scripts in itunes, This combination of hypnotic language and
binaural tones makes for rapid and effective hypnotic sessions. I have not found any thing better!
It would be nice if a sequence of beats could be put together for induction, deepening, and emergence from trance,like
2 minutes of beta, 5 to ten minutes Alpha, 10 min of delta, !0 of Theta, and back up to alpha or beta in sequence.
Thank you for offering this at such a great price.
View in iTunes
$1.99

Category:

Medical

Updated:

Mar 10, 2011

Version:

1.1

Size:

190 MB

Language:

English

Seller:

Tesla Software, LLC
Compatibility: Requires iOS 3.0 or later. Compatible with iPhone, iPad, and iPod touch.