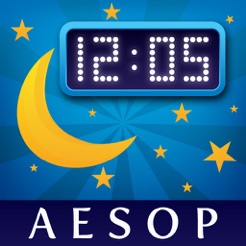 Reloj de guardería + Linterna & Temporizador amamantar
4+
Descripción
Controle fácilmente a su bebé por la noche. Un práctico reloj con linterna diseñado para padres. Cronometre la duración del amamantamiento o realice un seguimiento de cuánto biberón tomó el bebé. Programe una alarma rápida para recordarle cuándo llega la hora de un biberón.

Perfecto para entrar y salir del cuarto del niño para tranquilizar, cambiar o dar de comer a su recién nacido.

Las características de la aplicación incluyen:

• Reloj digital con horas, minutos, segundos y alarma
• Cronómetro para saber cuánto tiempo lleva el bebé alimentándose, llorando o durmiendo
• Realice un seguimiento de la cantidad de biberón consumida o del amamantamiento por el lado izquierdo o derecho
• Linterna para conseguir una luz suave durante las revisiones nocturnas
• Reloj digital brillante, claro y fácil de leer
• Toque el reloj para poner en marcha los cronómetros. Son muy fáciles de usar
• Visualización del día de la semana
• Diseñado para padres y niñeras
• Disponible como aplicación universal para iPhone y iPad
• Compatible con la visualización Retina

El uso continuado del flash podría reducir drásticamente la vida de la batería.
Soporte añadido para múltiples idiomas.
Valoraciones y reseñas
Does not work
* Flashlight crashes the application
* Alarm clock won't work unless you've bought songs through iTunes
* If you do buy a song, alarm clock is still useless. It doesn't do things like "3 hours since last feeding" or anything intelligent like that. You set a time. No better than a non-nursery clock; indeed, quite a bit worse than any of the well-designed alarm clock apps out there.
* What it does log is useless. You don't get feeding/diaper change/etc. times. You basically get some stopwatches and random other tools, not really relevant to having a kid.

I'd love to see a good application where you set up constraints (e.g. 3 hours max between feedings), you log what you're doing, and it rings an alarm if you go more than 3 hours between feedings. Just a normal logbook like hospitals give out, but with automatic time tagging, alarms if you go over time between feedings, and flags if there aren't enough poops or pees.
Amazing
So many necessary functions come together with the light! Several timers are a great idea – I can use them for anything else in fact
Ok
It is a decent app for a clock. The flashlight is a bit too bright for checking on the baby. The alarms don't work unless you are using the app. I can't get the timer to stay on. With improvements it will be a better app. For now I'd say it is 3 stars.
Información
Vendedor

Aesop LLC

Tamaño

2.5 MB

Categoría

Compatibilidad

Requiere iOS 4.0 o posterior. Compatible con iPhone, iPad y iPod touch.

Idiomas

Español, Alemán, Chino simplificado, Coreano, Francés, Inglés, Italiano, Japonés, Ruso

Edad

Clasificación 4+

Copyright

© 2011 Aesop, LLC

Precio

$0.99
Compatibilidad
Compartir en familia

Hasta seis miembros de una familia podrán usar esta app mientras la función Compartir en familia esté activada.