Rename Master
By Yu qipeng
Open the Mac App Store to buy and download apps.
Description
Rename Master is the most convenient, useful renaming solution nowadays which you can use to batch rename thousands of files in a few seconds. It supports replacing text in filenames, adding a numerical sequence to the camera images and change file name between cases. Rename Master targets to maintain your files well-organized.

Main Features:

1 Powerful Filename Editing Options

-- String Editing Options:
· Prefix - add some text to the start of a filename.
· Suffix - add some text to the end of a filename.
· Insert text to the specified character position.
· Insert text before(after) some texts.
· Substitute original name - overwrite existing filenames.

-- Convenient Format Editing Options:
· You can convert between All lowercase, All uppercase, Title case, Sentence case, Capitalize.

-- Numerical Sequence Options
· Custom name with numeric.
· Add a numerical sequence to the start or end of filenames.
· Insert numeric before(after) the specified texts.
· Insert numeric to the specified character position.


-- Professional Date & Time Options:
· Substitute name with date. You can custom your format style.
· Add date and/or time to the start or end of filenames.
· Insert date or time in specified place.

2 Undo All your renaming.
3 Support hot keys.
4 Support file filtering
5 Drag and drop a folder from Finder onto the application icon or dock icon and you're ready to start renaming files.


Feedback:
Any suggestion will be appreciated, support email: maizi_01993@sina.com
Screenshots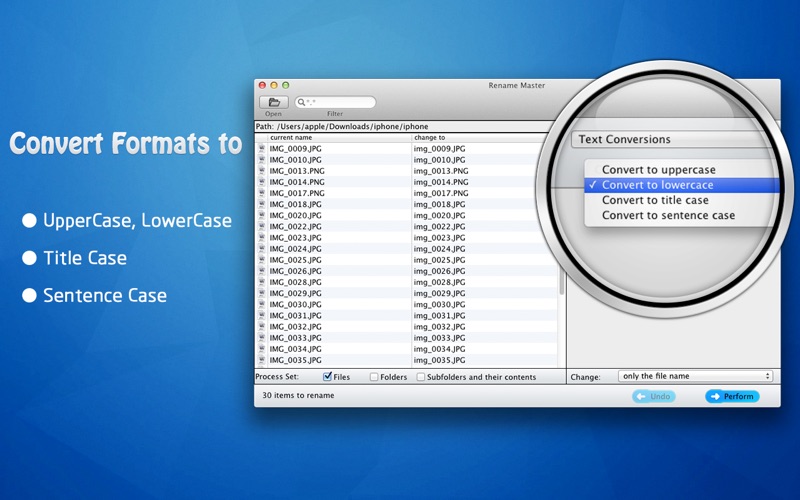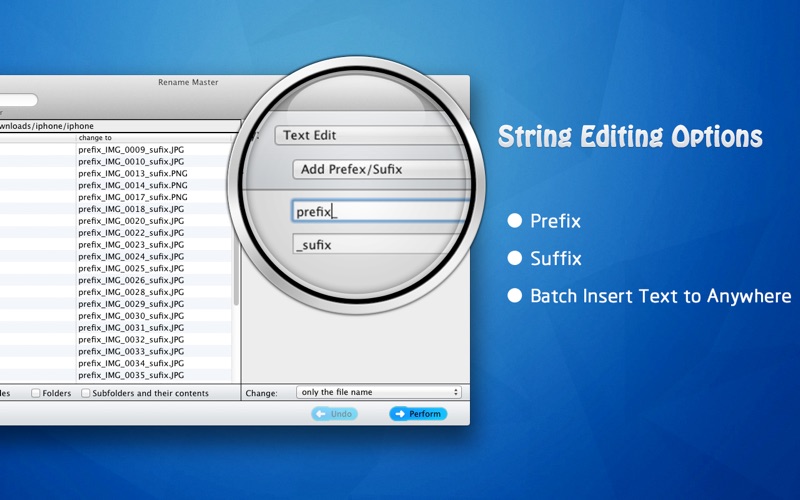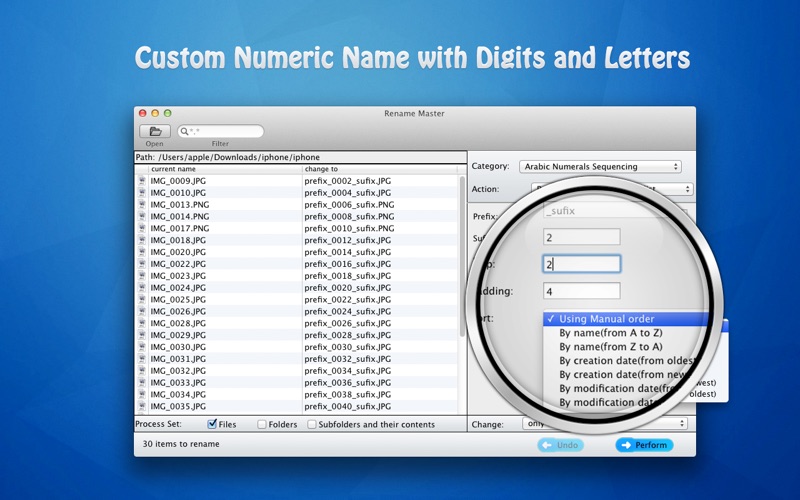 Customer Reviews
Good App But Has Serious Shortcomings
This is a very good app, except for two major and three minor flaws:

The first major flaw is that it only operates on whole directories of files. There is no way to select individual files or a group of files. You can drag-and-drop folders onto the app, but not files. The second major flaw is related: it doesn't remember the directory you just selected. If you click "open", it always starts in ~/ no matter what. Put together, these are very major barriers to usability in an otherwise good program.

The other more minor flaws are related to interface. First, there is no need to separate tasks into different "category" and "action" dropdowns. There are only 19 actions in all, and some of those do not need to be separate actions; it would be easy to combine them into one. (Example: "Add date/time to beginning" and "Add date/time to end" could easily be made one "action", Add date/time, with a checkbox for beginning or end.) So some actions could be combined, and all of them put into one dropdown list.

The last flaw is admittedly a very minor quibble, but the word "suffix" is misspelled in the dropdown.

Clean up the interface, combine those "actions" that can be combined, and allow it to work on collections of files, not just whole folders, and this would be 5 stars easy.
Super Time Saver
Somewhat intuitive user interface has enabled me to do several things I have needed to do for years at work. I have a "template" created of a hierarchy of folders and subfolders each named for a specific type of client document followed by "LAST, First" for an individual client name. For years I have had to spend around 5 minutes creating an electronic file for a new client by manually going through the 30 to 40 folders replacing "LAST, First" with "DOE, John."

Rename Master lets me do the same task in about 5 seconds! I am also able to quickly go through entire client files correcting errors others have mande when naming individual documents. It is a life saver!
One Item to Add
The app does most everything needed to replace a program I use on another PC. The only item I don't like is that it updates all the files in the folder. I haven't discovered a way to only rename selected files. It would be helpful for the app to only change the selected files instead of all that are in the folder.
View in Mac App Store
$4.99

Category:

Utilities

Released:

Oct 03, 2013

Version:

1.0.0

Size:

0.9 MB

Languages:

English, Simplified Chinese, Traditional Chinese

Seller:

Yu qipeng
Compatibility: OS X 10.6 or later