Retro Flight: Free 3D rocket, shooting, snowball & laser fight!
By Michael Howard
Open iTunes to buy and download apps.
Description
Play 1- or 2- player as a fighter pilot, biplane bomber, Valkyrie rider, Black Helicopter hunter, tank commander, red baron, snowballing Santa, or laser-bolting matrix bug!

* Rockets, bombs, snowballs, lasers
* 8 unique aircraft
* 5 deathmatch levels
* Truly madly bloodthirsty AI
* Flight School to get you started
* Sandbox level with tank battles
* Custom maps
* Target Practice & Autopilot Demo
* Bluetooth & Wifi multiplayer
* Game Center leaderboards
* Your own friends lists & teams
* Joystick or tilt control options

You can now follow the game on Facebook & Twitter! See http://bit.ly/bwkO6E
__________________________________________

To start, tap 'Play' when the level slider is on 'Flight School'. If 'Play' isn't shown, tap 'EJECT' first.

To see the last message during Flight School, tap pause.

To exit to the menus from in the game, tap the door.

If you don't like the controls, you can change them in the options.

For the snowballs & lasers, check out the graphics options.

For the tank battles, play the Sandbox.
__________________________________________

Many countries have no reviews yet, so here's some quotes from five star reviews around the world...

(Australia) "The most fun I had since 1999… Seriously good game"
(Australia) "Hey, that is the BEST free app I have ever got."
(Canada) "This game can be the best on app store!!!"
(Canada) "This game is the best for playing with friends!"
(Canada) "Best 3d game ever!!!!"
(Canada) "Best Game Ever"
(Canada) "The best game I've ever played!!"
(France) "Une application très prometteuse!"
(Germany) "Ein ganz cooles Spiel"
(Japan) "快感は最高"
(Mexico) "Buenísimo"
(Netherlands) "Super mega awesome"
(New Zealand) "fun game love it please make more soon"
(Switzerland) "Cooles Spiel"
(United Kingdom) "One of the best games on the app store"
(United Kingdom) "The best shooter game I have played!"
(United Kingdom) "This is the best game ever… Really get this."
(US) "Love it. It is the best game ever!"
(US) "Super fun… Very addictive."
(US) "This is amazing will tell everyone i know."
(US) "Amazing!!!!!! I love it and can't wait for the next update!"
(US) "The game is fantastic overall"
(US) "This game is pure awesomeness"
(US) "This game is perfect"
(US) "This game rules!"
(US) "OMG THIS GAME IS A DRUG LITERALLY"
(US) "this blows my mind!"
(US) "the Number One app on my iPod."
(US) "BEST GAME EVER"

Join in and find out what all the fuss is about! See you on the leaderboard...
What's New in Version 1.9.5
Fixed a few bugs triggered by later iOS versions, mostly in Bluetooth & Wifi multiplayer games.
iPhone Screenshot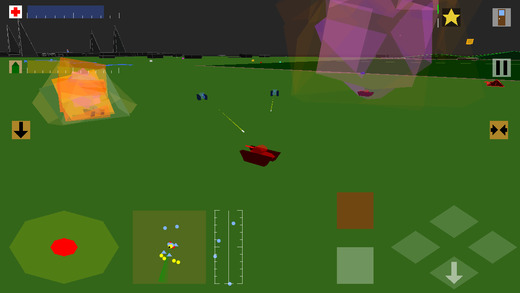 Customer Reviews
Flawless
If you haven't at least downloaded and tried this game, you are depriving yourself of The best hidden gem on the App Store. I played this game back when iPhone 4s was newish, and why I didn't get it on my new phone until now is beyond me. The controls are friendly, the gameplay is fast, the game is great. If you don't like it, it's an issue of taste, not the game.
I probably won't ever delete this app!!!
I love this game! It's best mode is on sandbox you can drive any vehicle you see! I would love this game even more if the buildings had windows and when shot at would fall over and hit other buildings and also I can barely see the bullets when I am tapping the black button (hint make them bigger plz!) but over all its an amazing game!!!!!!! 👍
Fantastic Game
I love just goofing around shooting buildings and flying UFOs! I wish the bullets were more visible and that the missiles would travel longer. Besides that, great game! Not sure I'll ever delete it. :)
View In iTunes
Free

Category:

Games

Updated:

May 27, 2015

Version:

1.9.5

Size:

8.1 MB

Language:

English

Seller:

Michael Howard
Compatibility: Requires iOS 6.0 or later. Compatible with iPhone, iPad, and iPod touch. This app is optimized for iPhone 5.