Return to Dark Castle
By Super Happy Fun Fun, Inc.
Open the Mac App Store to buy and download apps.
Description
The awesome update to THE true Mac classic game! Return to Dark Castle Includes all 30 original Dark Castle and Beyond Dark Castle levels plus 50 new, action packed levels.

Dark Castle maintained a ranking in the top 5 best sellers on the Mac for 36 straight months after its original introduction.

Reintroduced by its original creator Mark Stephen Pierce and Merge Interactive. "Z-Sculpt has been lovingly crafting this version for over a decade and it has my full endorsement" (MSP)

Rediscover the fun and challenge of this true classic with gameplay that is still as rich, unique and addictive today as it was in the days of the original Mac 128K.

FEATURES
* Over 50 brand-new levels
* All 30 classic, re-mastered levels from Dark Castle and Beyond Dark Castle integrated into a new, extensive quest
* New Secret Rooms and Mini-games
* 25 orbs to collect
* All of the classic foes plus new monsters and bosses
* New weapons, power ups, and secret items
* Random labyrinths and mazes provide unique puzzles with each play
* Game recording and playback
* Customizable costumes
* Support for most gamepads and joysticks

In a time of magic and mythical beasts, the ominous Dark Castle glows eerily under the full moon.

For centuries, the evil Black Knight has dwelled within these walls, spreading fear over the once peaceful countryside.

All seemed hopeless until one day, a traveler from a faraway land wandered into the peasant village.

He called himself Prince Duncan, and told the townspeople he had come on a quest to vanquish the Black Knight.

Overjoyed that peace might finally be restored to their land, they cheered as Duncan set off toward the castle.

But alas, their hero never returned from his valiant quest.

Tales of his bravery were all that were spoken of Dark Castle for many years.... Until now.

A new hero has arrived, ready to face the perils of the castle and destroy the cruel Black Knight once and for all.
Screenshots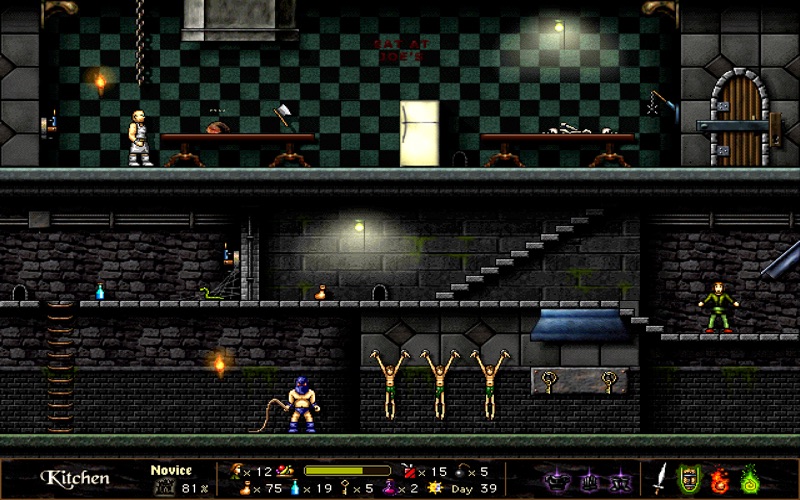 Customer Reviews
Took me back to my Macintosh Plus Days
If this game it too hard for you maybe you're too young. Games used to be hard. You had to play them for three or four hours before you got the hang of them. But once you did you were set. Playing Dark Castle again makes me want to play them as I originally did in black & white on that 9 inch screen. Truly amazing games for their time. Silicon Beach Software, my hats off to you for creating a wonderful game back in the day.
That old feeling is back : )*
Maybe because there is no way to save before entering a boss level (and when you fail, you have to redo gathering rocks and potions and make it through several difficult screens,) no game since Dark Castle has ever made me cold sweat and leave me vibrating and hyper alert until this Return to Dark Castle arrived.

Finally! I have been following rumors of it's return to life as an OS X game for a decade and a half.

I missed it's intro at $5, but I happily, instantly and gratefully paid $10. It's worth 3 times more.
Actually, it's priceless, there is no substitute.

Since I mastered Dark Castle and Beyond Dark Castle on the old Mac Plus keyboard, I wondered if the new Apple keyboard would be harder. No, everything feels exactly the same, only on a much larger screen, and with plenty of delightful enhancements that don't change the spirit and soul of this game one bit.

After dying about 200 times before getting my first orb, I look forward to years of perfecting my skill, and going to bed hours late still buzzing with nervous energy.

Many thanks!
A Masterpiece!
This game perfectly recreates the feel of the original Dark Castle and Beyond Dark Castle games from the 80's, while adding new elements and levels that fit in as if they were in the originals. If you ever played the original black and white games, you MUST have this game! The gameplay is great, combining both keyboard and mouse controls. One of the neat features is that the outdoor scenery changes as you play as time changes in the game. Some levels even depend on you going there at the right time of day or night in the game. There are 4 difficulty levels, so it is perfect for any almost age group. The animations and sounds are excellent and never get old. In addition to having all of the levels from the original games and dozens of new levels, lots of secrets and mini-games have been added as well. I find myself playing this over and over again (as I have had this for several years before it came to the Mac App Store.) This classic game is easily worth much more than $4.99.
View in Mac App Store
$9.99

Category:

Games

Released:

Feb 25, 2011

Version:

1.4

Size:

59.8 MB

Language:

English

Seller:

Super Happy Fun Fun, Inc.
Compatibility: OS X 10.6.6 or later
More by Super Happy Fun Fun, Inc.