Ridekick
By Valley Metro Regional Public Transportation Authority
This app is only available on the App Store for iOS devices.
Description
Valley Metro Ridekick™ is your sidekick to traveling on public transportation in metro Phoenix.
It's a friendly, streamlined app that pulls real-time schedule data to help you plan your trip with up-to- the-minute arrival times. View available public transit options based on your current location, bookmark your favorite stops and get the latest service alerts.
Whether you're a bus rider, take the light rail or park-and-ride, this app will make your life easier.

Features include:

* An interactive map that displays bus and rail stops and park-and-ride locations
* GPS and filters to find the best and closest public transit options based on your needs and current location
* An extensive trip planner that can bookmark your favorite destinations, locate nearby stops and help plan your trips
* A comprehensive breakdown of fares and fare retailers so you can find the pass that fits your needs
* Real-time service alerts to help plan your trip
* All of Valley Metro's website tools combined into one, efficient app
What's New in Version 1.0.2
Performance and security enhancements
iPhone Screenshots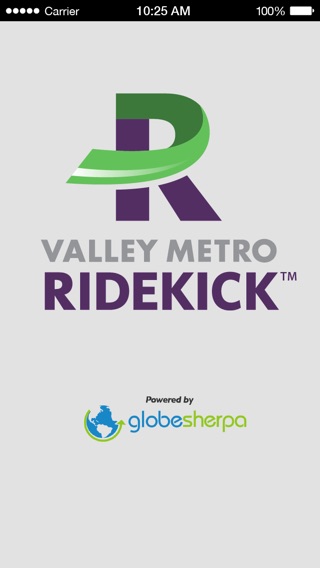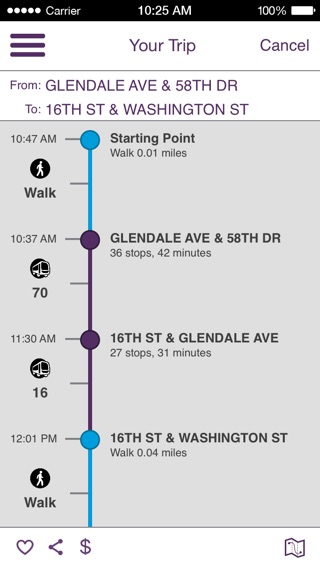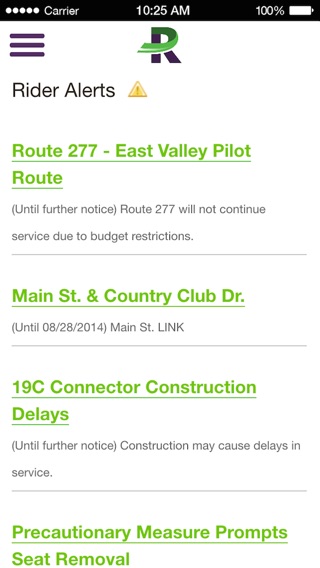 Customer Reviews
Needs a lot of work.
This app was a great idea. It's just too bad that they didn't invest enough energy in making it useful.

You can't tell it what form of transportation you would like to use, i.e. Bus, train, or rapid. And when you enter a end point it just populates what the quickest route is. Not giving options for how far to walk to starting point, etc. Most trips show results with a mile or more of walking when there is a route 100 yards away.

ValleyMetro, if you actually read these comments, take some of the increased bus fare money and invest it into this app so our money will go towards something useful and not something that looks like a middle school project for an 11 year old. Sad to see our fares increase yet next to no improvement in the transit system over the course of a decade(besides the light rail). Listen to your customers, who are ultimately your biggest investors, and provide us with something we can actually use.
Close but no...you know.
This app would be less disappointing if its promise was way off the horizon and not barely out of reach. Sadly, its potential is right there dangling beyond our grasp.

As a trip planner, it is clunky, obtuse and functions only if the end user has a better idea of the routes and times serving their location. That kinda defeats the reason for this app, doesn't it?

The app promises to provide "real-time schedule data to help you plan your trip with up-to-the-minute arrival times." That's a cute way of saying the app uses bus book data compiled six months ago to spit back out at you when you're desperate for current bus-arrival info. "Real-time schedule data" would be telling me that my 6:58 bus is running 7 minutes behind, not regurgitating a table that simply confirms my bus is not on schedule.

As an app, the controls are counterintuitive: I've played with this app off and on since it was released, as I still don't get how one saves favorites, how to move seamlessly from one function to the next without erasing everything, or even why it sometimes refuses to accept a start and end point.

I can't rely on Ridekick to run correctly when I actually need it, which means it's the perfect fit for Valley Metro.
Not sure what they are trying to do with this
I am new to riding the light rail and public transportation and I was looking for a way to understand routes, getting around, schedules, connections, etc. Given that I don't know public transportation all that well, it isn't clear to me this is such a bad application.

That said, I feel like this is really a bad application. There is some really stupid stuff, like when you search for Sky Harbor Airport, there are a number of different open toons that come up but because there isn't enough space you can't tell what the results are until you pick it. And if you pick the wrong one, you have to start again. It doesn't save your search criteria. It doesn't allow you to intuitively pick if you just want the bus, the light rail, etc.

If I just want to know when the next rail car is going to be at the station I am at, I could not find a way to tell. They might need some focus groups or something to help improve the usability. I find there is no redeeming value to this app but will keep it in the off chance it's improved.

There are better apps out there like Transit PHX that you might want to check out as well.
View in iTunes
Free

Category:

Travel

Updated:

May 03, 2015

Version:

1.0.2

Size:

17.7 MB

Language:

English

Seller:

Regional Public Transportation Authority - Valley Metro
Compatibility: Requires iOS 7.0 or later. Compatible with iPhone, iPad, and iPod touch.