Ringer - Ringtone Maker
By Pixel Research Labs, Inc.
Open the Mac App Store to buy and download apps.
Description
The easiest ringtone maker available for the Mac. Use music and even movies to make your own unique ringtones.

"My nod goes to Pixel Research Labs' Ringer because it works quickly" - macworld.com
"The editing is very easy, with a nice large display of the waveform" - tuaw.com
"It's an easy way to create new ringtones in a few short seconds" - macapper.com
"Ringer is an elegantly designed app" - St. Paul Pioneer Press

• Features •
- Built in iTunes navigator lets you quickly find your song.
- Make tones from movies and videos as well as music.
- Zoom in to choose the start and end of your ringtone with sub-second accuracy.
- Use the waveform to help you find the right part of your song.
- Support for fade-in, fade-out and ringtone gap.
- Auto volume support makes sure that quiet parts of a song can still be used as a ringtone.
- Optional manual volume control.
- Preview your ringtone exactly as it will sound on your phone.

• How to use •
1. Select your song or movie in the built-in media browser.
2. Move the selection over the part you want to use as your ringtone.
3. Press the create button.

That's it! Your ringtone is now imported into iTunes and ready to sync to your iPhone.

Use any non-protected file from your iTunes library or any media file on your Mac to create a custom ringtone for your iPhone. Make as many as you want, there is no limit to the number of ringtones you can make with Ringer.

You can also make ringtones for Android and some other phones. Check to see if your phone can use a .m4a file as a ringtone.

Note:
- Songs that are protected with DRM cannot be used.
- No app can install ringtones on the phone. Ringtones must be imported into iTunes and synced to the phone before they can be used.
- If you need help, please contact support@pixelresearchlabs.com. There is no way for us to respond to App Store reviews.
What's New in Version 2.0.5
- Fix a pop noise at the start of some ringtones.
- Improve accessibility.
- Fix some visual appearance issues.
- Fix a bug where double clicking in the selection would not preview from the point clicked.
Screenshots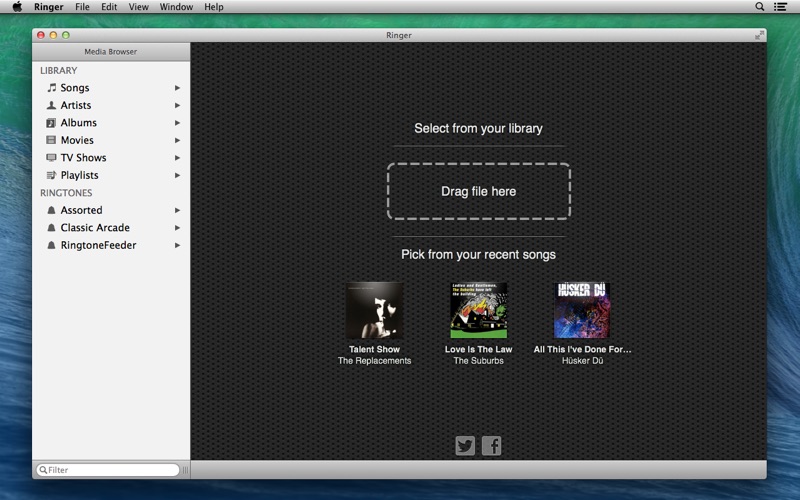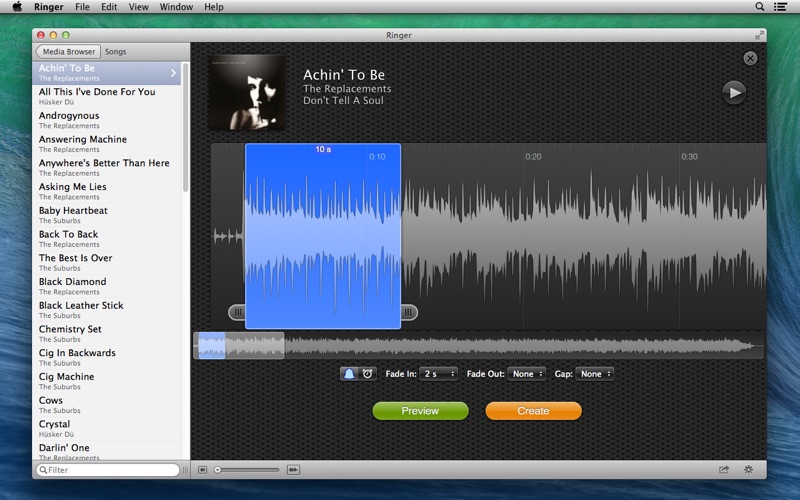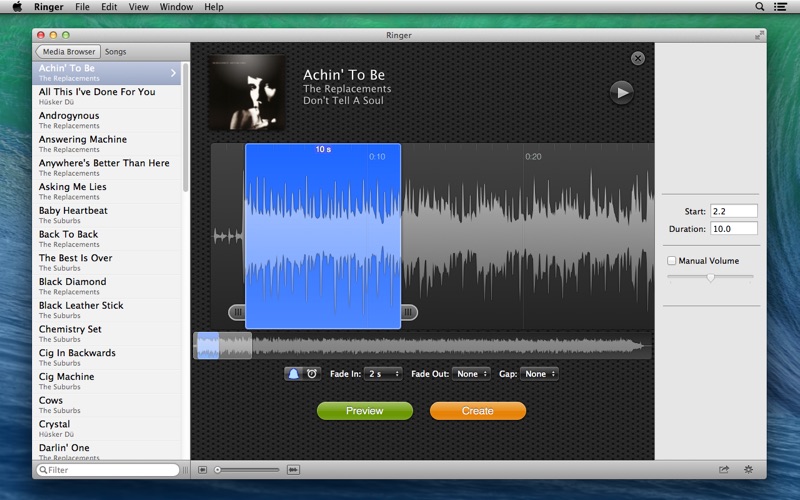 Customer Reviews
Polished app for making iPhone ringtones from music & movies
I appreciate how Pixel Research has kept this app up to date. Most of my other ringtone apps don't get updated so if you are in doubt choose this one. Media browser lets you know ahead which iTunes songs are locked, most aren't, but some are if you bought them back in the day before Apple unlocked them. Select the song - it auto reads your itunes library. Set an in point and out point. It keeps you out of trouble by limiting you to a max of 40 seconds (the longest ringtone Apple allows). Preview, adjust and then hit create. It shows up in your iTunes Ringtones library and next time you do a local sync with your iphone it gets transferred.

Feature improvements:
- Let the preview keep rolling while the user moves the in or out point. It makes editing easier.
- Let users scrub on audio in the set in/out area. I'm usually trying to nail the entrance or exit and having to wait for the whole thing to preview is tedious.
- Add the ability to share a ringtone with your friends. Map the SHARE function built into OS X so I can send my custom ringtone to friends.
- Create some custom tags for Ringer so I can see folks tweet, Instagram, etc their ringtones with others.
Does exactly what you think it should, and exactly how you think it should
Title says it all. This app / version does exactly what I bought it for (making ringtones out of music). When you create a ringtone, the ringtone shows up in the iTunes "Tones" section, as you'd expect. The interface is good - you can precisely select your start and end points, have up to a 5s fade in or fade out, and have a gap at the end to allow for some silence before the tone repeats. Everything you want, as you want it, and nothing more. 5 stars from me.
Easy to use and great interface
I was pleasently surprised the ease of use and pleasent interface. You can zoom into the music and easily capture the riff you crave to hear. The one thing that would make this app perfict is if one can name the ringtone before the app saves it and sends it to iTunes. Some songs are blessed with multiple good riffs which presents a problem since the app keeps the name of the song when it saves the ringtone.
View in Mac App Store
$7.99

Category:

Music

Updated:

Aug 02, 2015

Version:

2.0.5

Size:

13.3 MB

Languages:

English, French, German, Japanese

Seller:

Pixel Research Labs, Inc.
Compatibility: OS X 10.8.5 or later, 64-bit processor