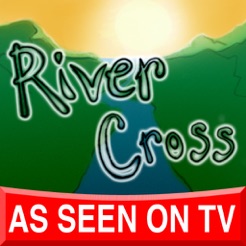 River Cross Logic Puzzle Game
9+
Description
### SALE! 99 CENT INTRO PRICE!! ###



River Cross is a new logic puzzle game that is every bit as challenging as Blocked, Enigmo, and TextTwist.



Featuring original hand drawn art, animation, and sounds, River Cross consists of 4 different puzzles that all share a central theme: you must get all of the characters across the river. Sounds easy, right?



You might think the first puzzle is a piece of cake, but it's merely a warmup. Each puzzle is substantially more difficult than the one before it and will require you to think a bit differently.

Just wait until you get to the last level! It will have you scratching your head long into the night.



In fact, I doubt many people can complete the final puzzle. It's that hard! If you are smart enough to "Cross The River", consider yourself an intellectual elite and try not to spoil the puzzle for the less intelligent.



For additional excitement, try to beat the final puzzle as fast as you can. You'll be able to share your best times on our global leaderboard. You can see how you rank against other puzzle solvers worldwide.



Leaderboard site: http://rivercrossweb.appspot.com/



If you're tired of mindless apps like Yo Mama and Wobble, do your brain a favor and take the River Cross challenge.



*** If you find a bug, please email me at tsteil@gmail.com ! I will fix them immediately! ***



rivercross
* reduced minimum moves of level 3 to 29

* more stat tracking
Ratings and Reviews
Old School Fun!
River Cross will bring back memories for many who grew up with problem solving, logic games. The feel of the game is very much old school with the paper-cutout type figures that you move back and forth. I believe the images were all hand-drawn which is a nice touch since most games these days tend to be special effects heavy. The interface is straightforward and as you begin each level, you receive your instructions on your objective. There is also a counter in the corner monitoring the number of moves and a timer. Realistically, this is for your personal score keeping as you'll want to test how fast your logic is. One of the additional features is if you choose an incorrect move, you'll see an image that shows the consequence (e.g. a fox eating a chicken). While there are only 3 levels right now, and I hope eventually there are more, River Cross is a good educational game for younger kids, and a touch of nostalgia for us old kids.
Very Challenging
The first two puzzles were not very hard at all, but i guess they do kinda help you get in the right mind set for solving the third puzzle. It seriously took me like an hour figure that last one out! Super tough...

My only gripe is that the game could really use a restart button, it kinda sucked having to go to the main menu to start over. Even so, I really liked the puzzles, and the art was neat. Some of the animations made me LOL... I messed up on purpose a few times just to watch them again, hehe

All in all, I would definitely recommend it to other fans of the logic puzzle genre, definitely worth 99 cents!

Update: They added a new level as well as a restart button! good to see that the developers are making this app even better :)
NOT for kids...
River Cross is a great classic logic game and I was delighted to find an app for it. However, after my 11yo was disturbed by and showed me the level 3 graphics, I was really disappointed in the developers. If you choose the wrong raft configuration, kids assault the parents, adults assault each other, dad is kicked in the crotch, mom is not allowed to be alone with her sons without the dad present, dad not allowed to be alone with his daughters without mom's presence. What's that about? As a kid with older siblings, my 11yo sees media violence AND is smart enough to know that, while some are not, families are meant to be safe places where any form of assault is inappropriate and where adults of either gender can be trusted.

Great and welcome game idea whose worth and potential is sadly negated by senseless, assault-laden violence.
Information
Seller

taylor steil

Size

3.8 MB

Category

Compatibility

Requires iOS 2.0 or later. Compatible with iPhone, iPad, and iPod touch.

Age Rating

Rated 9+ for the following:

Infrequent/Mild Cartoon or Fantasy Violence

Copyright

© 2009 Taylor Steil

Price

$0.99
Supports
Family Sharing

With Family Sharing set up, up to six family members can use this app.