Rocket Bits
By Bryan Perfetto
This app is only available on the App Store for iOS devices.
Description
What is this?! Well, it's a fun game about a rocket ship... and bits... or something! That's about it so far!

Hi! My name is Bryan! You might remember me from such memorable iPhone games as Kitty Up or ShapeShape! No? Well I'm making this new game, but not sure what it is just yet. That's where you come in! I'm going to make this game based on your suggestions! Simply send me an idea and I'll try my best to add it. Anything goes! No, seriously!

Do you drop off a little space dude to explore? Do you colonize parts of the planet and watch little cities grow? Do you race other rocket ships in a multiplayer mode? Do you transform into a dragon and eat little people? Pshh... don't ask me, dude... I don't know!

I'll also do my best to release updates all the time so you can see the game progress as it's being made! I'm hoping for an update every week.

Since it's currently just a work in progress, it's free! At some point when there's actually a true game, I'll bump it up to the outrageously expensive price of one dollar.

Send me ideas, tell me what you like, tell me what you want changed, and let me know what bugs you find! I'll add your name to the credits!

How to get in touch:
bryan@regularkid.com
Twitter: @RegularKid
www.regularkid.com
iTunes Comments

This is gonna be fun!
What's New in Version 0.4
Update #3
"Space Monsters" or "What the heck took so long?!"

Hi Rocket Bitters! I'm still alive! I apologize for neglecting Rocket Bits for so long... having a new baby and a full time job make it hard to get updates out as quick as I'd like. But hopefully things are starting to settle down a bit and I can start devoting more time to getting this thing closer to a real game!

As always, keep all the great ideas and feedback coming!
bryan@regularkid.com

New Features!
Basic enemies! More to come!
Save slots!
Health!
Game over state ( ability to die )!
New enemy killing mission type!

Minor Tweaks and Bug Fixes!
Ability to zoom the mini-map!
Bombs can now kill spacemen!

Enjoy!
iPhone Screenshots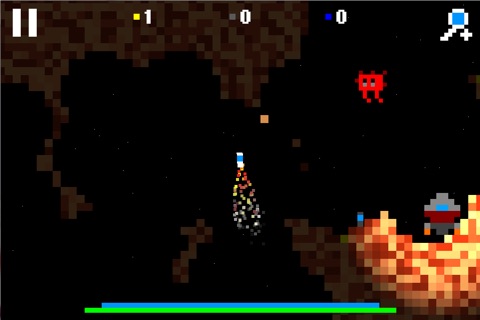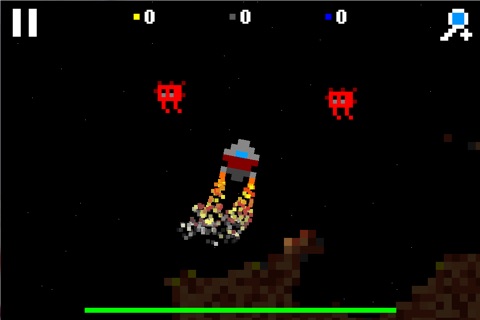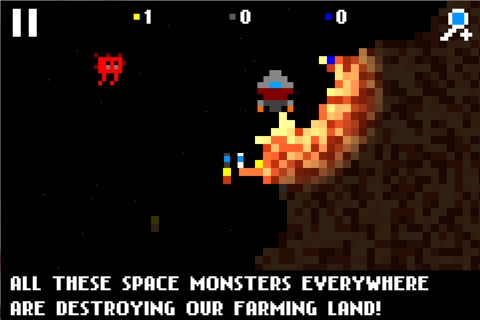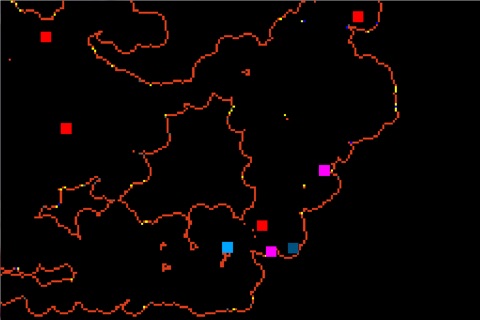 Customer Reviews
Good but still a work in progress
Can't wait for another update!!!!!!!
Posted by: Ethan Hill
here are a few of my suggestions; it needs to be fully customizable (like different types of space crafts, different colors, ect.) needs better weapons (like a tesla coil or rail gun), the resources have to be worth something (like you can buy new weapons/ships/gear), needs some form of market (with "special" resource that can be bought from you to get something epic in the game such as a faster stronger ship fully armed with powerful weapons), better stronger enemy's to fight with the new advanced weapons (like mega Martians, alien robots, boss battles, ect.), lastly players need a respawn point at which they can set with a beacon or something... Thanks for listening to my ideas! And good luck with your baby!
Awesome
IDEAS:
This game is so much fun! I almost mined out EVERYTHING in the map I'm on right now. But with all this good and stuff I wish I could buy stuff like shields, more hp, guns, etc. I also wish that there would also be like other ships and guards and buildings that have air inside them so you can talk to the people inside them. Another cool thing would be a black hole that puts you in another map. In the other map could go from mineable stuff every where a space capsule with a lot of money in it. On the other hand, when you go into the new map, there is like.....a bunch of aliens and a boss to kill and the boss is in a large room with platinum and gems everywhere. Or there could just be other maps to go to in general so u can mine more. Lastly for an idea, there should be spawners for the aliens so you can go and destroy, just so you don't have to worry about aliens.
PROBLEMS:
Aliens tend to get stuck in the ground and stuff and it gets annoying, you can kill them and you hope they get unstuck.
OVERALL:
Fun game, so much potential, and a good challenge too. I recommend getting it.
Fun!
I like what i see here. Suggestions you say? Lets see how many I can come up with.

•@bigger bombs (i always get hurt trying to drop them close enough)
•@baddies keep getting stuck in walls, and they hurt me before i can get close enough to bomb them
•@make the grey(iron?) bits a little brighter, very hard to see
•@give point values based on the ore collected
•@make ores appear on map when within a certain proximity
•@different types of baddies (maybe small and fast, big and slow)
•@more ores!
•@open terrain with warnings near distance limits
•@lasers?
•@slow-moving rockets?
•@enemy ships
•@a place to sell ores
•@a place to buy upgrades
•armor upgrades
•damage upgrades
•tools (nets, force fields)
•hire a wing man
•new ships?
•@Ability to create land (or bases/structures) with gathered ores
•@small or local multiplayer (co-op, capture the flag, last man standing)
•@some kind of end goal (amount of ores, or a point to reach, or someone to save?)
•@make ores appear deep in terrain, requiring blasting to reach
View in iTunes
Free

Category:

Games

Updated:

Mar 10, 2012

Version:

0.4

Size:

3.7 MB

Language:

English

Seller:

Bryan Perfetto
Compatibility: Requires iOS 4.0 or later. Compatible with iPhone, iPad, and iPod touch.
More iPhone Apps by Bryan Perfetto