ROME: Total War
By Feral Interactive Ltd
This app is only available on the App Store for iOS devices.
Description
History's greatest empire, now in your hands.

Experience the full glory of ROME: Total War as you rule the ancient world from your iPad.

ROME: Total War is a strategy game of epic scale, offering players a seamless integration of strategy and tactics to fight spectacular battles, while using diplomacy, subterfuge and assassination to smooth the path to ultimate victory.

ROME: Total War for iPad comes without compromise. Turn your tablet's screen into an exhilarating 3D battlefield alive with thousands of units, from tight formations of swordsmen to sweeping lines of chariots.

Welcome to Total War on your iPad!

ROME: Total War requires a first generation iPad Air or newer, an iPad mini 2 or newer, or any iPad Pro.

© 2002–2017 The Creative Assembly Limited. Originally developed by The Creative Assembly Limited. Originally published by SEGA. Creative Assembly, the Creative Assembly logo, Total War, ROME: Total War and the Total War logo are either trademarks or registered trademarks of The Creative Assembly Limited. SEGA and the SEGA logo are registered trademarks or trademarks of SEGA Corporation. Developed for and published on iOS by Feral Interactive Limited. iOS and iPad are trademarks of Apple Inc., registered in the U.S. and other countries. Feral and the Feral logo are trademarks of Feral Interactive Ltd. All other trademarks and copyrights are the property of their respective owners. All rights reserved.
What's New in Version 1.7.3
• Adds the option to play the game in Russian
• Adds a new option to the app settings, allowing users to double the size of units on the 3D Battle Map
• Adds 0.5x speed mode to battles
• Further improvements to stability
• Optimises the game for the new 2017 iPad (5th Generation)

iPad Screenshots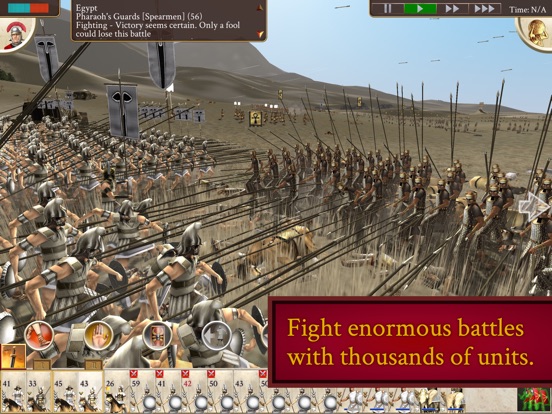 Customer Reviews
What I've done and what I've received
I literally Bought the iPad just to play this game (and just make it my game thing), I'm not really disappointed, if this is your first time playing a total war game, you will love this game, it is by far one of the best strategy/war games in the store, still, if you played the CPU version you will realize the differences, these differences are the change in scale of battles, to fit with the ipads mobility, you still get most of total wars immersion but with a small quality drop, but with right marketing I know total war is something that could take over a large part of the gaming community, I am very happy the creators are bringing these games to mobile devices , and hope the consoles are next, I really believe total war games could be a triple A thing, please keep expanding, one day Everyone could be talking about these games like they do skyrim and GTA, you better hurry before mount and blade is also a good game expanding its reaches
Fun to play, but there are some issues.
I truly enjoyed this game for years on my PC. Was delighted to see it come to IPAD. Still fun to play, but this isn't as smooth as the PC version. Moving units is not as fast or precise as one can do with a mouse pointer on a PC. The touch screen movement is often confusing and does not respond as quickly. One time a unit will do exactly as you directed and the next time you do the same thing, it does something very different. There are no instructions that answer these questions. A video by the distributor only gives you the basics movement...Also, as I was warned, one eventually reached a point where the game will not go on to the next turn and shuts-down your IPAD. Been fighting this for two days and can't go any further in the game.....I wish this game worked as well as the PC version did. The "old" graphics are still the equal of anything out there and the huge battle scenes can't be beat. As a major fan of ancient history, I love this game. Just wish it worked like the original.
I love Total War but this is ridiculous...
I have always been a fan of the game series Total War!! I love the strategy aspect and actual time you have to give to win the the game! It's always exciting, fun, and easily the best game on the App Store!!! With all that said I find absolutely INFURIATING that 50% of the time I divulge into an in depth battle, I have fought through the lagging, the endeavors of a heroic victory, and I have won the battle. The moment you see your after battle kills screen and you're ready to move forward the game begins to load and BAM!!! THE GAME CRASHES!! The half an hour to an hour you just spent winning a battle that was highly out of favor is all lost....it takes everything that is so great about this game and ruins it. I am giving this game a 1 star because it has been months and instead of updating this problem they've released expansions that do the exact same thing....i hope to see this problem fixed immediately so I can give this game the 5 stars it deserves.
View in iTunes
$9.99

Category:

Games

Updated:

May 31, 2017

Version:

1.7.3

Size:

4.03 GB

Languages:

English, French, German, Italian, Russian, Spanish

Seller:

Feral Interactive Ltd
Compatibility: Requires iOS 10.2.0 or later. Compatible with iPad Air, iPad Air Wi-Fi + Cellular, iPad mini 2, iPad mini 2 Wi-Fi + Cellular, iPad Air 2, iPad Air 2 Wi-Fi + Cellular, iPad mini 3, iPad mini 3 Wi-Fi + Cellular, iPad mini 4, iPad mini 4 Wi-Fi + Cellular, 12.9-inch iPad Pro, 12.9-inch iPad Pro Wi-Fi + Cellular, 9.7-inch iPad Pro, 9.7-inch iPad Pro Wi-Fi + Cellular, iPad (5th generation), iPad Wi-Fi + Cellular (5th generation), 12.9-inch iPad Pro (2nd generation), 12.9-inch iPad Pro Wi‑Fi + Cellular (2nd generation), 10.5-inch iPad Pro, and 10.5-inch iPad Pro Wi‑Fi + Cellular.