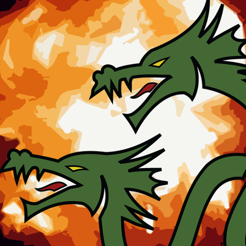 Description
"Rooked definitely keeps you on the edge of your seat. The humor is definitely tongue-in-cheek. If you like silly games with lots of action, this game is definitely for you." -- Geekscribe.com

A Delta operator code named Rook is on a mission to save the world from what remains of Manifold Genetics, an evil genetics company working on limb regeneration and immortality. Using his trusty M4 and lots of grenades, Rook must blast his way past savage capybara, crazy regen killing machines, Gen-Y Security guards, automated defense drones and face down a mythological monster reborn through modern genetics—the Hydra.

ROOKED is based on the characters and story from Jeremy Robinson's Jack Sigler thriller series and features monsters and locations visited in the novel PULSE. The game is not only a stand alone, thrill-fest but also promotes the novel series in a unique and exciting way. Part tower defense, part side scrolling smack down, with three difficulty levels, ROOKED is perfect for all skill levels and plays well on the iPhone and iPad.

FEATURES:
— Irreverent humor (Rookisms)
— Chaotic Action
— Dramatic Musical Scores
— Frequent use of the word, "Sucka," sucka.

****

Game reviews are incoming, but in the meantime, check out what critics are saying about the Jack Sigler series.

PULSE

"Robinson's latest reads like a video game with tons of action and lots of carnage. The combination of mythology, technology, and high-octane action proves irresistible. Gruesome and nasty in a good way." -- Booklist

"Rocket-boosted action, brilliant speculation, and the recreation of a horror out of the mythologic past, all seamlessly blend into a rollercoaster ride of suspense and adventure." -- James Rollins, New York Times bestselling author of THE LAST ORACLE

INSTINCT

"If you like thrillers original, unpredictable and chock-full of action, you are going to love Jeremy Robinson's Chess Team. INSTINCT riveted me to my chair."
--Stephen Coonts, NY Times bestselling author of THE DISCIPLE and DEEP BLACK: ARCTIC GOLD

"Robinson's slam-bang second Chess Team thriller [is a] a wildly inventive yarn that reads as well on the page as it would play on a computer screen." -- Publisher's Weekly

THRESHOLD

"With THRESHOLD Jeremy Robinson goes pedal to the metal into very dark territory. Fast-paced, action-packed and wonderfully creepy! Highly recommended!" --Jonathan Maberry, NY Times bestselling author of THE KING OF PLAGUES and ROT & RUIN

"Jeremy Robinson's THRESHOLD is one hell of a thriller, wildly imaginative and diabolical, which combines ancient legends and modern science into a non-stop action ride that will keep you turning the pages until the wee hours. Relentlessly gripping from start to finish, don't turn your back on this book! --Douglas Preston, New York Times bestselling author of Impact and Blasphemy

Ratings and Reviews
Great Tongue-In-Cheek action game
I have to agree with the other reviewers. When I played this game, the first thing I thought of was the old Duke Nukem games from Apogee (which is a good thing). Good mix of action and humor, and a must own for Jeremy Robinson / Chess Team / Jack Sigler fans.
It's Duke Nukem meets Jeremy Robinson
If you love Duke Nukem, want a challenge out of your gaming experience and enjoy shoot 'em ups then this game is for you! The game features contra-style powerups, cut-scenes with hilariously over-the-top dialog and an ending that anyone who loves "the lulz" will roffle over.

This is a game based off of one of Jeremy Robinson's books, Pulse. In the game you play as Rook from the book, and as you play he spouts off one liners Duke Nukem style (which is awesome) - similar to how he is in the book.

The game switches from a fixed shooter (moving up and down the screen) to a multi-directional shooter (moving across and up and down) during each level. It has 3 difficulty levels so even a "sucka" can have fun playing it.

So, if you want a laugh and a solid game to play, and you have $.99 laying around - which I KNOW you do, then give this game a go!
Rooked-Pulse
Bought the game last night and could not put it down. Went to work tired and grouchy but at least I saved mankind from total annihilation. Rooked-Pulse is Rambo meets Contra meets the Nasty Boys. If you are in the mood to shoot mutant capybaras, zombies, mad scientists and a hydra this game is for you. Well worth the change you can find on the floormats of your.
Information
Seller

Jeremy Robinson

Size

26.6 MB

Category

Compatibility

Requires iOS 3.0 or later. Compatible with iPhone, iPad, and iPod touch.

Age Rating

Rated 12+ for the following:

Infrequent/Mild Mature/Suggestive Themes

Infrequent/Mild Horror/Fear Themes

Infrequent/Mild Realistic Violence

Infrequent/Mild Profanity or Crude Humor

Frequent/Intense Cartoon or Fantasy Violence

Copyright

© 2010 Jeremy Robinson

Price

Free
Supports
Family Sharing

With Family Sharing set up, up to six family members can use this app.