Rough Draft
By 96Problems K.K.
Open the Mac App Store to buy and download apps.
Description
You don't need another "text editor." That's why Rough Draft makes editing tough, so writing is easy.

Ever write your first draft on a notepad? Writing on paper, you let go and just get your idea out. You don't get caught up perfecting the words too early. Rough Draft is like writing with pen and paper, so you can't delete words, only cross them out. Each "edit" reminds you that you're writing a rough draft.

Rough Draft also supports your drafting with:

• Placeholders - Simple tags for where a picture, video, quote, or other supporting info will be added later. Stay focused now, and give supporting elements the focus they deserve later.

• Sidenotes - Easily create and drag-and-drop sticky notes for those genius ideas you get when writing you're in flow (but aren't sure just where they will fit yet).

• Clean Export - When you're done drafting, Rough Draft can remove your scratched-out words, and export a clean ready to revise draft to your favorite text editor or direct to Medium.
* Clean exporting is a paid feature, but as a small "Thank you!" for trying Rough Draft one is included free.

• iCloud Syncing - Start drafting on your iPhone, continue on your iPad, and finish on your Mac.
* Mac-to-Mac syncing is free, and Mac-to-iOS syncing is unlocked when you purchase Clean Export.

• Rough Export - Feel free to draft to your heart's content: with Rough Draft you can export your "rough" drafts for free forever. (But we recommend Clean Export to get your rough ideas polished and ready to publish!)

• Dark Mode, Word Count Goals, & Settings - Fit Rough Draft to your liking with simple settings, whether you want to start with a blank white sheet, or get lost in the dark.

• Draft Management - No need to manage folders in Finder; Rough Draft's got you covered with a complete file management system in-app.

• Writing Prompts - Need to get some creativity flowing? For those times when you need to write but aren't sure where to start, borrow a writing prompt straight from Reddit, delivered via Rough Draft.

Along with many more subtle features to support your writing flow! If you've made it this far, we recommend experiencing Rough Draft for yourself – we made it free to try so you can check it out and decide if you love it or hate it without any commitment.

––––––
(Note: Rough Draft does not currently support Japanese, Chinese, Korean, or languages that write right-to-left – but we're working on it!)
What's New in Version 1.7.9
In this update we've removed the OnlyRoughDraft.com rough export option.
We've decided to shut down this draft sharing network to focus on improving and adding to the features that writers are using the most.

Also, we fixed a crash happening when removing words using the option+delete keystroke and fixed the file format that drafts export to.

Chatting with us is as easy as the tap of a button in the Settings menu, so get in touch :)
Screenshots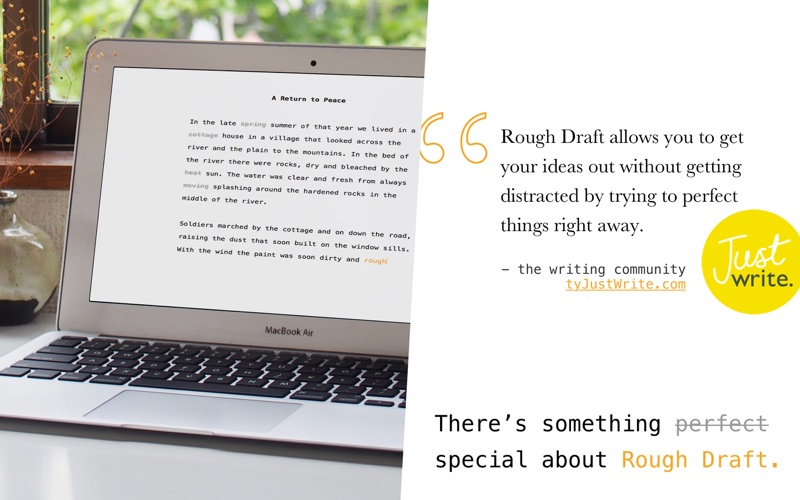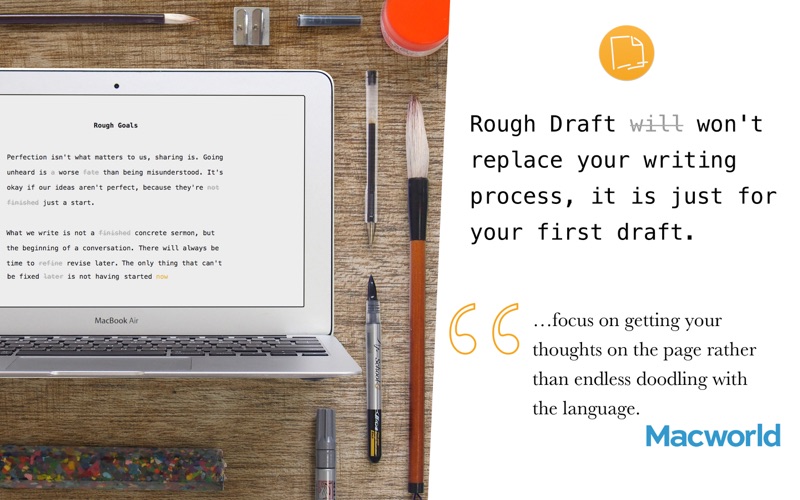 Customer Reviews
cool idea, terrible execution
This is a very cool idea, and I would love for it to work — but as you can see from the constant stream of updates, the quality control for this thing is pretty chaotic.

Right off the bat, it becomes so laggy as to be totally unusable on my 27" retina iMac. I mean, so slow that words take 5-10 seconds to appear on screen. In regular window mode it seems OK-ish?

I made a comment in my previous review (see below) about how weird the format of the rough draft export was to bring into a Markdown app for safe keeping — and they immediately (in one of the near-daily updates to this app) changed it to .rtf, which makes it a lot harder to do what I was doing. Classy! I'll be moving on, thanks guys.

-------------------------------------------
Lastly, the format for an export of a rough draft file is some insane mess of custom tags instead of, say, standard Markdown. If you take the time to do a bit of find/replace, you can change the weirdo tags it uses to mark deleted text, and replace with "||" so you can paste the whole thing into Ulysses or some other Markdown-aware editor and have a permanant copy of your rough draft with all the deletions marked. That's what I was thinking of doing (have no other use for this thing), but this app is too unstable to use for more than 5 minutes.
Great idea but buggy
I really like this app, and I've been on the fence about buying the full version but at the moment it's just way too buggy to recommend. As I write this review I'm looking at what I've written appear somewhere in a negative margin on the left side of the app window so I can only read the last 3-4 words of each line. It crashes on startup 100% of the time and will only work when I restart. Window resizing is painfully slow. All this on a one year old macbook pro with 16gb of ram. Not exactly a low end laptop.

If the quality improves I'll be sure to update my review but at the moment this is only good enough to test out the concept and see if it works for your writing style.
I finally gave up
It is an interesting idea, just throwing down your ideas and editing the flow later, kind of seeing where the idea came from…if it worked. My problem was that it wouldn't paginate correctly. I always saw half the words, split down the middle. Imagine if you were looking at a page and covering it with one eye.
At first, support was good in working with me, but ultimately they seemed to drift off elsewhere without fixing my issue. So I removed it.
View in Mac App Store
Free

Category:

Productivity

Updated:

Sep 15, 2016

Version:

1.7.9

Size:

10.4 MB

Languages:

English, French, Italian

Seller:

96Problems K.K.
Compatibility: OS X 10.10 or later, 64-bit processor
Top In-App Purchases
Unlock Exporting (Mac & iOS)$24.99