Routinist - Morning Routine
By Timothy Johnson
This app is only available on the App Store for iOS devices.
Description
Routinist helps you achieve goals and build habits by scheduling time for them as part of your everyday routines.

***WHY***

I built Routinist because I got tired of having excuses for why I wasn't taking action on my goals: I don't have time... I'm too tired… I forgot… etc. Routinist eliminates these excuses for me.

Becoming a better you is hard. It requires motivation, planning, commitment and execution. Only you can keep yourself motivated and committed over the long term. The purpose of Routinist is to help with the planning and execution parts, so you can improve your health, achieve your goals, and continue becoming a better you.

***HOW***

Step 1: List your typical morning routine actions and estimate time for each action. This can be super simple (get ready for day for 45 mins), or as detailed as you like (floss 1m, brush 3m , shower 10m, shave 5m, etc.).

Step 2: Enter your desired sleep and Go Time (the time you need to leave for work).

Step 3: Add new actions (those small steps towards your goals like flossing or exercising) and their estimated time, and insert them into your routine.

Routinist uses this info to remind you when to wake up and go to bed so you have time for your routines and get the sleep you need. Take action during the time you most control: your mornings and evenings. Routinist removes the 'when' so you can focus on the 'what'.

***WHAT***

• Build morning (and evening!) routines
• Wake up and bed time reminders
• Understand your time constraints and prioritize
• Reduce decision fatigue
• Optimize your routine: tweak the time, order and frequency of actions for any routine any time (yes – even during an active routine)
• Complete actions, skip actions, and undo skip/complete as needed
• Continuously updated routine completion times
• Timers & notifications for each action
• Apple Watch! Complete, Skip, Pause & Resume from the notifications on the Apple Watch or iPhone notification center
• Flexibility: schedule actions on certain days each week or every x days, x weekdays, etc.
• Dark Mode
• 120+ action ideas with suggested times

***WHO***

You.

Routinist is probably very different from any other app you've tried, and it takes some getting used to. But I strongly believe this unique approach to achieving your goals will make your life better.

"Anyone can list out their goals, but they will be quickly abandoned without the help of an app like this… No other goal app compares to Routinist. Worth the time to learn." - Review Mar 11, 2017

"This app enabled me to establish a regular morning routine for the first time in my 45 years of life." – Review Oct 25, 2016

"If you have different times for leaving to work/school everyday but similar morning tasks this is perfect. It is worth the time to try it." – Review Feb 25, 2017

"Your app has enormous potential in helping others reach theirs." - Email Mar 20, 2017

***WHEN***

Now! :)
What's New in Version 3.5
WARNING: There is an iOS bug that will cause Routinist to crash and reboot your phone 15 seconds after opening the app. Please install iOS 11.2 for the fix! Thanks!!!

Version 3.5:

Bug Fixes

Version 3.4 notes:

***IMPROVEMENTS***
• Prorated Completion Times -> If you mark multiple actions complete within 10 seconds of each other ("stringed actions"), Routinist now smartly prorates the total time between the stringed actions (based on a ratio of your estimated times). Sometimes we remember and complete multiple actions without immediately checking off each action as we complete it. This feature approximates the time each action took instead of allocating all the time of the stringed actions to the first action in the string.
• 3rd-Shift Worker Ready -> You can now set your Go-Time to anytime of the day (including PM hours)!
• 24-Hour Time -> For those who use 24-hour time on their phones, Routinist now displays all times in as 24-hour times.

The all-time average US App Store rating is only 3.3 stars. If you think Routinist deserves better than that, please take a minute to give us a rating. Just tap the Routinist icon, -> tap "Review" -> tap "Write a Review".

Thank you for your support!

Please email routinistdeveloper@gmail.com if you have thoughts/questions/suggestions/etc.


Version 3.3 notes:

*** NEW ***
• Light, Dark or Mixed Mode -> This version introduces dark mode. Routinist will default to a mixed mode (morning routines will be light, evening routines will be dark), and there are options to change to dark or light mode in settings.

Version 3.2 notes were:

Bug Fixes

Version 3.1 notes were:

The new feature included with this update is all about saving you even more time.

*** NEW ***
• Actionable Notifications for Apple Watch and iPhone! -> Start, Complete, Skip, Pause & Resume from either your Apple Watch or the iPhone notification center. This maybe even more useful than an Apple Watch app and is perfect if you want to quickly complete an action or see what's next without unlocking your phone.

*** IMPROVEMENTS ***
• Sped up some of the animation transitions.
• When completing or skipping an item out of order, the routine no longer scrolls to the top unchecked item.

Version 3.0.2 notes:

• Since the last update, I discovered that if you are using an iOS version earlier than 10.2.1, you were still getting the crashing upon marking an action complete. This is now fixed.

Version 3.0 Release Notes were:

I think we can all agree that Routinist wasn't the prettiest looking app on the App Store. In version 3.0, Routinist bolsters its self-confidence and app appeal with a new look.

*** NEW ***
• Design Overhaul -> From the app icon to the settings menu, every element of the app has been redesigned and many animations have been added.
• Minimal Active Routine Info -> For those who prefer less information during your active routine, you can now retract the top section of the app so that only your go-time and projected finish time are shown.
• Play/Pause Button -> The play/pause button is now the routinist logo image. Tap to start, pause and play your routine. While the routine is playing, this logo will slowly rotate. When paused, the rotation stops.
• Active Routine Indicator -> To quickly get back to your active routine, there is now a small blue underline below applicable day button.
• Evening Reminder Notification -> Now, you can select which days you would like to receive the evening notifications or turn them off entirely (previously, they were always on).

*** IMPROVEMENTS ***
• Decluttering -> The active action is now the only action which shows a progress bar during your routine. Once the routine is over, the routine will automatically go to review mode displaying all progress bars until the routine is cleared. Clear by starting a new routine or by long pressing the pause/play button.
• Save & Add Another -> Allows you to save a new action and add another without going back to the main screen first.
iPhone Screenshots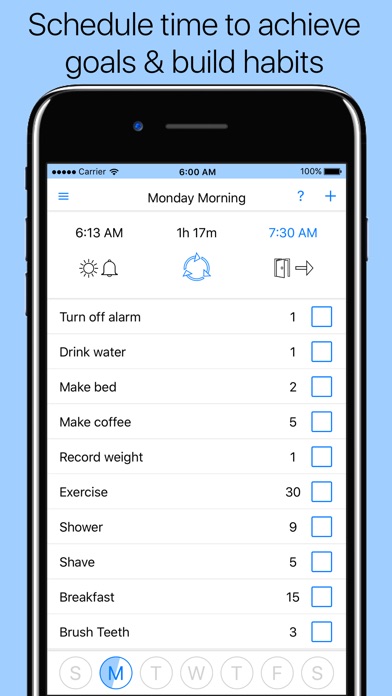 Customer Reviews
Made life better!
I absolutely love this app! I used to have a note that told me what tasks to do in the morning and before bed and this is just a huge upgrade for me. It automatically calculates the time and starts the next activity and I can skip items. It's just made the start of my day so much better I feel happier and more focused when I get to work in the morning because I know that everything has been going well In the day so far. It also helps me relax and sleep better at night knowing everything is done for the day. My house is more organized since I have a daily task to do the dishes and pick up. I love that it calculates what time you should start your night routine and when you need to go to bed and I love that it calculates when you should wake up in the morning in order to leave the house in time. This app has kept me from getting distracted on Facebook for example in the morning when critical test need to get done I'm just so happy this is my favorite app on my phone. Thank you so much to the developer.
Focus on morning and evening routines
I've used this app for a week, and live it so far. At first I thought being restricted to morning and evening routines would be too limited, but it turns out that if you get those down, the rest of the day falls well into place. A bit daunting at first, I did the tutorials and then tweaked my routines for a couple of days to get them right. What once was complicated now seems very flexible and powerful. Thanks!
Great app that gets better all the time
Routinist has been on my phone for a long time—years at this point. It does things that no other app can do. In the time I've owned it, it has gone through multiple refinements that make it more powerful and easier to use. Love it.
View in iTunes
Free

Category:

Productivity

Updated:

Oct 12, 2017

Version:

3.5

Size:

41.3 MB

Language:

English

Seller:

Timothy Johnson
Compatibility: Requires iOS 10.0 or later. Compatible with iPhone 5s, iPhone 6, iPhone 6 Plus, iPhone 6s, iPhone 6s Plus, iPhone SE, iPhone 7, iPhone 7 Plus, iPhone 8, iPhone 8 Plus, iPhone X, iPad Air, iPad Air Wi-Fi + Cellular, iPad mini 2, iPad mini 2 Wi-Fi + Cellular, iPad Air 2, iPad Air 2 Wi-Fi + Cellular, iPad mini 3, iPad mini 3 Wi-Fi + Cellular, iPad mini 4, iPad mini 4 Wi-Fi + Cellular, 12.9-inch iPad Pro, 12.9-inch iPad Pro Wi-Fi + Cellular, 9.7-inch iPad Pro, 9.7-inch iPad Pro Wi-Fi + Cellular, iPad (5th generation), iPad Wi-Fi + Cellular (5th generation), 12.9-inch iPad Pro (2nd generation), 12.9-inch iPad Pro Wi‑Fi + Cellular (2nd generation), 10.5-inch iPad Pro, 10.5-inch iPad Pro Wi‑Fi + Cellular, and iPod touch.
Top In-App Purchases
Routinist Premium$11.99
More iPhone Apps by Timothy Johnson