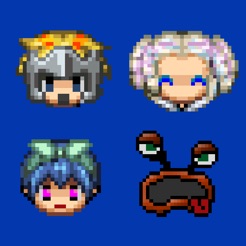 Sagas : RPG Boardgame and Name Generator
9+
Description
WHAT IF...a Random Name Generator was made into a Boardgame?

*** Game/Utility Modes ***

BOARDGAME. Play a fantasy rpg boardgame based on randomly generated names! Control randomly generated heroes, go on random quests, slay random monsters, find random treasure, rescue random damsels for no apparent purpose!

GENERATOR. In case you are just looking for a good fantasy random name generator for those times on the bus/metro/subway/underground/boat/camel ride when you need some inspiration and the web is just not there, this is for you. Great for writers, role playing dungeon masters, or game makers like us! We've tried to put as many categories as we can think of, with more to come in future updates!

*** Name Categories ***

-----1 MILLION+ CHARACTER NAMES-----

Fantasy Hero & Heroine, Norse Male and Female, Welsh Male and Female, Greek Male and Female*

-----281,000+ BEINGS AND NPCs NAMES-----

NPCs, Villains, Monsters, Spirits, Dragons, Mixed Races

-----680,000+ ITEM NAMES-----

Materials, Artifacts, Forged Weapons, Magical Weapons, Evil Weapons, Armors, Accessories, Books, Potions and Food*.

-----486,000+ SETTING NAMES-----

Realms, Outdoor/Worldmap locations, Shops, Inns, Buildings, Dungeons

And a random number of randomly generated Quests which we really don't know how to calculate due to too many random factors. But currently there are only 45 templates, so don't get too excited.

******* SUPPORT *******
* For updates and news, follow us:
Twitter: https://twitter.com/WatermarkRPG
Facebook: https://facebook.com/watermarkrpg

*** Footnotes ***
*1 technically, there are 175,994,186 total possible combinations for the names, but accounting for interchangeable name patterns, some prefix or suffix similarity (e.g. Dragonbane, Dragonstar, Dragonshadow), and names with creative pronunciation, let's just say you have at least 1 million+ good names.

*2 technically, there are 17,640,000 total possible combinations for the Food category alone, including say Garlic and Banana Taco, or Steamed Apple Wakame Chili. Since it will skew the item count, we excluded this count. We kinda went crazy there. Don't ask why, we don't know.
BOARDGAME:
- Fixed iPhone4 "Black Screen" bug
- Added "Legendary" mode for Boardgame. Now players may complete a grand quest and battle bosses in addition to the original "Wanderers" free play mode
- Added "Training" events during board encounters
- Tweaked battle algorithms for better play
- Fixed minor dice bugs

NAME GENERATOR:
- Tweaked naming algorithms for better names
- Added Training plot names
- Added Weapon suffixes to naming system
- More food!
Ratings and Reviews
Great game, but just short of being an Awesome game!
So, this is a very fun game to play, and for a free app I think it'd be hard to complain at all about the quality you get for absolutely no money spent. However, if there is a desire to better the app, it would be awesome to have both male and female avatars for each class. I don't like being forced to be a female when I want to be a Cleric... The only other thing is, and I fully get that it is a generator app so it may defeat the purpose, but I can't choose among the generated names for my character. A name is forced on me every time. It'd be nice to choose among some generated names. And, finally, a purely selfish request of mine would be to be able to make my own maps using your templates. Or at least have a random map generator using the templates. I get that the game events and names change each time, but the layout is always the same, which takes away from some of the fun. ( I would be willing to pay a few dollars for these types of upgrades!)
I love this app, though, and highly recommend it as it is. Give it a shot!
Great but....
This game is a ton of fun to play but I wish that you could zoom in and out and observe the board
Nice concept! hope to see future updates
board graphics can be improve. dice is not smooth animated
Information
Seller

Shawn Wu Yen

Size

19.2 MB

Category

Compatibility

Requires iOS 5.0 or later. Compatible with iPhone, iPad, and iPod touch.

Age Rating

Rated 9+ for the following:

Infrequent/Mild Cartoon or Fantasy Violence

Copyright

© 2011 Watermark RPG

Price

Free
Supports
Family Sharing

With Family Sharing set up, up to six family members can use this app.