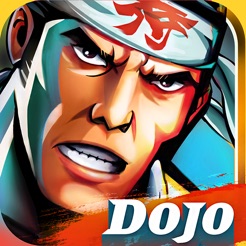 Samurai II: Dojo
17+
Free
Offers In-App Purchases
Description
☞ ☞ FULL GAME FOR FREE !!! ☜ ☜
☞ ☞ Show your friends how beautiful games you have on your iPhone! ☜ ☜

☞ ☞ Top 10 or Top 5 Free Apps in many countries, including USA, Japan, China !!! Thank you very much !!!! ☜ ☜

☞ ☞ More then million downloads ☜ ☜

★ Free survival mode pits the samurai against waves of enemies, giving players a score-attack mode to hone their skills.

★ Universal app - supports iPhone 3G, iPhone 3GS, iPhone 4, iPod Touch 3G, and iPad. The game is optimized to take advantage of each device's strengths.

★ Intuitive virtual joystick ensures you're slicing up baddies, not swiping the screen.

★ Dynamic camera finds the best perspective for each encounter, adding variety while keeping focused on the action.

★ Tense, quick and gory battle sequences!
- Battle hordes of on-screen enemies wielding new weapons and sporting unique abilities.
- Stay nimble and plan your attacks – roll out of harm's way and eliminate ranged enemies like the Samurai Archer before they can strike.

★ RPG elements reward skilled players – upgrade the Samurai's health, buy new attack combos and upgrade them to devastating levels.

★ Runs at 60 frames per second on iPhone 4G, iPod 4G and iPad.

★ Advanced AI system on par with console games. Goal Oriented Action Planning architecture is used in many PC, PS3, and Xbox 360 games.

★ Samurai II is developed on the Unity 3D 3.0 engine, the latest technology available on mobile devices.

★ Apple Game Center support, including Leaderboards and Achievements.

★ Original soundtrack – in classic samurai movie style, soft music builds with the heat of battle.
★ Easy mode is more easy !!!
★ Removed iAd (no slowdowns on 3G) !!!
★ Increased FPS
★ Optimized memory usage
★ Build with latest Unity 3.2 release
Ratings and Reviews
One of the best series on the app store.
After playing the first samurai game a while back, I was deeply impressed with the fast, fluid combat system and the gorgeous art style. The first game utilized a unique system of movement and combat. You had to drag your finger to where you wanted your samurai to go and could perform various combos depending on which direction you flicked your finger across enemies. I really liked this and was a little disappointed when I saw that they had replaced that with traditional buttons and stick movement. Despite that, Samurai 2 and this game (which I believe is meant to be a preview of the second game) actually manage to be better than their predecessor. The art style has been revamped and drastically improved with even brighter colors and sharper pictures. The combat system has gotten even faster and new, more devastating combos have been added. You can now dive roll to evade enemies which makes the combat even more fast paced.

I have cleared this game twice now on Ronin difficulty and I have to say it gets better every time I play. I'm currently number 12 on the leaderboards. Look me up!
Nice, tool to get you to buy their games.
This is fun, it is also challenging. I don't know why it has "mild/mature suggestive themes" as part of the rating because all you do is fight little guys, there's nothing wrong with that aspect. It is a little gory; i.e. you can cut guy's heads off, chop them in half, and cut them down the middle. The blood "spurts" onto the screen sometimes. It is pretty realistic.

Obviously though, this game is just meant to get you hooked so you want the other versions of this game. It has no story, you only fight guys in an arena type setting. It is certainly great for free, and the "ads" are tiny things at the top of the screen you don't even really notice them. I don't usually bother to review a free game but I thought this deserved it.

I would love it if they rest of their games were free for a day.
I'm mildly impressed.
It's actually kind of impressive for a samurai game, but it falls short in many ways. For one, it feels extremely difficult, even on easier modes. I couldn't get past the normal mode at all because of it's difficulty spikes.

Although, I do have to commend the game for giving you neat combos and stuff. You can even upgrade your normal combos to make them better, and I like it when video games do that.

However, another shortcoming is no story mode. In fact, there's a dwindling amount of content in the first place. It's just sort of "here, kill these guys," just with different difficulties. I also don't really like how the point system works. The moves you've unlocked save, but your points don't save when you die. Kiiinndddddaaa like dark souls I guess, but it's not okay here because combos can become expensive later on and you can only earn coins by killing enemies or buying them.

Overall rating so far: 7/10
Information
Seller

MADFINGER Games, a.s.

Size

20.2 MB

Category

Compatibility

Requires iOS 3.1.3 or later. Compatible with iPhone, iPad, and iPod touch.

Age Rating

You must be at least 17 years old to download this app.

Infrequent/Mild Mature/Suggestive Themes

Frequent/Intense Cartoon or Fantasy Violence

Frequent/Intense Realistic Violence

Copyright

© MADFINNGER Games, a.s.

Price

Free

In-App Purchases

Thanks To Developers

$0.99
Supports
Game Center

Challenge friends and check leaderboards and achievements.

Family Sharing

With Family Sharing set up, up to six family members can use this app.