Scoops - helado de diversión para todos
Por NimbleBit LLC
Abre iTunes para comprar y descargar Apps.
Descripción
Más de un millón de personas están gritando por el helado!
Pila de su cono de helado alto en el cielo por la inclinación del teléfono a la izquierda y la derecha, tomando como bolas como puedas, evitando las verduras (vegetales son grandes, aparte de helado!). Cuanto más se asciende, más rápido caen, y más tambaleante la torre! Pila de colores similares para puntos extra.

¿Se puede apilar su cono más allá de la luna? El tiro en algunas canciones en el iPod, y comenzar a apilar! Palas es divertido para niños y adultos por igual, todos en la familia puede tomar un giro.

Características:
- 13 premios reto
- 7 de clasificación en todo el mundo
- Temas visuales 6
- 5 divertidos Plus + avatares
Novedades de la versión 2.6.2
- Fixed crashing on older versions of iOS
Capturas de pantalla del iPhone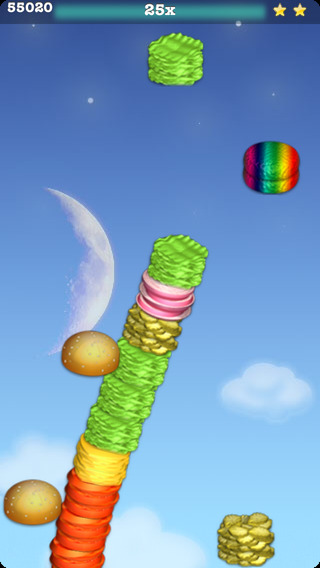 Reseñas de usuarios
Awesome
This is the best team in history I love it soups is like my favorite game I hope I hope your viewers are listening to this right now I'm by reading right now by this game for free it's the best thing ever I love it I gave it all the stars all five stars oh yeah that's right OK I love this game I'm really excited about it I really hope I really hope you get this game is like the best thing in the world:-) :-) :-)***In the world will be by the awesome you should get this game doesn't matter how other people explain it other people give it one star they want to zero they can't don't listen and this is the best game and just tell Bree this is awesome why why why you should get his game why shouldn't you the best game in the world but OK Buy it now OK listen to me listen to me this is the best game in the world so you're going to buy you don't I don't care it's just asking in the world you should buy it :-)! OK this is the game you should really buy doesn't matter what other people say I love this game!!!!!. :-) :-) :-) :-)****** nothing in the world I want to OK so Siri is and what the best thing to know that I will locate freaking out it's all good I don't like zero onion is the best game in the whole world I love this game ice cream now is my number but just I love game boy oh my gosh you are in the top of my list this is the best game in the whole tire world by Mrs. daddy bye this is Eddie bye
Crashes too much
This is a good game but I would like it better if it would stop crashing because I have an older version of iOS and it will crash whenever I end a game. The new update claims to have stopped that but it didn't on mine so I don't know if it will on other people with older iOS versions. But that is literally the only thing bad about the game it's a great game but then it crashes. Fun game.
I love the different backgrounds!
Personally I think this game is genius, especially the backgrounds because they can match you mood. Not only do you get different scoops but a different background and envoirment I really like the Kawaii version! So cute! This fans is great and a portal to similar and different versions. Thanks for scoops!
Ver en iTunes
Gratis

Categoría:

Juegos

Actualizado :

06/12/2014

Versión:

2.6.2

Tamaño:

7.0 MB

Idiomas:

Español, Alemán, Francés, Inglés

Vendedor:

NimbleBit LLC
Compatibilidad: Requiere iOS 5.0 o posterior. Compatible con iPhone, iPad y iPod touch.
Top compras dentro de la app
Pequeños Pasteles Tema$0.99
Kawaii Tema$0.99
Tema Monstruo$0.99
Doodle Tema$0.99
Sombreros Tema$0.99