SCRABBLE Premium
By Electronic Arts
This app is only available on the App Store for iOS devices.
Description
CONNECT WITH FRIENDS. PLAY WITH WORDS. Get a game of SCRABBLE going with just about anyone – or play solo against the computer! Plus, now you can play SCRABBLE in English, French, Italian, German, Spanish, or Brazilian Portuguese.

WHO WILL YOU PLAY?
• Challenge friends via Facebook and more
• Find an instant opponent with a single touch
• Play solo against the computer to improve your skills
• Get numerous games going at once – more than any word game on the App Store

SHOW OFF YOUR SKILLS
Connect to Facebook and share your best scores. You can even talk a good game with enhanced chat and notification features.

IMPROVE YOUR SCORES WITH THE TEACHER
Become a SCRABBLE master with the exclusive "Teacher" feature - see what your best word could have been after every turn.

LOSS FOR WORDS?
Use the in-game word list, built-in official SCRABBLE dictionary, or the exclusive Best Word feature to see your highest scoring choices.

THINK FAST
Want to recreate the feeling of a real-time in-person game? Try the new Speed Play mode where you and your opponent agree to 2 or 5 minute turns. If words aren't played in time, nudge and forfeit options are unlocked.

LOOK SHARP!
View every detail on the board with HD-quality graphics made to maximize the Retina display.

Ready for the first and last word in word games? Don't accept imitations. Just say, "LET'S PLAY SCRABBLE!



Requires acceptance of EA's Privacy & Cookie Policy and User Agreement.
What's New in Version 5.21.1
Scrabble Players, We've made some additional behind-the-scenes enhancements to further improve your Scrabble experience. Thanks for playing!
iPhone Screenshots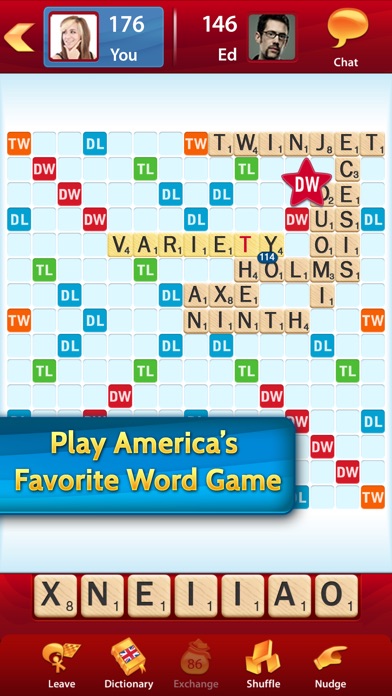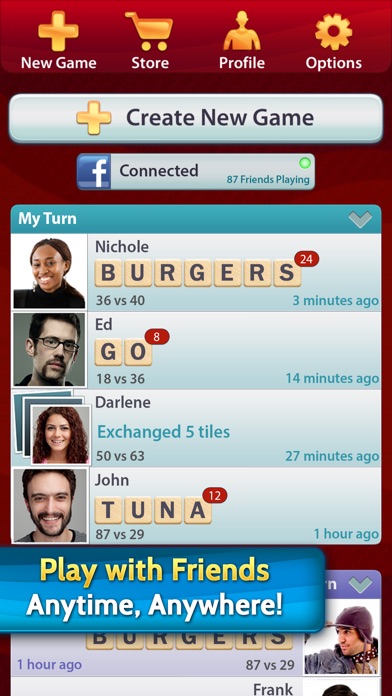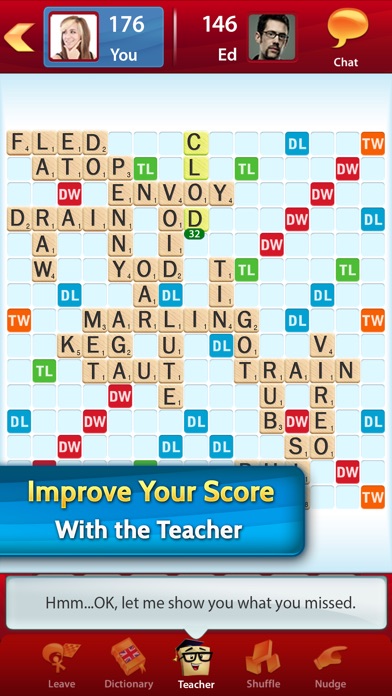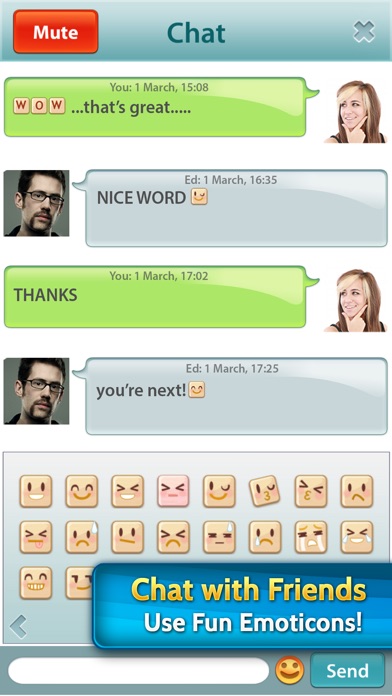 Customer Reviews
They deleted several current games
What has happened to scrabble?!

REPLY TO DEVELOPER: thanks, but your advice did not help. I had tried several of the suggestions, like closing all apps, closing the scrabble app, etc. Then I installed the update, and that's when everything disappeared. I was able to reconnect to your server but years of game data was gone.

I do not like the update, either. You've installed dictionaries that no longer recognize many, many words including several of the two letter words. CH, for example, is no longer a word so C has no two letter possibility. ZA, JO, GU, and many more words are gone.

Really crappy update. Responsible for losing all my game data and for poorer game play.

First, about a month ago, they deleted several ongoing games. Just zapped them away, along with records of the last 10 games. I suppose I've lost them all, though I was winning all but one.

Second, the game will now not connect to the server, despite phone settings. I've even given scrabble permission to use cellular data, but the game still will not connect.

Third, and this is a long-standing gripe, the dictionary will not allow you to select a place in a word to add or delete or change a letter. You have to type the darn thing out completely every time.

EA, you need to fix this now. You charge $10 for this app and that implies quality support.
Working pretty well
Aug 31, 2017 —notifications seem to work, the game loads quickly. Chat issues persist as noted below.

One bad programming choice I wish they'd fix is after going into the dictionary to look up a word, the game cycles back to animating the opponent's recent move, and move my letters back to my rack if they were on the board. WHY DO THAT?

---------------------------------------

***SIGH*** May 27th — okay so they have fixed the volume dim. I appreciate that. There are a few steps backwards, though. Notifications are broken, and game loading gets a perpetual hang until I force quit and restart. On chat, still no autocorrect and now another issue has cropped up; when I type a message that is longer than the short window I can't see what I'm typing.

The underlying game is good, but it's frustrating that they can't quite get it working well after all these years.

------------

This March 21 update broke Scrabble for me. I deleted it and then reinstalled, and so far it's working well. It's been about 24 hours without further problems.

Two issues I really want them to correct:
Don't dim the volume of other programs while I'm using Scrabble.

Turn autocorrect back on for the in-game chat.
This app has somehow managed to get WORSE over time
The app has never been amazing but because I enjoy scrabble, the game, I've used it for years. However even by the low standards I'm used to, it has gotten buggier. When I type messages, if I type a message longer than the length of the field, I can't see the message. This on top of it already not supporting basic stuff like spellcheck. When I use the dictionary, half the time the X button doesn't respond. After I move from the dictionary back to the board, any tiles I have placed return to my rack. Probably most frustrating is that a lot of times I don't get notifications letting me know it's my turn to play, even though I have all notifications turned on. This is simple stuff that used to work, so I'm not sure what the issue is that this app keeps deteriorating.
View in iTunes
$7.99

Category:

Games

Updated:

Aug 29, 2017

Version:

5.21.1

Size:

176 MB

Languages:

English, French, German, Italian, Portuguese, Spanish

Seller:

Electronic Arts Inc.
Compatibility: Requires iOS 8.0 or later. Compatible with iPhone, iPad, and iPod touch.