Secret of Mana
By SQUARE ENIX INC
This app is only available on the App Store for iOS devices.
Description
---
July 18, 2014
Gamepad support has been added.
---
Initially released in Japan in 1993, Secret of Mana took the world by storm with its innovative real-time battle system and gorgeously rendered world. It continues to stand out among other action RPGs for its seamless gameplay that anyone from beginner to veteran can enjoy.
One of the most memorable elements of the Mana series is the Ring Command menu system. With the single press of a button, a ring-shaped menu appears on the screen, where players can use items, change weapons, and do a variety of other actions without needing to switch screens. This Ring Command menu system for which the Mana series is so well known was first introduced in Secret of Mana and has since appeared in most games in the series.
Play as Randi and his two companions, Primm and Popoi, as they adventure all around the world. At the center of our epic story is the mystical power of Mana. Battle the empire in its quest for control of Mana. Befriend the eight elementals who wield the forces of nature itself. Numerous encounters await at every turn.

Additional Information (reference only):
ESRB Rating: E10+ with Mild Fantasy Violence and Mild Suggestive Themes

------------
1993年8月6日,《聖劍傳說2》在超級任天堂上發售,以當時的新概念系統"動作戰鬥"博得了相當的人氣。這是一款將指令戰鬥的戰略性融入到即時、無縫戰鬥中的角色扮演遊戲,無論新手還是老玩家都能從中體驗到充分的爽快感。

"指令環"是《聖劍》系列的特色系統之一。按鍵後畫面上會出現環形的選單,不需要切換畫面就可以使用道具、更換武器,是一種非常方便的系統。這一系統在《聖劍傳說2》裏首次登場,之後為整個系列所傳承。

玩家將操作主人公Randi,以及他的夥伴Primm和Popoi行動,隨著劇情的展開而前往世界各地冒險。本作劇情的關鍵,是肉眼無法看見的強大力量"瑪娜"。與覬覦瑪娜之力的帝國軍隊作戰、邂逅掌管自然之力的精靈們……在他們冒險的旅途中,將會有諸多有趣的故事在前方等待著。
What's New in Version 3.2.0
●iOS9 Compatibility
The following bugs have been addressed:

・The application does not launch.

Thank you for your patience and understanding, and we hope you continue to enjoy playing Secret of Mana.
iPhone Screenshots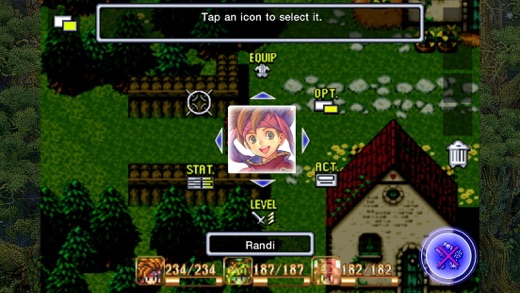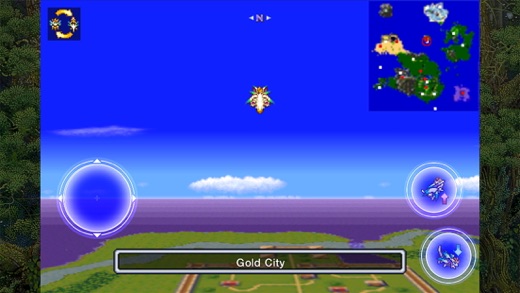 Customer Reviews
Sorry SoM
Secret of mana was a great game growing up and I don't have any problem supporting the port over by buying the app.

However playability is a whole other thing.

The button configuration menu only allowed me to change the direction button, not the action buttons.

There was no difference between layout 1 and 2.

When walking through doors my characters would often run back in the opposite direction (inside or outside) I was heading. This is because the pressure settings are too sensitive and when I put my thumb down I have to be really careful in the direction away from the entrance I am heading in.

Finally was the character action settings, when set to avoid, the non controlled character just skips around the screen very glitchy like. When set to help controlling character it very lazily helps to attack a creature. Sometimes it will sometimes it just waits for awhile. And when the action is set to attack the character just goes and gets killed.

So I love SoM and don't mind supporting the devs but the game for me isn't playable on the iPhone 7 plus.
Music not working?
Okay, 2 minutes in on the iPhone 6s Plus and the music stopped working. Sound effects still did, but the score didn't. Easy fix, just save the game, close the app out completely, then restart it from the last save. I'm assuming this happened because I got a phone call while playing and it the phone overrode the program's music. Either way I saw people posting this issue, and this is what resolved it for me. 5 stars for nostalgia, only wish I had the old 3-player snes hook-up! 😄
Very nice.. But!
This is a very nice game and was my all-time favorite game growing up as a kid. To have it on my cell phone now really makes me happy!

Everything is great.
Here's the but part, I don't know why whenever you kill a boss and and everything goes white and heros pumping there fists, I get turned off when the sound effect of killing the boss gets cut off. I want to hear the whole thing.. Sorry, it was one of my favorite sound effects after killing a boss.
View in iTunes
$7.99

Category:

Games

Updated:

Oct 19, 2015

Version:

3.2.0

Size:

192 MB

Languages:

English, French, Japanese, Simplified Chinese, Spanish, Traditional Chinese

Seller:

SQUARE ENIX Co., Ltd.
Compatibility: Requires iOS 9.0 or later. Compatible with iPhone, iPad, and iPod touch.