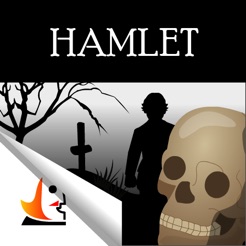 Shakespeare In Bits: Hamlet
9+
Description
***

This resource is provided for personal use only. It must not be used for whole-class instruction via whiteboard or projector, unless every student in the class also has their own digital copy.

***

Immerse yourself in one of Shakespeare's most powerful and influential tragedies as Shakespeare In Bits brings you on a journey of deception, revenge, treachery, indecision and moral decay through the fabled and tragic character of Hamlet. Shakespeare In Bits: Hamlet is the only study guide you will need to teach, understand and appreciate one of the most celebrated works of the famous Bard.

With over three hours of unabridged text, fully animated re-enactment and complete professional audio soundtrack, Shakespeare in Bits: Hamlet is the only study guide you need.

Experience Shakespeare in all his glory

Completely unabridged

Understand and appreciate the linguistic richness of Shakespeare's Hamlet with the original play text, broken into easily digested 'bits'. In-line translation helps to understand difficult words and phrases within the context of the original play text.

Hear it, See it

Over three hours of high-resolution animation with professional audio soundtrack help you to decode and comprehend Shakespeare's fertile prose quickly and efficiently. The text, presented side-by-side with animated action, is easy to follow with portions of text being highlighted as they are being spoken in the play. The integrated combination of text, audio and graphics is designed to facilitate learners of varying abilities and learning styles.

Character Building

Biographies for each cast character can be accessed from the main play or through a dedicated Cast feature. An illustrated character relationship map demonstrates key characters and their inter-relationships in the play.

Ace that Exam

Each Shakespeare In Bits title provides a wide selection of integrated analyses and study notes for each scene to help you understand plot summaries, key themes, language, imagery and quotes from the play. An easy-to-navigate visual scene selection menu is also provided to help you to quickly get familiar with the play's sequence of events or to jump to your scene of choice.

Product Features:

- The unabridged original play text, broken into easily digested 'bits'

- Complete notes, summaries, and analyses for each section

- A unique in-line translation system for obscure words and phrases

- Nearly three hours of animation. (Audio provided by Naxos Audiobooks)

- Biographies for each character, accessed from the main play or through the cast browser

- A character relationship map, demonstrating key relationships in the play.

- A side-by-side main play view that presents the animations and the text at the same time

- High-resolution animations

- A text highlight feature, that highlights the current line of text being spoken in the animation

- Text highlight while seeking through an animation video, which allows you to easily navigate to a particular line in an animation

- Simple tab-bar navigation through all of the features in the play.

Also available in the Shakespeare In Bits series on the Mac App Store:

Shakespeare In Bits: Macbeth
Shakespeare In Bits: Romeo and Juliet
Shakespeare In Bits: A Midsummer Night's Dream

View 'More Apps by Mindconnex Learning' for details on our other plays.
Ratings and Reviews
A great way to dive into Shakespeare
As a lover of literature and English speaker, I've long been under the obligation to acquaint myself with the plays of Shakespeare. But there are two problems: his plays aren't always playing in nearby theaters and reading him is made difficult by all the antique words and usages. This app solves both problems.

In the app, all old-fashioned words and idioms are tappable, allowing you to see what they mean as the play is progressing. There is also an excellent dramatis personae page that gives in-depth descriptions and explainations for every character.

All said, if you have any interest in English literature or Shakespeare, you should definitely buy this app. And if you have always wanted to experience Shakespeare and it in on the action, but were put off by the difficulty of the language, this will be a god-send for you.
Information
Seller

Mindconnex Learning Limited

Size

785.5 MB

Category

Compatibility

OS X 10.6.6 or later

Age Rating

Rated 9+ for the following:

Infrequent/Mild Profanity or Crude Humor

Infrequent/Mild Cartoon or Fantasy Violence

Infrequent/Mild Horror/Fear Themes

Infrequent/Mild Mature/Suggestive Themes

Copyright

© 2012 MindConnex Learning Ltd

Price

$14.99
Supports
Family Sharing

With Family Sharing set up, up to six family members can use this app.