Silent Sifter - Organize Photos & Videos in Minutes
By Vector15
Open the Mac App Store to buy and download apps.
Description
Organize your photos and videos in minutes with Silent Sifter.

If you are suffering from digital photo overload, you can get organized and stay organized with Silent Sifter. Tell Silent Sifter what you want, and let it do the tedious work.

Perfect for you if:
• You aren't happy with how your photos are organized, but are dreading cleaning them up
• You have a camera, smartphone, or SD card full of files and need to clear some space
• You have your Photos or Videos stored in multiple places and wish they were centralized
• You aren't sure which files you have copied from your camera and which you haven't
• You have multiple cameras and want all of their photos organized
• You are a photography enthusiast or professional and want to organize your vast library of files into a custom structure (By Camera, Date, Type, RAW vs JPG, etc)

Getting Organized
• Organize by year, month, camera, resolution, file type, or whatever custom structure you want
• Import from multiple cameras directly to your organized structure
• Filter out files you don't want
• Rename files to whatever you choose
• Automatically removes duplicates and prevents file collisions
• Supports Photos, Videos, RAW files
• iPhoto input/output support
• Photo Booth input support
• Easy to set up
• No manual work needed to organize your files
• Fast processing

Staying Organized
• Silent Sifter remembers your settings
• Connect your camera again, and with one click import, organize, rename, filter all of your files exactly how you would like
• Same files on your camera? No problem, Silent Sifter will detect the duplicates and only copy new files.

FEATURES

◦ One click organization
◦ Deduplication
◦ Customized folders
◦ File renaming
◦ Photos and Videos
◦ Multiple inputs
◦ Multiple outputs
◦ Camera import
◦ RAW files
◦ File filtering
◦ Dropbox and gDrive support
◦ iPhoto and Photo Booth support
◦ Automatic monitoring and organization
◦ Filename collision prevention
◦ Fast file processing and copying

TECHNICAL DETAILS

◦ Non-Destructive: Silent Sifter does not change EXIF data on copies, and does not modify the original files
◦ Photo Formats: JPG, PNG, GIF, TIFF, AI, PSD, JPEG2000, XCF, BMP, ICNS and a multitude of other formats.
◦ RAW Photo Formats: CR2, CRW, NEF, ERF, RAF, 3FR, DCR, RAW, DNG, MRW, NRW, ORF, RW2, PEF, MOS, ARW, SR2, X3F*, KDC*, PPM*, ARI*, SRF*, BAY*, CAP*, IIQ*, EIP*, DCS*, DRF*, K25*, FFF*, PTX*, R3D*, RWL*, RWZ*, SRW* and a multitude of other formats.
◦ Video Formats Supported: MOV, AVI, MPG, MP4, MTS*, MKV*, VOB*, M2TS* and a multitude of other formats.
◦ Date Created: When organizing or renaming files using create date, uses the EXIF/Photo Metadata if available, otherwise last modified date.
◦ Dropbox and gDrive inputs and outputs require the respective Mac clients for those services.
◦ Performance: When duplicate detection is enabled, once your files are analyzed for the first time, each subsequent sift operation will process approximately 1000 photos per minute**
◦ Device Support: iPhone, iPad, iPod Touch, Smartphones, Digital Cameras connected via USB, SD Cards, External Hard Drives, Network file shares, local folders
* Basic Support only, i.e. limited metadata available on these file types (resolution, camera, duration, etc).
** Varies based on processor speed, memory, drive location, etc, and first sift operation may take quite awhile for large photo collections

SUPPORT

Questions, suggestions, feedback, or having trouble? We would love to hear from you, here's where you can find us:

» Support: https://vector15.uservoice.com/
» Twitter: http://twitter.com/vectorfifteen
» Facebook: http://www.facebook.com/vectorfifteen
What's New in Version 3.3
- Ability to use date formatting on metadata date fields, e.g. Tiff.DateFormat, Exif.DateTimeDigitized, GPS.DateStamp, IPTC.DateCreated, and IPTC.DigitalCreateDate
- Added support for migrated iPhoto libraries
- Added support for Photos.app as an input
Screenshots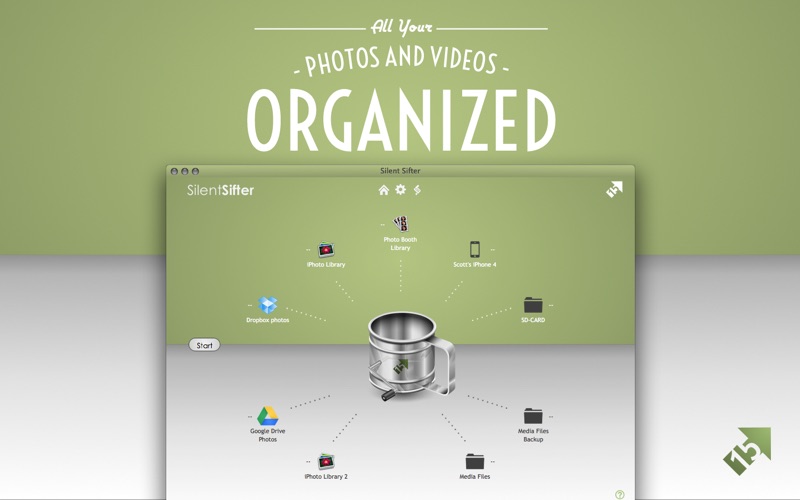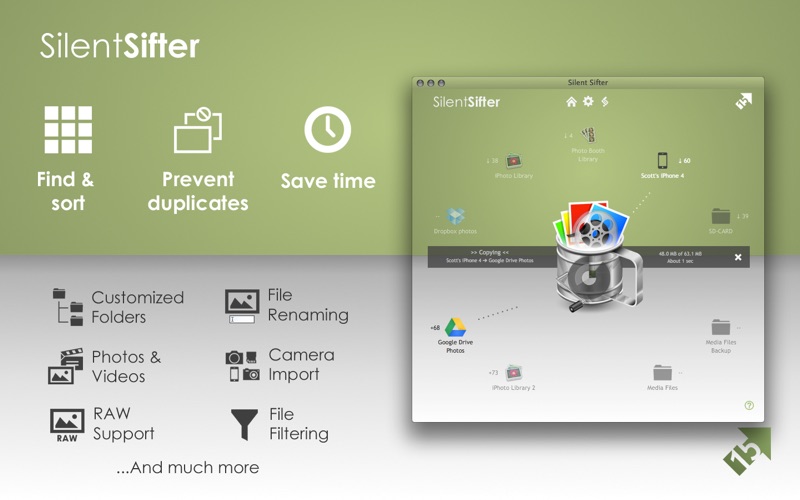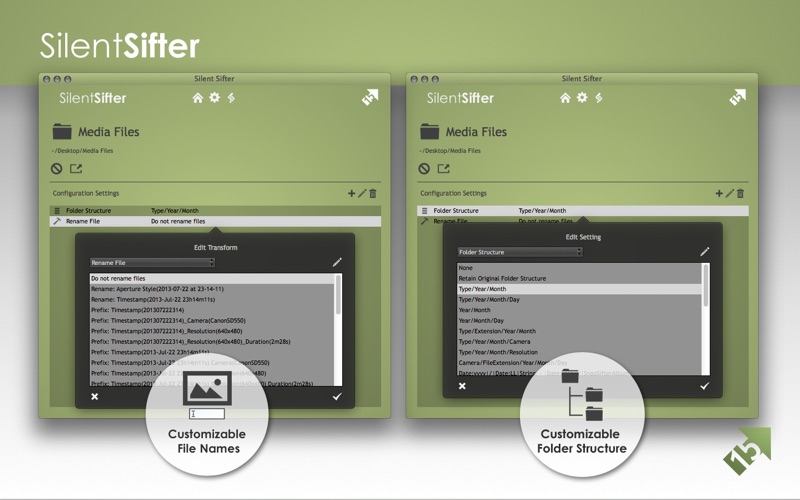 Customer Reviews
Amazing game changer
Updating this review after using it for a year.

Still - simply amazing. I never have to think about photo organization any more.

I have a folder in my Dropbox that has all of my phone (and my wife's phone) pictures and videos automatically uploaded. Silent Sifter then takes all of those photos and videos and dutifully organizes them into my photos folder on our home computer - which is then backed up.

I'm so happy with the way this program works - super convenient and reliable.

-----
I've never felt compelled to write a review before, but Silent Sifter has completely blown me away. I have 15+ years of poorly organized photos and videos, almost 1TB worth of stuff. All of this was spread across multiple databases and folders - from several iPhoto libraries to a few Photos databases to other half-hearted attempts at using other programs - Lightroom, Aperture, etc. This meant that I had muliple copies of photos stewn across many places. What a mess.

Secret Sifter has made it a cinch to organize these into a neat, clean, hierarchical structure - with no duplicates. Sure, there is a learning curve - but within one day, my entire photo library is organized and clean. I'm really amazed.

Now I can use Secret Sifter going forward to import from my phone and not have to worry about having folders all over my comptuer called "Phone_Import_Jan_2015" - everything will get "sifted" automatically into the right spot.

Great job Vector 15.
A work in progress
This program is a great idea, but is still a work-in-progress. First there is the folder bug. When I tried to use a folder as an input, all I got was a empty entry box. Had to close the program to get out of it. Had to repeat three more times before the normal finder file open appeared. Seems to work now.

Then there is the process of finding repeats. If you sift but cancel before its finished, the files won't be copied, but they will be noted, so when you sift again, these files are ignored. This is a big bug. In other words, even if sifting takes hours and hours, never cancel or you will lose those pictures. You need much better control over what it thinks is a duplicate and a way to clear it out.

Again I love the concept here, but really you need more control over managing duplicates, and you need better control determine the length of a moment. Often one trip will appear as many "moments."
Miracle of an App
This app is amazing! It is simple to setup and and run. Even the most basic user can run every feature. Most importantly: It actually works perfectly!!!! I have spent hundreds of dollars on dozens of other apps looking for something like this that inadequate and even dangerous. In two hours it sifted through 150,000 photos and videos from 5 different locations on my computer, it copied them all to one centralized folder of my choice and no duplicates were copied. It left source folders untouched so that I could decided whether or not it was safe to trash them. Best $20 i have ever spent.
View in Mac App Store
$19.99

Category:

Photography

Updated:

Dec 04, 2015

Version:

3.3

Size:

6.2 MB

Languages:

English, French, German, Italian, Spanish, Swedish

Seller:

Vector 15 Ltd.
Compatibility: OS X 10.8 or later, 64-bit processor