SimpleCAD
By Tien Thinh Vu
Open the Mac App Store to buy and download apps.
Description
SimpleCAD is an easy, simple to learn 2D Computer Aided Design program (CAD) made to meet all of your basic design needs.
SimpleCAD is more than just a vector paint program, because you could move, copy, edit, scale, rotate and offset… objects.


Main Functions of the application:

- Basic draw items: including freehand lines, line, polyline, orthogonal line, tangent line, parallel line, rectangle, polygon, circle, arc (NOTE: native ellipse is not supported, only support ellipse created by polyline object). Text box, callout box, picture box (imported from image file), measure items…

- Modify functions: move, erase, copy, mirror, offset, rotate, scale, stretch items' vertices, lengthen, trim, extend, break, chamfer, fillet and explode polyline, join, array, polar array.

- Auto Snap point setting: Snap to grid, end points of objects, on entity, center of arc - line - circle, middle point of arc - line, intersections, snap to top, left, right, bottom edges of a circle, arc

- Multi layers: you could create new layer to draw more items. Layers could be shown, hidden independently.

- Add image: You could add any image file (support file type: gif, jpeg, png, bmp, pict, tiff) to display as an item inside the application.
Image file could be shown in following modes: Stretch / Fit inside bound / Fit outside bound.
The application also allows to DRAG/DROP many image files directly from Finder (or press Cmd-V to paste image from current Clipboard) to current editing window to add them to the diagram.

- Add items (block) to Block Template list:
Right click on selected items then select "Add to template list" to save the block to template list so that you can reuse it later

- Customizable background:
Background color, total size of the diagram could be changed during editing.
Background color also can be set to transparent.

- Open/Save to "*.AAD" file:
AAD (*.aad) is the new file type created only for this application.
Press "Cmd-S" to save current diagram to an AAD file so that you could load it later for editing.


- Capture to clipboard:
Press "Cmd-9" or click on Capture button to export current diagram image to clipboard, then you could paste that image to another application.
Example: Open [Preview] application, press "Cmd-N" to paste above captured image to view or to save to an image file.
Of course, you could paste that image to Excel, Word application too.



Other functions:
- Supports Metric or English units (you could change it in the Preferences dialog)
- Unlimited Undo/Redo (shortcut key: Cmd-Z / Shift-Cmd-Z)
- Copy / Paste (shortcut key: Cmd-C / Cmd-V)
- Group / Ungroup Items (shortcut key: Cmd-G / Shift-Cmd-G)
- Lock/Unlock items position (shortcut key: Cmd-L / Shift-Cmd-L)
- Change display order
- Export to png, jpeg, tiff, pdf image file (shortcut key: Cmd-E)
- Print supported (shortcut key: Cmd-P)
What's New in Version 1.92
- Fix bugs

In previous update:
- New: Modify Flip
- New: Modify Align X, Y, Horizontal center, Vertical center, distribute
- Modify Copy, Move, Flip, Rotate, Scale will apply to all items when no item selected
- Undo/Redo supported after remove or add new layer
- Support to input Feet, inches with Fraction (e.g.: 2' 3 1/2" )
- More print setting (margin, pagination setting, print with grid line,…)
- support to show unit in Feet-inches format
- manual drag and move by: hold ALT then drag mouse
- manual drag and move by: right mouse click then drag mouse
- manual drag and copy by: hold ALT-CONTROL key then drag mouse
- improve User Interface
- support to show Ruler
- add Zoom in, Zoom out short cut key
- add Point mark object
- add "Copy to another layer", "Move to another layer" menu
- allow user to edit measure object's text content
- allow user to direct edit coordinate information of selected object by new text boxes on the left toolbar
- fix arrow head size
Screenshots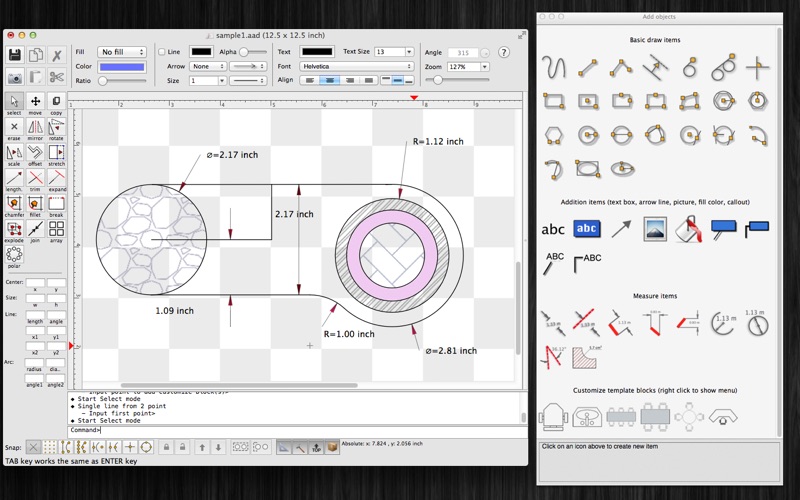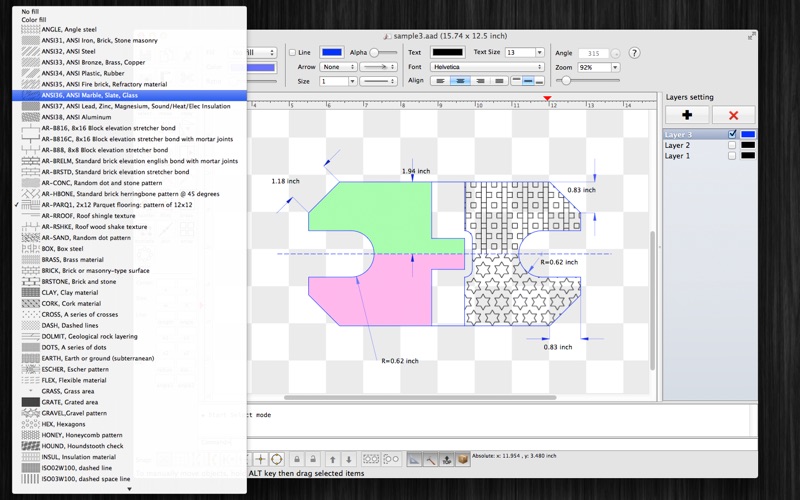 Customer Reviews
UPDATE they broke this app
I want hobbiest CAD. I want to make simple mechanical drawings for stuff I can build in the garage/basement. My CAD experience is extreemely limited (none in the past seven years). Going from no CAD to SimpleCAD is like being unchained from the cave. I may well outgrow this stripped down package, but for now it's doing me super. On the first day, I created drawings for a project with the front view on one layer, the dimentions on another, and a few other layers for oblique projections, hardware, and whatnot. It was a struggle at first, but I've gotten pretty zippy with it in just a couple days.

The only real problem I have with it, is the help isn't as helpful as it could be. It's a .pdf file and I believe it was translated from another language. It's not a bad translation compared to some I've encountered, but it does sometimes lack for clarity. Still, there was nothing I couldn't figure out by playing with it for a bit.

UPDATE
They broke this App. In the previous version you could set the size of a rectangle in the left text boxes. Those boxes are now gone and new "Size & Position" boxes are located to the right of the drawing. But they don't work. You can't simply specify a rectangle be 3x5
peterelijah
I am a structural engineer who needed a good sketching tool and I found it when I got this program. It still satisfies my needs very well. Again, I say to all people looking for sophisticated CAD features - if you need CAD features, buy very much more expensive CAD programs.

It is 2017 now and I still love the application for my sketching needs. No regret buying a cheap but very useful program for my needs.

It is June 2017 now and still loving this application.
Does what I need it to do
I use this app to put my ideas down before I start building, it is easy to use and gets the job done for me. I dont need a full featured CAD for what I do.
It would be nice if it went to 3 decimal places, but still useable because I can go in and change the Dimensions and type in exact readings.
So far for the price this is the best app I could find.
I like how you can save the drawings as a PDF file, it makes emailing them easy.
The more I use it the easer it gets.
Thanks for making this app available and affordable!!
View in Mac App Store
$18.99

Category:

Graphics & Design

Updated:

May 05, 2017

Version:

1.92

Size:

4.0 MB

Language:

English

Seller:

Tien Thinh Vu
Compatibility: OS X 10.8 or later, 64-bit processor