Singularity Experience : The Lucid Dreaming App
By Alexander Stone
This app is only available on the App Store for iOS devices.
Description
The most complete lucid dreaming app on the market, built by a lucid dreamer for the best lucid dreaming technique out there: dream reentry.

**iPhone3GS is NOT supported!**
THIS APP HAS THE MOST COMPLICATED USER INTERFACE YOU WILL EVER FIND. YOU WERE WARNED!

Includes:
Lucid dreaming reminders at night
Sleep analysis with 20 metrics
Dream journal with dream history
Biological clock for sleep cycle analysis
Hypnotic induction script

Singularity Experience is an app that turns ordinary dreams into conscious ones. Become aware in a dream, and it transforms into a virtual reality like experience, where you have superpowers and your brain has an unparalleled ability to experience pleasure.

Lucid Dreaming is fun, and singularity is the fastest way to master Lucid Dreaming using a highly praised technique: re-entering dreams consciously. You wake up, stay still in bed and fall back into a dream consciously. Easy to understand, difficult to perform without an outside aid.

Enter Singularity Experience. It is an external aid for dream re-entry. The app's secret is its ability to accurately monitor your sleep and make intelligent predictions of when you are dreaming. When dreaming is detected, an external audio, vibration and a light cue is played to arise your awareness just to the point where you can fall back to sleep consciously.

Created by a lucid dreamer, the app is packed with tools to improve your sleep and take your lucid dreaming to the next level, guaranteed. The stylish, hypnotic interface speaks directly to your unconscious, using the language of ratios and geometry, helping you learn lucid dreaming faster.

The app includes 8 built-in reminders, ranging from the mysterious "Void" to tranquil "Harmony". Each reminder is designed to elicit a certain feeling within you, which will affect the quality of your dream experience.

Using 21st century technology, the app introduces a brand new gadget – a GPS based astro-biological clock. With the help of the biological clock, you may estimate your body's circadian rhythm and find optimal bed and rise times at a glance! Sleep in tune with your sleep cycle and experience quicker sleep onset, clearer dreams and easier awakenings.

Don't remember your dreams? No problem! Start by touching the screen at night to mark when you are awake. Over time, you will start remembering fragments of dreams, and end up with full 5-7 dreams in a typical night.

Singularity includes an excellent dream journal – less typing, more action: simply tap screen at night to mark your dream, and the app will automatically create a dream journal entry for you – see when your dreams took place. You can come back to the dream at a later point and complete the entry.

By browsing the dream and awakenings history, you can quickly see how your dreaming ability changes over time. Over a few nights, you will see patterns of dreaming and will be able to predict the best times for practicing lucid dream induction techniques, like Wake Induced Lucid Dreaming or Dream Exit Initiated Lucid Dreaming.

Do not let the novelty of lucid dreaming scare you, this version of the Lucid Dreaming App includes helpful documentation and onscreen tutorials to describe every single aspect of the app. Please watch Youtube videos to help you get started with the app.

Singularity is a proficient sleep tracker, using sleep score algorithms with up to 87% accuracy of distinguishing sleep from wakefulness.

The app includes a great self hypnosis script to help you learn the dream re-entry technique.


Lucid dreamers, unite:
Sonho lúcido
Sueno Lucido
Tudatos Álmodás
Klardrömmande
luzides Träumen
осознанные сновидения
selkouni
alholm almotahakam
Vis lucid
Lucide rêver
Bevisst drømming
Lucide dromen
Lucidno sanjanje
清醒梦 / 清明梦
sogni lucidi

At less than the price of a gallon of apple juice, this app gives you the tools and techniques to start living a little every single night.
What's New in Version 1.31
Updated interface for iOS7
Fixed usability issues from iOS7
Fixed calibration
iPhone Screenshot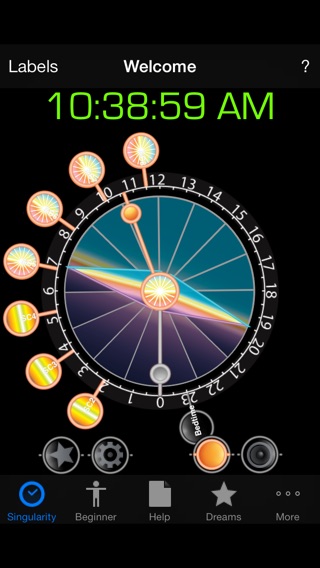 Customer Reviews
❤️❤️❤️
I love your brain, will you please make more apps for me 💌💋💌
Looks and sounds convicting, but...
This app does look and sound convicting, but this app is just too complicated and it just doesn't work. Don't waste your money like I did. If you really want a good sleeping app try "SLEEP GENIUS"
View in iTunes
$4.99

Category:

Lifestyle

Updated:

Apr 02, 2014

Version:

1.31

Size:

22.5 MB

Language:

English

Seller:

Alexander Stone
Compatibility: Requires iOS 7.0 or later. Compatible with iPhone, iPad, and iPod touch.