Sketch 3
By Bohemian Coding
Essentials
Open the Mac App Store to buy and download apps.
Description
Sketch: graphic design for a digital world. Powerful tools and an elegant interface, in a single award-winning package. Because making beautiful things should be a joy, not a burden.

Sketch supports multiple fills, borders and shadows per layer; has powerful non-destructive boolean operations; smart pixel alignment; and makes exporting a breeze with automatic slicing and multiple resolution export.

Vector tools and basic shapes are the foundation; whether you are designing icons, websites, interfaces or anything else. Combine these into complex shapes with non-destructive boolean operations, leaving you free to edit them in the future, then apply advanced layer style options like multiple shadows, fills, gradients, noise, blending, background blurring, and more.

Sketch doesn't just do shapes, of course. Imported images can be rotated, scaled, cropped and masked. The best-in-class text tool lets you add beautiful typography to your designs, using native font rendering, so you can be sure that text always looks 100% accurate!

Brand new to Sketch 3, Symbols allow you to reuse entire groups of content in multiple places in your design. Think of interface elements such as buttons, headers and footers. Change them once, and they update everywhere in your document.

Built for the Mac, Sketch supports OS X's Versions and Auto Save, letting you focus on your work instead of hitting CMD+S. Keep your work safely in sync across multiple Mac computers with iCloud. And take Sketch full screen to maximise the size of your canvas.

All this power is deliciously baked into Sketch's single-window interface. Everything is there, tucked away until you need it. A simple interface with powerful tools.

Now everything is possible.

-- Winner of an Apple Design Award and amongst the App Store's 'Best of 2012 --

NEW IN VERSION 3:
- Symbols, for reusing elements in your design
- Text Styles and Layer Styles, redesigned and unified for a better experience
- Redesigned inspector, giving you quicker access to everything
- Automatic Slices, export layers directly, without needing to set up manual slices
- Export multiple resolutions from a single slice, at any scale
- Improved PDF, EPS and SVG importing and exporting
- Speed, bug fixes and polish all around
- Presentation Mode, go full screen and hide all controls, perfect for showing off designs
- Improved bitmap editing with Magic Wand, Crop, Invert and Vectorize tools

FEATURES:
- Simple but powerful interface, built from the ground up for OS X
- Optimized for Retina and non-Retina displays
- Powerful styling: multiple shadows, multiple fills, gradients, blending, blur, noise and more...
- Flexible boolean operations to combine simple shapes into complex shapes
- Artboards and Slices for exporting multiple images out of a single document
- Automatic export for multiple resolutions at the same time
- Unique Color (with RGB and HSB modes) and Font pickers
- Beautiful native text rendering and text styles
- Vector and pixel zoom; zoom in with infinite vector precision or see individual pixels
- Multi-stop and radial gradients editing right in the canvas. Powerful WYSIWYG rendering
- Shared Layer Styles that automatically update all associated layers
- Shared Text Styles for sharing font and paragraph info between text layers
- Powerful, easy-to-use Vector Tool
- A growing community of designers with fantastic resources available on the web

Sketch is great for a wide variety of designers and artists.

FOR WEB AND UI DESIGNERS
- Web and iOS design templates come standard
- Copy CSS Styles to clipboard (including gradients!)
- Slices: export areas on the canvas as images
- 960 default grid, with support for more advanced grid options
- Create multiple pages inside a single document
- Standard Responsive Web Design Artboards

FOR ICON DESIGNERS
- Artboards: each is its own little canvas
- iOS Icon Templates
- Pixel Grid
- Pixel Effects, such as Gaussian and Motion Blur
- Round to nearest pixel edge
What's New in Version 3.2.2
- Reduces memory usage when working with complex documents
Screenshots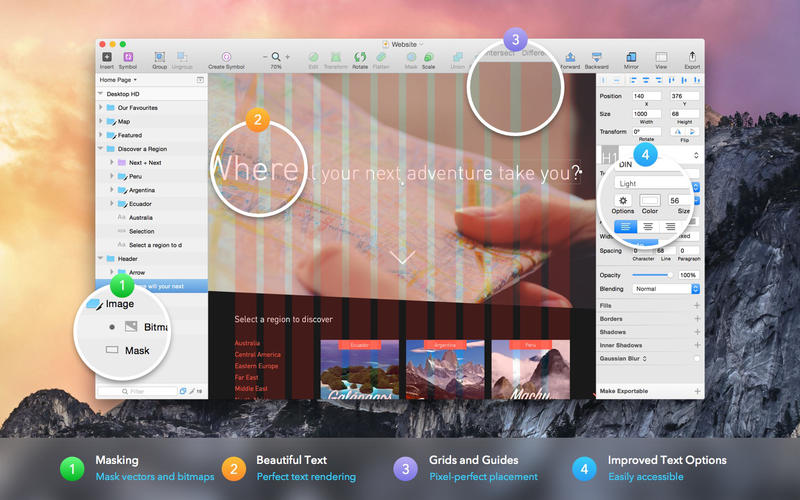 Customer Reviews
This tool is perfect conceptually but I want it to work better!
I am a UI/UX designer who has been working with tools like Photoshop, Fireworks and Illustrator for close to 10 years now. That being said, I always felt like there had to be a simpler tools for wireframing and designing web apps. This tool does exactly that, encompassing all of the features that I would use in Photoshop and none of the ones that I wouldn't.

That being said, there have been some functional glitches lately that make this tool too unreliable to use in a professional setting. For example, I recently had a client meeting where I was showing the initial concept of a design. Being that it was working session, I decided to screenshare from my Sketch doc directly, rather than exporting PNGs, so that we could make changes in real time. However, between saving and closing my doc on one machine and opening it on another, all of the type reformatted itself and was all over the place when I opened the file in front of my client. This is EMBARSASSING, and unacceptable. I just experienced a similar situation with type reformatting itself, although fortunatley this time I was the only one who bore witness.

If these functional bugs get fixed, this will 100% be a 5 star tool. Also, this is the first product review I've ever written, because I REALLLLLY want this tool to work better! Please fix!
Good, shows promise, and please fix the obvious UI bugs
I am not a graphic designer and have never used Adobe Photoshop or Illustrator. I'm a programmer who needed a vector editor. I used InkScape before and this is vastly better than InkScape. In general it works well for what I need. What keeps me from giving 5 stars, and the 4 I gave is probably 3 1/2, are the multitude of stupid bugs in the program. This is supposed to be version 3.x and yet there are countless cases where the screen doesn't refresh properly. Eventually it will however it feels like the dev team should just spend 2-3 months and close all of the open bugs like this. It lacks polish as a result.

Still, I'm happy with it. It is easy to use and possible to work around the issues I have found so far. I don't see any better alternative at this price or below.
Absolutely recommended for designers
As a product designer, Sketch is a must-have tool.

I relied on Adobe's products for design and illustratation work for more than a decade. Those products are how I got my start in design, and I still value them today. However, only recently, when I joined one of the most notable Silicon Valley companies, did I start to see the value in using Sketch. I wish I had made the switch over to working in Sketch years ago.

Sketch has a lot of incredibly powerful features that work immensely fast and are perfect for complex workflows. Designing for mobile, for example, means you can load up your Sketch file, import custom symbols for whatever it is you're working on, move things around and modify them, then export assets at *multiple* resolutions with the click of a button.

The occassional crash (while working on immensely complex files) and some weirdness around vector objects are the only issues I've experienced thus-far. With the prompt amount of updates from the company that makes Sketch (Bohemian Coding), I expect any major issues to vanish in the coming months.
View in Mac App Store
$99.99

Category:

Graphics & Design

Updated:

Dec 19, 2014

Version:

3.2.2

Size:

24.5 MB

Language:

English

Seller:

Bohemian Coding
Compatibility: OS X 10.9 or later, 64-bit processor