Sky Gamblers - Storm Raiders
By Atypical Games
Editors' Choice
Open the Mac App Store to buy and download apps.
Description
Sky Gamblers: Storm Raiders is an Apple Design Award winner!

THIS IS THE ULTIMATE WWII AIR COMBAT GAME! You'll participate in visceral dogfights, protect
cities and fleets, bomb enemy structures and even fly through tunnels. Everything is set up in accurately
recreated real life locations like Pearl Harbor, Coast of Dover, Midway, Germany and France.

AMAZING QUALITY AND IT'S ON OSX!
Unparalleled visuals, special effects and audio including: specular masks, bump mapping, atmospheric
scattering, volumetric clouds with realistic lighting, sun glare, day & night transitions, God rays, high
definition textures, 4x anisotropic filtering, High Dynamic Range (HDR) rendering, radial blur, heat haze,
refractive raindrops and more!

IMMERSIVE GAMEPLAY
Take off and land on landing strips and carriers. You will fly in fully recreated cities with realistic
weather, accurate atmospheric scattering with aerial perspective and highly detailed planes with
interactive cockpits.

HUGE HISTORIC FLEET
Fly highly detailed WWII top aces planes. Watch the progressive damage affecting planes and finally
being shredded into pieces.

HUGE COLLECTION OF ONLINE MODES
Invite your friends to play online! Choose between cooperative and competitive modes: Survival, Last
Man Standing, Free Flight, Free for All, Team Match, Capture the Flag and the new Assault.

CROSS PLATFORM MULTIPLAYER
Play with iOS players on both WiFI matches and online ones.

GAME CENTER and iCloud
Since this all takes place on Apple devices, iCloud support has been integrated so players can save
and share progress across devices. Climb the Game Center leaderboards, challenge friends and unlock all achievements.

Online play requires a Wi-Fi or 3G/4G internet connection.

Please send us your impressions and suggestions, help us identify bugs. We want to make your gaming
experience the best you've ever had. Please visit our support site at www.atypicalgames.com/support.

Like us on Facebook: www.facebook.com/skygamblersstormraiders
Follow us on Twitter @sg_stormraiders
What's New in Version 1.4.0
-New plane: P-47 Thunderbolt
-New plane class: Ace
-Plane tuning and balancing
-Movie recording via Everyplay
-Bug fixes
Screenshots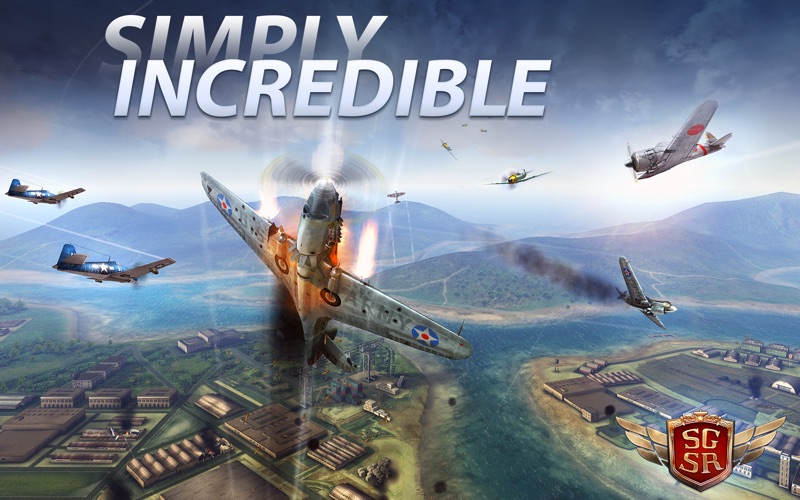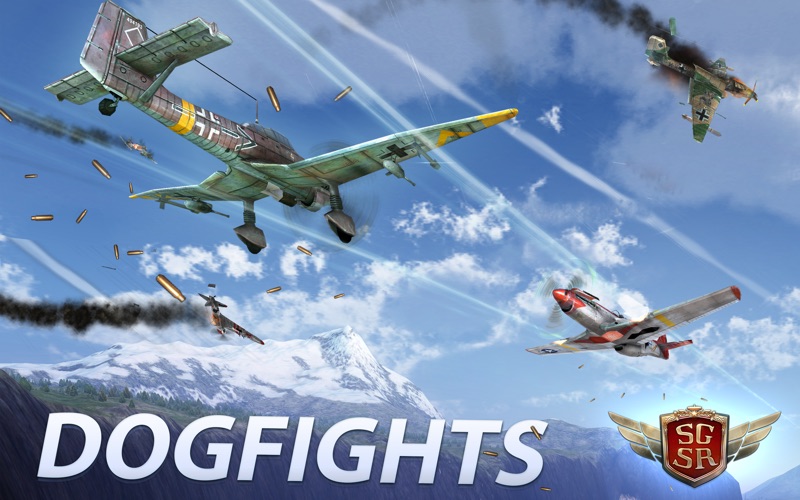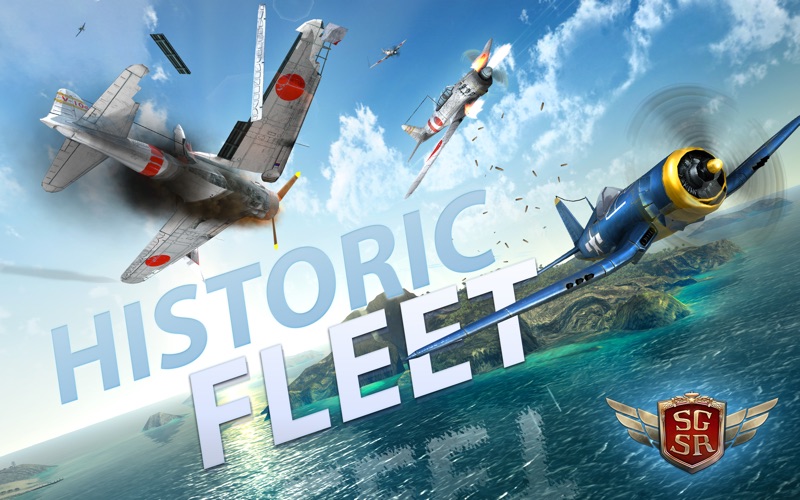 Customer Reviews
What did they do?
The game is unbalanced and inaccurate when it comes to the aircraft abilities. I know, its just a game but I would like to see a little more realism.

The newest update turned the jets into paper targets and it seems like a BB gun would blow them out of the sky. The new P-47 has become the star of the game because it has the turning radius of the IAR80 and the Japanese Zero. Seriously a P-47 out perfoming a P-51??????? The P47 is also built like a tank in the game so I caution going head to head with it. While they may have cleaned up some bugs it seems like a few have now been added. I tend to see more players "Warping" across the map than before the last update.

To the developers, how about giving a set value that the user can control and apply as they see fit to engine, armor, aerodynamics, etc. This way I can give 25 to engine, 30 to aerodynamics, 30 to armor, and 15 to armament = 100 points. The ability to customize the planes would level the playing field depending on the mission. The greatest part of this game is player to customize his plane but its still just cosmetic at this point.
Big bang for your buck!
I love war games, especially WWIi war games so naturally this one caught my attention. I was rather sceptical of buying it at first but for such a low price what could I lose? I tried it yesturday and have not stopped playing except for school and food. Really fun, keeps you engaged. The thing I really enjoy so far is the campaign. You get to play as American, Japanese, British and German pilots! There are only 3 campaign objectives but here are 6 or 7 in each, Battle For Britian was my favorite. There is also singleplayer modes like capture the flag, team death match and defend the base, all of which are very fun and keep you interested. For the price the graphics are great! If the game was $30 instead of $5 I would stil buy it in a heartbeat! If you enjoy historical aircraft and war games this is the one for you! Runs great with 0 lag and decent graphics.
Almost, But Not Quite There Yet
This game is a blast to play and is easily the best World War II era fighter plane game on the market! The price is reasonable as well.

As far as further game development goes I would like to see some more campaigns and missions as well as some more aircraft. Two aircraft that are surprisingly missing from the game are the American Douglas SBD Dauntless dive bomber and American Grumman TBF/TBM Avenger torpedo bomber. Both of these aircraft were essential to the U.S. Navy's effort in the Pacific Theater and I am surprised that they have not been added yet. (Some other aircraft would be the P-61 Black Widow, the Hawker Typhoon, the Bristol Beaufighter, the Kawasaki Ki-61, or the Nakajima B6N)

As far as gameplay goes I would have to aggree with the post by Scout19D19D. The P-47 is really too much like the P-51 which is not historically accurate at all. Although it was good, it still wasn't as good as a P-51. It's best roll was close air support, so this plane should replace the Corsair in the "Tank Buster" Mission (the Corsair was never a part of the European Theater of operations anyway). Having the ability to customize more of the aircraft's ability would be great as well!

The game really is good and the graffics of course are impresive to say the least. My comments are more "details" to be tweeked to make it better.
Thank you to the developers for their ingenuity and hard work!
View in Mac App Store
$4.99

Category:

Games

Updated:

Sep 09, 2014

Version:

1.4.0

Size:

894 MB

Languages:

English, French, German, Italian, Japanese, Korean, Portuguese, Russian, Simplified Chinese, Spanish

Seller:

ATYPICAL GAMES LLC
Compatibility: OS X 10.7 or later
Top In-App Purchases
Weapon Customize$1.99
Pack One$1.99
Plane Paint Customization$1.99
P-80 Shooting Star$1.99
Horten Ho 229$1.99
Plane P47$2.99
DH Vampire MK1$1.99
Plane IAR80$4.99
Yakovlev Yak-9$0.99
Plane He162 Salamander$1.99