Sky Guide: View Stars Night or Day
By Fifth Star Labs LLC
Essentials
Open iTunes to buy and download apps.
Description
*** 2014 Apple Design Award Winner ***

A star app has never been more beautiful and easy to use. Just hold it to the sky to automatically find constellations, planets, satellites and more. It's stargazing fun for all ages and experience levels!

"Close to perfect."
–CNET

"The perfect companion for helping you find the stars…"
–Macworld

"Beautiful and informative…a treasure."
–Mac|Life

Is it a star or the planet Mars? Knowing what's up in your night sky is now effortless with Sky Guide. Hold your iPhone or iPad up and Sky Guide automatically aligns itself to the stars above you—no setup required!

Have you ever wished you could recognize the constellations but didn't want to study those paper star charts? Sky Guide's interactive experience makes learning your way around the sky intuitive and fun.

Whether you're in search of the constellation Virgo, the Andromeda Galaxy or the next big meteor shower, Sky Guide is jam-packed with information and rich graphics that will satisfy the most curious minds.

Voyage to the past or future with cinematic time controls. Know where the Moon will be later in the evening so you can capture that perfect photo. See what the sky looked like the moment you were born or be an eyewitness to history's greatest comets.

It's a star! It's a plane! No, it's a satellite! Sky Guide features hundreds of bright satellites for you to identify and track. You can also receive notifications whenever the International Space Station flies over your location.

Use Sky Guide anywhere—on your evening dog walk, camping trips or in the classroom. Sky Guide works with or without Wi-Fi, cellular service or GPS, so everything is at your fingertips no matter where you go.

Additional Features:

- Apple Watch: Sky Guide can send you a notification when an event is about to happen in the skies above your location, like when the International Space Station is due to fly over. You can also keep tabs on the latest solar activity or add our super-accurate Moon Complication to your Apple Watch face.

- 3D Touch: Peek and Pop previews of articles from Search. Quick actions from home screen app icon.

- Notification Center Widget: At-a-glance essentials including rise and set times for the Sun, Moon and planets.

- Filter: X-ray the sky and explore invisible wonders (now enhanced with 3D Touch).

- Red night mode: Preserve your dark-adapted eyesight.

- Huge stellar catalog: 2.5 million stars!

Join the millions who have discovered a more personal connection to the stars with Sky Guide. It might forever change the way you look up.
What's New in Version 6.0.2
6.0.2
Bug fixes

6.0.1
NEW FOR iOS 10

Rich Notifications
Tired of those drab, text-only satellite notifications? We've launched our notifications into orbit with an animated Earth view showing the satellite's path.

3D Touch
Filters now have a whole new feeling. Take an X-ray Peek at the sky or Pop a filter for full screen exploration. You can also use 3D Touch on your Sky Guide app icon for Quick Actions and a compact version of the Sky Guide widget.


New for watchOS 3

New Design
Sky Guide for Apple Watch has been streamlined into three categories: Sun activity, Moon, and the International Space Station. Swipe to switch pages or use the Digital Crown to view more detailed information. Your last viewed page will be saved for viewing in the Dock. Keep Sky Guide in your Dock for instantaneous launches.

Satellite Notifications
Pull down your satellite notifications to see an animated Earth view detailing the satellite's path.


NEW BY POPULAR DEMAND

Map-based Location
You can now select a custom latitude and longitude or use the map to find what the sky will look like in very remote locations. It's great for planning what you'll see on those camping trips.

No, I meant to tap THAT
Selecting stars and deep sky objects is now more intelligent and intuitive

More Improvements
We've added a new Meteor Showers category plus you can now search for stars by HR, HD and HIP catalog numbers. Galaxy icons now align and scale as do open cluster icons. Satellite passes are now more accurate than ever.

iPad Pro keyboard shortcuts: cmd+F = Find an object, cmd+, = Preferences, cmd+M = Main Menu, cmd+T = Time Controls


OH, AND…

A brilliant twist? If we wanted to get technical we'd call this our new high-dynamic-range point-spread-function stellar rendering engine with diffraction spikes. Translation? They're the most beautiful and realistic stars you've ever experienced.

Thank you to all for your continued support and feedback! If you haven't reviewed Sky Guide in some time, please consider leaving a new review and let us know what you think of the latest update.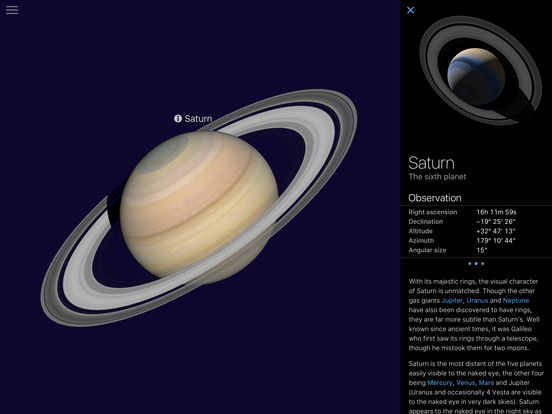 Customer Reviews
Best app on my phone
I love that i have an opportunity to see the ISS fly over my house all thanks to "SkyGuide"! People take the night sky for granted, with "SkyGuide" i'm constantly watching the night sky. I've learn my planets pretty well too, i can spot Mercury, Venus, Mars and others like a pro. Such an amazing experience! Another good review would be that while my Mom was backing out of the driveway she ran into another car slightly, before we got into the car i got the
5-Minute warning that the ISS was going to fly over, as the neighbor came out to check the damage and get our information with a bit of frustration, i look up and see a bright light soaring across the sky and pointed it out to them, got the mood to change quite a bit, no yelling or salty attitude.
Thanks "SkyGuide"!
Awesome
One of my favorite apps!

Very well designed and executed.

One of the very FEW iOS apps that has NEVER crashed on ANY of my devices.

And the fact that this developer regularly refreshes/updates this app demonstrates they are a professional company.

*** For those of you having "issues" with this app, contact APPLE.

Your problems are stemming from iOS 10 issues/bugs, and from what I and others are seeing, hardware issues (the "latest" and more recent iPhones, iPads, and iWatch).

BE PROACTIVE. Initiate complaints to Apple, email Apple support (and "copy" it to Tim Cook)... for starters. You know what to do. If you don't, ask for it from reputable 3rd parties.

My experience with calls to Apple "support" ("AppleCare" and otherwise) is worthless, an embarrassment to Apple as a whole, and a testament that Tim Cook has no clue how to run a company, let alone do it like Steve Jobs.

You're watching Apple TANK right before your eyes. And unless you PROACTIVELY do something about it, nothing will be resolved.

From my experience, Fifth Star Labs is a legitimate and professional company.
SUPPORT THEM.
A Stellar Example of App Perfection
Rarely do I go out of my way to write a review for an app, but SkyGuide is deserving of extra attention. This app is not only gorgeous, it is functional, educational, and interactive across devices (great interface with the Apple Watch).

I received a notification of an Iridium flare (bright satellite passing over) and stepped outside of my house, gazed up, and SkyGuide showed me where to look. Right on cue, a brilliant flash from the sky.

I have recommended this app to more friends than all other app recommendations combined. It is beautifully crafted and continuously improved. Excellent work!
View in iTunes
This app is designed for both iPhone and iPad
Offers Apple Watch App for iPhone
$2.99

Category:

Reference

Updated:

Sep 20, 2016

Version:

6.0.2

Size:

193 MB

Apple Watch:

Yes

Languages:

English, French, German, Italian, Japanese, Korean, Portuguese, Russian, Simplified Chinese, Spanish, Traditional Chinese

Seller:

Fifth Star Labs LLC
Compatibility: Requires iOS 9.0 or later. Compatible with iPhone, iPad, and iPod touch.
More by Fifth Star Labs LLC