SkySafari 5 Pro
By Simulation Curriculum Corp.
This app is only available on the App Store for iOS devices.
Description
SkySafari 5 Pro is the ultimate astronomy app. It has the largest database of any astronomy app, includes every solar system object ever discovered and offers flawless telescope control. Here's what's new in this version:

1) Complete support for iOS 10 & 11!

2) Support for Apple Watch! The Sun, Moon, Planets, and more on your wrist!

3) Tonight at a Glance: the Sun, Moon, Planets, ISS, and Iridium flares in one handy view!

4) Notifications when the ISS will pass overhead, when Iridium satellites flare, and more!

5) Completely new sounds, and a new look to the sky and horizon. Better transitions between portrait and landscape mode.

6) Object lists in the Search menu now show thumbnail images. New options in Advanced Search.

7) Updated object descriptions, with images in-line! Every object now has a description!

8) A new Share button lets you share your sky by email, text, or social media!

9) Reworked Time Flow controls. Set the date and time directly from the main toolbar. Run time 1000 x faster than reality!

10) iCloud or Google Drive sync for your settings and observing lists! Change them on one device, and synchronize your changes across all your iOS devices!

11) An on-line repository of observing lists from experienced amateur astronomers. A "tour mode" that guides you through objects in each list!

12) An improved deep sky database with Abell and Hickson galaxy clusters, and globular clusters in M 31.

13) Galaxy View shows the position of deep sky objects in our Milky Way!

14) A handy Digitized Sky Survey viewer that lets you download images from the DSS!

15) Improved multi-star alignment for telescopes with digital setting circles. Add Barlows and Focal Reducers to your equipment list!

If you haven't used SkySafari Pro before, here's what you can do with it.

• Hold your device up, and SkySafari 5 Pro will find stars, constellations, planets, and more! The star chart updates automatically with your movements for the ultimate stargazing experience.

• Simulate the night sky up to 10,000 years in the past or future! Animate meteor showers, conjunctions, eclipses, and other celestial events with Time Flow.

• Search from our extensive database, and follow the arrow to objects in the sky. See spectacular views of Venus, Jupiter, Saturn, and other planets!

• Learn the history, mythology, and science of astronomy! Browse over 1500 object descriptions and astronomical images. Explore NASA space missions! Stay up-to-date with SkyWeek for all major sky events every day!

• Control your telescope! SkySafari 5 Pro adds wired or wireless control for Celestron, Meade, Orion, SkyWatcher, and many other telescopes. Point your GoTo or "Push-To" telescope anywhere in the sky! Requires SkyFi or SkyWire accessories (sold separately).

• Plan observing sessions with Observing Lists, log your observations, and share with friends!

All this is built into SkySafari 5 Pro – no need for an Internet connection. SkySafari 5 Pro will revolutionize your astronomical viewing experience and replace desktop astronomy software costing 10 times more.

Additional Features:

• 25 million stars from both Hubble Guide Star catalogs; 740,000 galaxies down to the 18th magnitude; over 630,000 solar system objects; and satellites like the International Space Station (ISS).

• NASA's latest LRO Moon maps, with 8X the resolution of any other SkySafari versions, and hi-res Earth and Mars maps.

• Animated meteor showers with complete viewing information & spectacular graphics.

• Night Vision – Preserve your eyesight after dark.

• Advanced Search – Find objects using properties other than their name. Results are sortable by name, number, magnitude, RA, and more!

• Orbit Mode – Leave the Earth's surface behind, and fly through our solar system.

• Apple Maps Integration – Choose your location from a built-in Maps view.

• Horizon Panoramas – choose from 12 hi-res vistas, or customize your own!
What's New in Version 5.4.1
- Fixed problem with reddening the keyboard in Night Vision in iOS 11.
- Improvements in performance and connection stability with Celestron Wi-Fi mounts.
- Fix for StarSense alignment problem when using Celestron Wi-Fi with a mount with a wedge.
- Fixed bug where the Align button in Object Info was not performing an align.
- Fixed bug where if you to a GoTo to the Sun from Object Info, the goto would never happen.
- Fixed bug with decimal times in the Time Flow panel when using some non-English languages.
- Fixed bug in the description of M75. It is identified as NGC 6684 when it should be 6864.
- Fixed issue with some asteroids and comets being listed twice.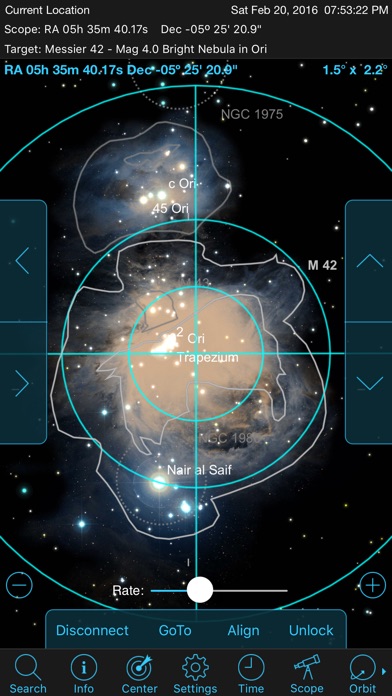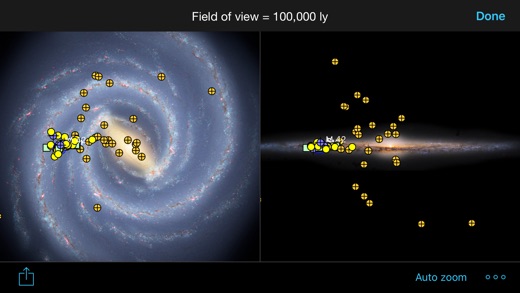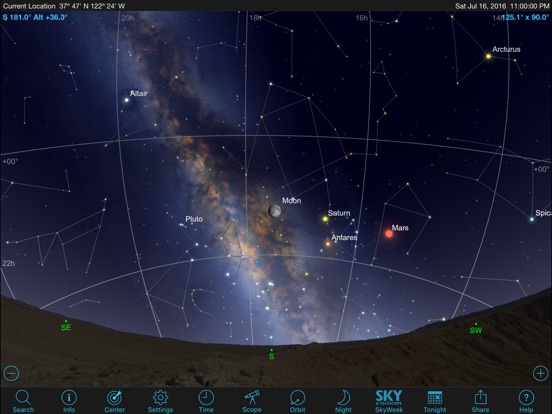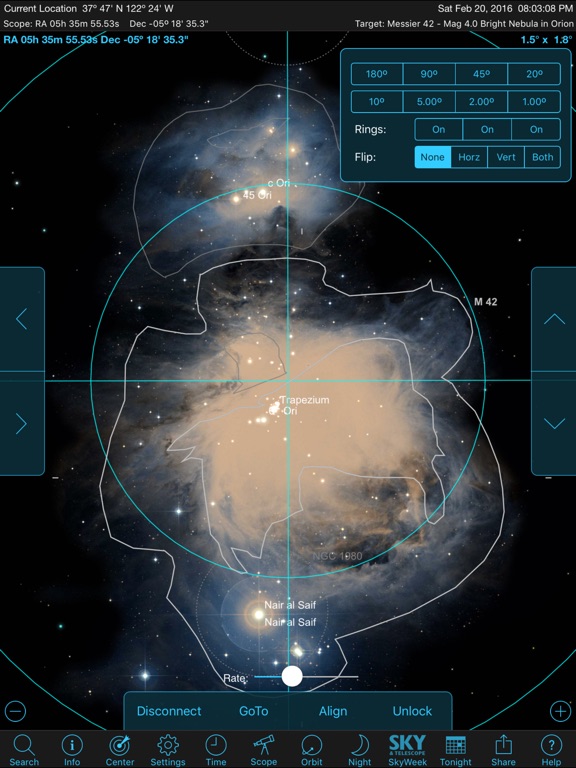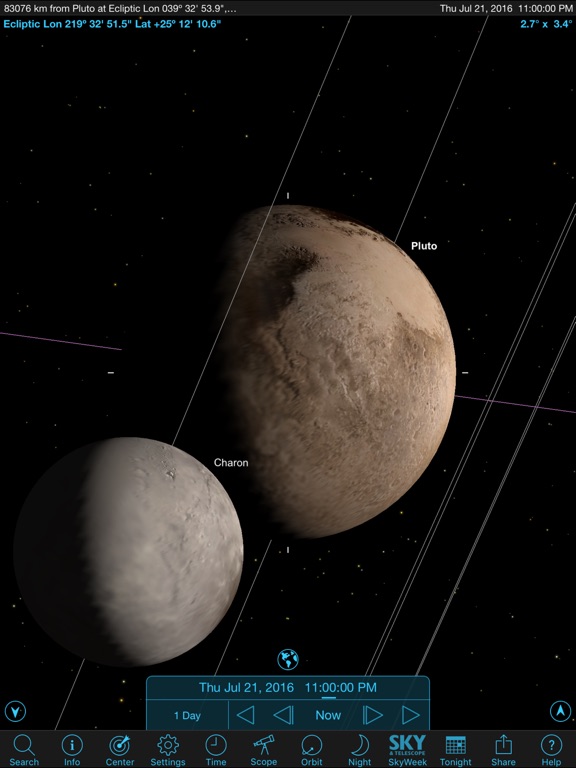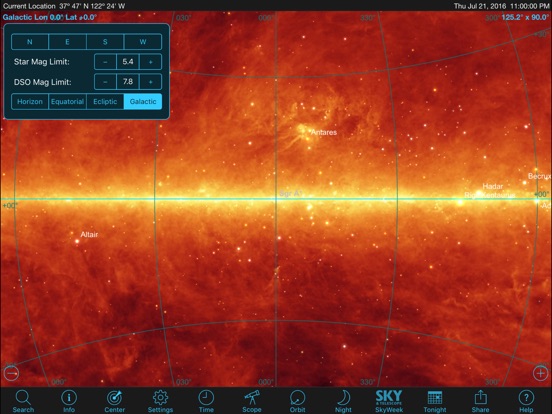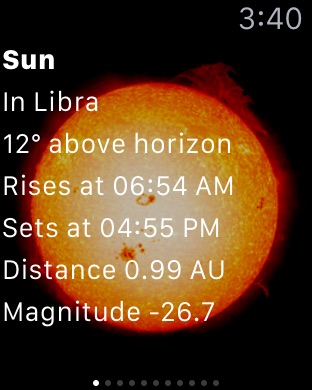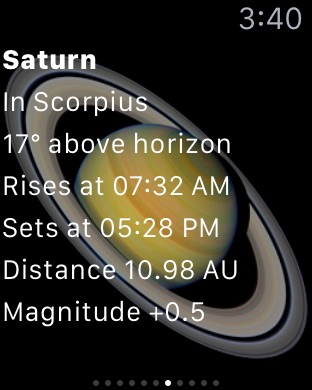 Customer Reviews
Great App, Possibly The Best Out There!
I'm an avid astronomer with 25+ years of experience, and have a healthy balance between Imaging and visual observations. I've been using this app for several years now and find it the best out there. While I do own a few other apps in same price range you can't beat this feature rich resource. I really like the image framing tool as it helps tremendously in choosing the orientation, scope, and camera combination for the target object. Also, I use the WiFi connection features with my iPhone and iPad and can knock off scores of objects visually in a given evening. It seamlessly controls my Losmandy and Celestron mounts too! I do use the logging tool and it does a good job too. The app is very easy to set up and use, and has been my main tool for planning outings. Highly recommend it!
Mounted on 10" Meade SCT (TRY THIS!)
mounted bracket to hold iPhone 6s+ behind eyepiece and in live view the sky rotates with the scope movements, incredible to watch. It's high enough not to interfere with viewing, but right there when you look up. I use to have trouble finding stars for scope calibration, back and forth to the map table and now I don't have to leave my viewing chair, and also helps find interesting nearby objects.
Con: when showing guest ie a Messier object, it's wonderful to tap on the item so info and pics are right there, but to get back to live sky so that view moves with scope movement again, I have to remove iPhone, shake it to get back live view and reattach to scope. Wish there was a button to press to go back to live view. Or is it already possible, I just haven't found it.
SkySafari 5 Pro
Started with free version I believe version 3 ... it got better and better with each version ... upgraded to pro i believe version 4 special ... I used it on Mt Everest when I trekked to Mt Everest Base Camp October 2014, and during Qatar & Kuwait 2014 layovers, Thailand February 2015 & 2017, Machu Picchu & Peru May 2017 ... and of course Trips across USA. Every time friends or I want to know where is ISS, Pluto or the other Planets or other objects are located, I start the App and everyone is always amazed, I use an iPhone 6S and Really like SkySafari 5 Pro and look forward to Version 6 presently in beta testing ... Best Astronomy App I have found ... features that continue to amaze ... They keep making it Better & Better.
View in iTunes
This app is designed for both iPhone and iPad
Offers Apple Watch App for iPhone
$19.99

Category:

Reference

Updated:

Oct 09, 2017

Version:

5.4.1

Size:

1.92 GB

Apple Watch:

Yes

Language:

English

Seller:

Simulation Curriculum Corp.
Compatibility: Requires iOS 8.0 or later. Compatible with iPhone, iPad, and iPod touch.