SkySafari 6 Pro
By Simulation Curriculum Corp.
This app is only available on the App Store for iOS devices.
Description
SkySafari 6 Pro will revolutionize your astronomical viewing experience. It has the largest database of any astronomy app, includes every solar system object ever discovered, offers unparalleled accuracy, flawless telescope control, and provides the very best experience under the stars when you depend on it. Discover why SkySafari 6 Pro is the #1 recommended astronomy app for serious amateur astronomers since 2009.

Here's what's new in version 6:

1) Complete support for iOS 11 and iPhone X. We got you covered and release regular updates.

2) Clouds and Astronomy. Two words that rarely go together. Rewritten from the ground up, SkySafari 6 Pro will (optionally) back up all of your observing data in our secure cloud storage and make it easily accessible to multiple devices as well as from our new web interface, LiveSky.com.

3) We Have The Best Stars. Precise, modern and deep. We've updated our star catalog to use the latest and greatest, UCAC5 star catalog. If 25 million stars down to 15th magnitude isn't enough for you, an easy in-app purchase gets you down to 16.5 magnitude and a whopping 100 million stars!

4) We Have The Best Galaxies. The PGC catalog includes galaxies down to 18th magnitude. Want more galaxies? How about 2.6 million more? An in-app purchase gives you access to the largest galaxy database available for your device.

5) Observers First. A redesign of our tools puts the active observer first. Quick access to features like your equipment, observing sites, lists, and observations make it easy and enjoyable to get out, observe, and record your observations. The observing sessions feature lets you collect your observations into groups that span a few hours, or a few nights.

6) Graph It. The completely new graph tool will give a quick visual representation of an object's altitude above the horizon. Essential for planning your night's observations.

7) Plan It. Make the most of your time under the stars. Our updated planner is a powerful tool that lets you create a list of targets for your observing session with filters like object types, specific time ranges, constellation, catalog, and more. Plan it and get more done.

8) Say It. Ever just wanted to just yell at your device and tell it what to do!? SkySafari 6 adds basic voice control for a wide range of operations. Say "select Jupiter," "search for Titan," "center on Polaris" and SkySafari will do the work for you. Yelling optional. 

9) Tilt It. Every old astronomy app these days lets your tilt and pan your device to show different parts of the sky, but who else lets you control your telescope that way!? "Tilt to slew" is an optional mode allowing you to keep your eye in the eyepiece, and, using the accelerometers in your device, gently translate the movements of your hands into smooth telescope motion.

10) Share It. SkySafari 6 is more than just a mobile app, it's a new system to help organize and share your observing experiences. With a free signup, you can see and share your observing data from our web portal, LiveSky.com! Affordable premium memberships add online editing, so you can not only view, but edit your observations, add new observing sites, manage your equipment and more. Finally, (coming soon) you can view, edit and manage your settings files with SkySafari Web, our fully functional web version.

If you haven't used SkySafari 6 Pro before, here's what you can do with it:

• Hold your device up, and SkySafari 6 Pro will find stars, constellations, planets, and more! The star chart updates automatically with your movements for the ultimate stargazing experience.

• Simulate the night sky up to 10,000 years in the past or future! Animate meteor showers, conjunctions, eclipses, and other celestial events.

• Control your telescope, log and plan your observations.

• Night Vision.

• Orbit Mode. Leave the Earth's surface behind, and fly through our solar system.

• Galaxy View shows the position of deep sky objects in our Milky Way!

• Much more!
What's New in Version 6.0.1
- Added Help topic on migrating data from SkySafari 5 to SkySafari 6.
- Added entries in Help to take you to the Community Forums and to open a support request.
- Eliminated initial delay when tapping on the zoom in/out buttons.
- Improved responsiveness of on-screen slew buttons.
- Improved the timing of Jupiter moon events in the Object Info.
- Changed DSS download to use the first generation survey plates. The images are smaller and faster to download and they match the view in the eyepiece better.
- Changed maximum DS cache size from 1 GB to 50 GB.
- Fixed bug where the custom observing sites were not getting searched when you searched for a location in the Location settings.
- Fixed bug where not all objects in a large (> 400 object) observing list would be re-highlighted when the app is restarted.
- Fixed problem where the tick marks on the "Show Selected Object Path" path did not line up exactly with the correct time.
- Fixed bug where some observing lists would get stuck showing "Fetching..."
- Current scope RA/Dec is now initially shown in the GoTo RA/Dec panel.
- Fixed crash that would happen if you saved a custom observing site with a zero length name.
- Moved the UI for toggling backing up to the cloud servers to the Storage settings.
- Fixed some Night Vision problems.
- Various small UI changes and tweaks.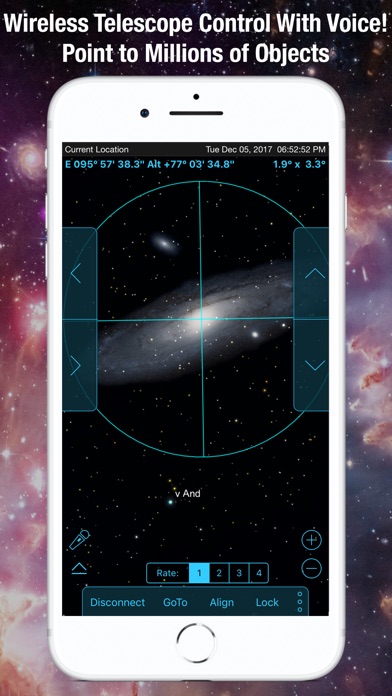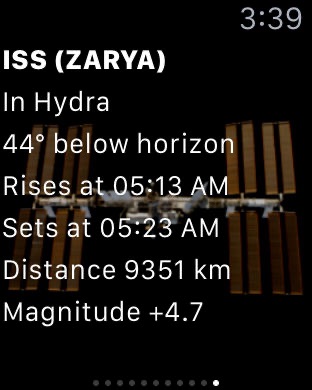 Customer Reviews
Alpha, maybe Beta - barely
Not happy. My first review was not posted because of bad language. Grow up, Apple.

Not ready for prime time. Hangs permanently when a data transfer to or from LiveSky loses a connection. To use SS6 Pro again I had to restart the phone. LiveSky site uses WebGL, so doesn't do well with Safari. LiveSky site is not ready, and has serious updating issues. SS6 has slewing problems with Celestron NexStar Evolution WiFi, just like the predecessors, and you just have Celestron pointing fingers at SS, and SS pointing fingers at Celestron, just like before. Sky Safari 6 Pro needs a lot of attention. Looks like it won't be ready for quite a while. The developers need a better release strategy, because this thing will ruin their reputation.
Improved User Interface over Pro 5
After figuring out the non-trivial way to import settings from previous versions of Sky Safari, Pro 6 has a far cleaner user interface than Pro 5. Looking forward to trying the new telescope control interface.
So far so good
Haven't explored all the features but one thing noticeable is how the moon looks compared to version 5, especially when daylight is on. The moon looked much more natural in the old version so please change it back...
View in iTunes
This app is designed for both iPhone and iPad
Offers Apple Watch App for iPhone
$19.99

Category:

Reference

Updated:

Jan 05, 2018

Version:

6.0.1

Size:

1.88 GB

Apple Watch:

Yes

Language:

English

Seller:

Simulation Curriculum Corp.
Compatibility: Requires iOS 8.0 or later. Compatible with iPhone, iPad, and iPod touch.
Top In-App Purchases
UCAC5 Extension Database$9.99
PGC Extension Database$4.99