Sleep Cycle Sonalarm Clock
By Florian Student
This app is only available on the App Store for iOS devices.
Description
Sonalarm is the first sleep cycle alarm clock app that works from your bedside table with no additional hardware. Sonalarm reliably detects when you turn around in bed through an ultrasonic motion sensor, by making use of your iPhone's built-in audio hardware and clever programming. You don't need to share your bed with your iPhone (like it is required for the existing sleep cycle apps). With Sonalarm, your smart phone stays on the bedside table where it belongs!

To view the product video and for further details, click the "Logera Solutions GmbH Web Site" link.

Sleep research

During the night, every time you turn around, you are awake or almost awake. Normally, you just go back to sleep so fast that you won't remember it the next morning. By monitoring your movements, Sonalarm can wake you up at the best moment (when you are almost awake anyway). Sleep research has shown that you will feel more refreshed even if you woke up earlier.

Alarm time window

Sonalarm makes use of this effect. Say, you really need to get up at 7:30. That's the alarm time you set. Depending on a setting, the activation window will start 20 to 60 minutes earlier. If Sonalarm detects that you are almost awake during this period, the alarm will start and wake you up completely.

Sleep analysis and statistics

After the first night, sleep statistics will be available on the stats tab. Sonalarm analyzes your movements during the night and gives you an overview the next morning. You see when you were awake, in a light or deep sleep phase. Totals are shown below the chart.

Health integration

Sonalarm allows you to export your sleep analysis to your iPhone's Health Store so you can view it in Apple's Health app or import it into other apps. The app requires read and write access if you want to use this feature (the read access is required to enable Sonalarm to modify sleep analysis data it has previously stored).

Background operation

You can lock your screen to conserve energy if you don't need the night clock. Unless you have your iPhone fully charged, we recommend you connect it to the charger during the night.

Fall asleep to relaxing rain sounds

You may optionally make the app play relaxing rain sounds to fall asleep. The duration can be configured on the settings tab, and you can also turn off the noises there. At the end the sounds are faded out gradually.

Sonalarm is available for the iPhone 4 and newer iPhones. iPads and iPod touch devices are currently not supported, but support may be added in the future.

You should follow us on Twitter @SonalarmClock and on Facebook: https://www.facebook.com/SonalarmClock

Thanks to Siniz for the design support.
What's New in Version 2.3
New option to adjust the alarm sound volume.
iPhone Screenshots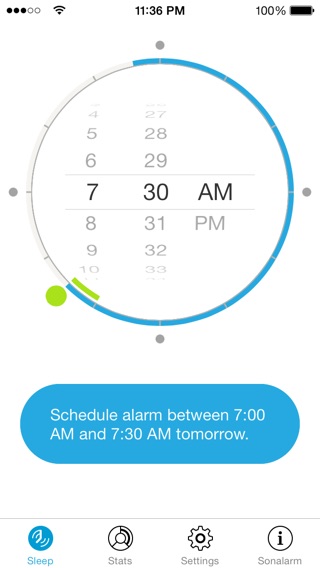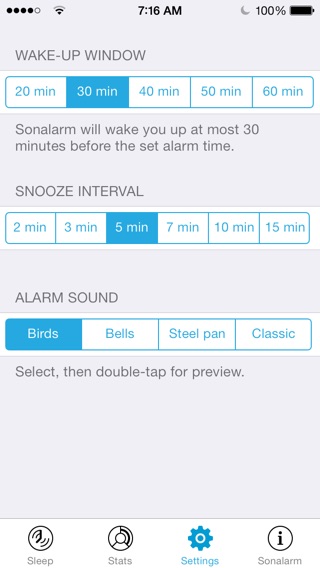 Customer Reviews
Simply the Best
I have tried several sleep analysis apps that provided varying degrees of success. I decided I would try one last app before finally giving in and purchasing a FitBit. Sonalarm was unbelievably easy to download and configure. Literally within three or four minutes the app was ready to be used. I did have one question regarding the operation of the app so I contacted Sonalarm's email customer support for help. Within 12 hours I had a reply that answered my question in sufficient detail. I was impressed by their quick response. I was so satisfied with the performance of Sonalarm that I installed it on my wife's iPhone 6+. She has a Fitbit wrist device that measures her sleep for medical reasons. So we know that the Fitbit is an accurate device. We wanted to compare Sonalarm's accuracy to the Fitbit's accuracy. Much to my surprise and satisfaction the following morning there was only a two minute time difference in all three sleep categories between the Fitbit and the Sonalarm. On that basis my wife and I can enthusiastically endorse this app as the best that we have found to accurately measure your nightly sleep pattern.
Great...SORTA
Update: The app developer emailed me about my concerns and is looking into implementing a way to add minute or hour markings to the clock. This will better enable the user to know the times that he or she is in the different cycles of sleep. I am changing my rating from a 3 to a 4 because of how rapidly he responded to my request. I will update the app to a 5 when the app has been updated with this change.

I have been using this app for several days, and I like the fact that I don't have to SHARE my bed with my iPhone. However, interpreting the stats is a little difficult. Although it uses colors to show deep sleep, light sleep, and wake time, it doesn't show you the time of day that these occurred. It would be helpful to know what time of night that I was in a deep sleep or a light sleep, and the times during the night that I was awake. I have conveyed my concerns to the developer, so I am hoping that this could be an improvement in a future update. Other than that, the app is easy to use; it just doesn't give you all the information that you need to have a complete picture of your sleep habits.
#2 Sleep app!
This app has so much potential! It's 2nd only. To Sleep Meister, but can easily surpass it if it adds some features, such as a custom song alarm, locked screen overnight functionality, and timed sleep (alarm wakes you up after you've had enough sleep, instead of an a certain time.)

Really, only adding the overnight functionality would make it the #1 alarm, (not #1 sleep tracker, but oh well).
This is due to the very high sensitivity (and accuracy) to movement enabled by the use of sound, which means when I move, and only then, will the alarm go off.
View in iTunes
$0.99

Category:

Health & Fitness

Updated:

Sep 22, 2015

Version:

2.3

Size:

3.1 MB

Language:

English

Seller:

Florian Student
Compatibility: Requires iOS 6.1 or later. Compatible with iPhone 4, iPhone 4s, iPhone 5, iPhone 5c, iPhone 5s, iPhone 6, iPhone 6 Plus, iPhone 6s, iPhone 6s Plus, iPhone SE, iPhone 7, iPhone 7 Plus, iPhone 8, iPhone 8 Plus, and iPhone X.